Cutting-Edge React Native Development Company in India
Our expert React Native developers create robust web solutions with the best practice of React Native Technology!
Get a free quote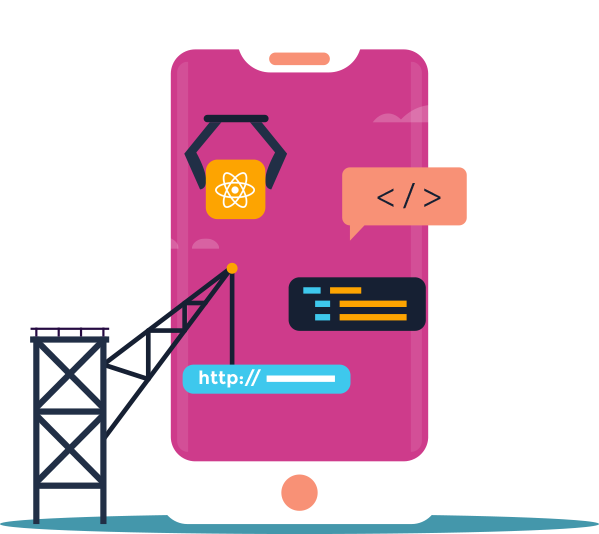 Topnotch React Native Development Services in India
At Intlum Technology, we create unmatched applications that are powered and driven by the React Native technology. We, at Intlum, have the finest developers in India who are proficient in developing the cross-platform applications for Android and iOS with the finest speed and efficiency. We have the perfect nobility and prowess to utilize the JavaScript framework to compose the rich mobile UI from declarative elements. Our React Native development services focus on a range of industries like Healthcare, m-commerce, travel, education, and much more. Being a leading name among the pioneers of the React Native development, we deliver products that have the standards which can hardly be beaten by any other!
Originally developed by Facebook, React Native is such a technology which will smoothen your cross-platform ability and this universal accessibility earned the technology an upper hand on the industry. Many renowned businesses and brands have their web presence based on React Native at the moment and the number is going to upsurge in the future as well. So, if you are planning for a React Native turn, we should definitely have a discussion!
Benefits of React Native Development
There are humongous advantages of choosing React Native for your mobile app development project. Whether it's the cross-platform nature or the strong community, React Native becomes your best buddy in every way! Let's discover the main benefits of this cross-platform JavaScript framework.
1
Cross-Platform
The mobile apps developed by React Native have a cross-platform ability which ensures that the React Native apps are perfect for both major mobile platforms - Android and iOS.
2
Time-Saving
Since the React Native apps are perfect for both Android and iOS, it saves your time for developing two different apps. Moreover, the codes are also comparatively less time-consuming.
3
Strong Community
There is a surprisingly large community for React Native for its open source nature. The humongous community support and regular updates take care of the basic and advanced needs.
4
Cost-Efficient
React Native is considered one of the rarest app development technologies that come with such cost-efficiency! Being cross-platform and open source, the cost cuts down hugely!
5
Topnotch Performance
Because of the availability of the feature-rich library elements, React Native offers the finest performance which is hardly matched by the other counterparts of the JS framework.
6
No Overhaul
React Native powers you to write the native codes during an app development project. Moreover, Partial Native + Partial React Native codes are possible without any overhauling!
React Native Services We Provide
There are a number of reasons why React Native becomes one of the first choices of the developers and the business owners all across the globe. We, being the best React Native Development company in India, offer the uniqueness of different React Native services in the best way possible.




React Native Customization Service
Our React Native Development Process
Why Choose Intlum for Your React Native Development Project
React Native is one of the most lucrative technologies to develop the functional and result-driven cross-platform mobile apps. And Intlum is the perfect React Native Developer in India who can offer the services under a fine budget and efficiency. Let's have a quick look at the quick reasons to hire our organization.

Experience in Coding
Our developers are filtered among the best in India. We have successfully gathered the brightest and the most intelligent developers who can get any job done with their skillset, excellence, and experience.

Competitive Pricing
The pricing Intlum offers for React Native Development is hardly found elsewhere. We make sure the deal is fair for the client, and both parties are benefitted. However, our affordability never lets our quality degrade!

On-Time Delivery
Intlum is one of such rare web development agencies in India who always come at the top when it comes to on-time delivery. Like the other services, our React Native solutions are also delivered on promised time.

Project Coordination
We make sure our clients don't stay in smog at any phase of the project and that's why we make use of our own PMS – SuperFly for effective communication between the client and us. That's how we communicate!