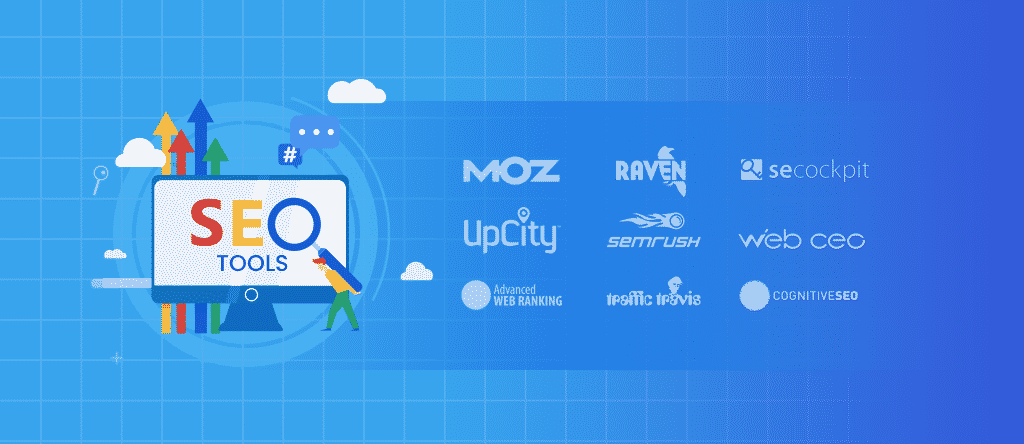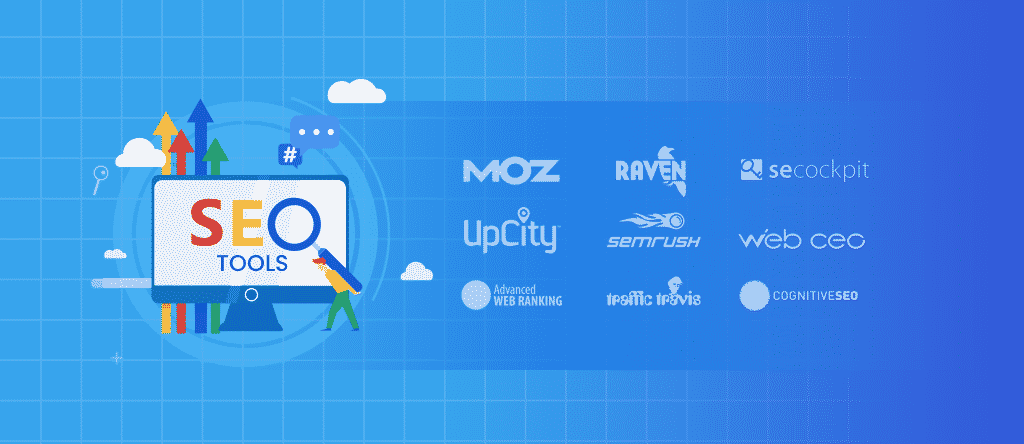 Okay! So, you have started doing SEO.
You think you need to embed keywords into content, headers, and title; and your site will reach the top, riding a magic wand.
That's cool! I thought the same at first and as soon as I learned all those stuff I claimed myself an SEO Ninja. But guess what! There are millions of people who are doing exactly what I was doing and my misconception scattered right there!
I started reading, researching, and reading and researching… I found myself in the middle of an ocean that I hardly explored! Things like keyword research, link building, and content optimization seem to be simple but they're actually the quicksand where you need to be cautious and aware to overcome the odds.
What I also found, is that, despite the difficulty level of SEO, there're certain tools available on the internet that could make my job easier! And they actually did! I got a lot of help from the tools while optimizing my sites, and others.
I also get a ton of emails that revolve around the same query – 'which SEO tools would be best for SEO?' or 'are there any free SEO Tools that can really help me?' I took my time, jot down every little component, and got ready to refer the best tools out there.
So, here I am, with the list of the best SEO tools on the internet that contains both paid, free, and freemium (free and paid) tools, for different segments of SEO.
Let's start.
List of Best SEO Tools (Free and Paid) for 2019-2020
I'm mentioning more than one tools for a single job. You can choose the one that fits your needs or even try multiple to settle for the best.
Ahrefs – Multi-Purpose SEO Tool
One of the biggest, most systematic, feature-rich, user-friendly, and functional (probably, the best) tools, Ahrefs allows you to perform multiple actions at one place. With a massive index updating system (with trillions of links) at least once every day, it's undoubtedly one of the easiest tools to do primary SEO audit, backlink analysis, keyword research, competitor analysis, and much more!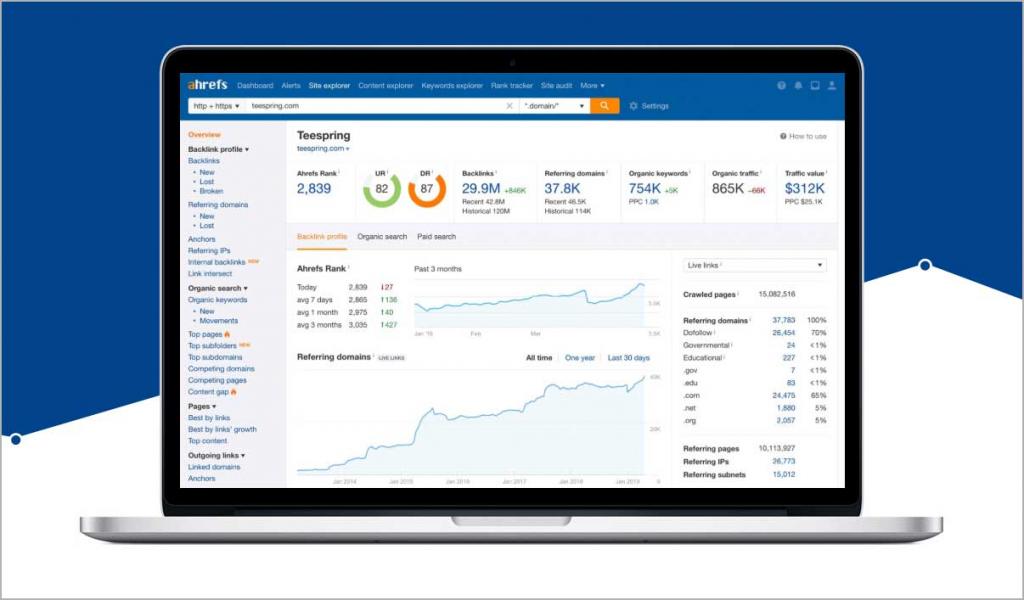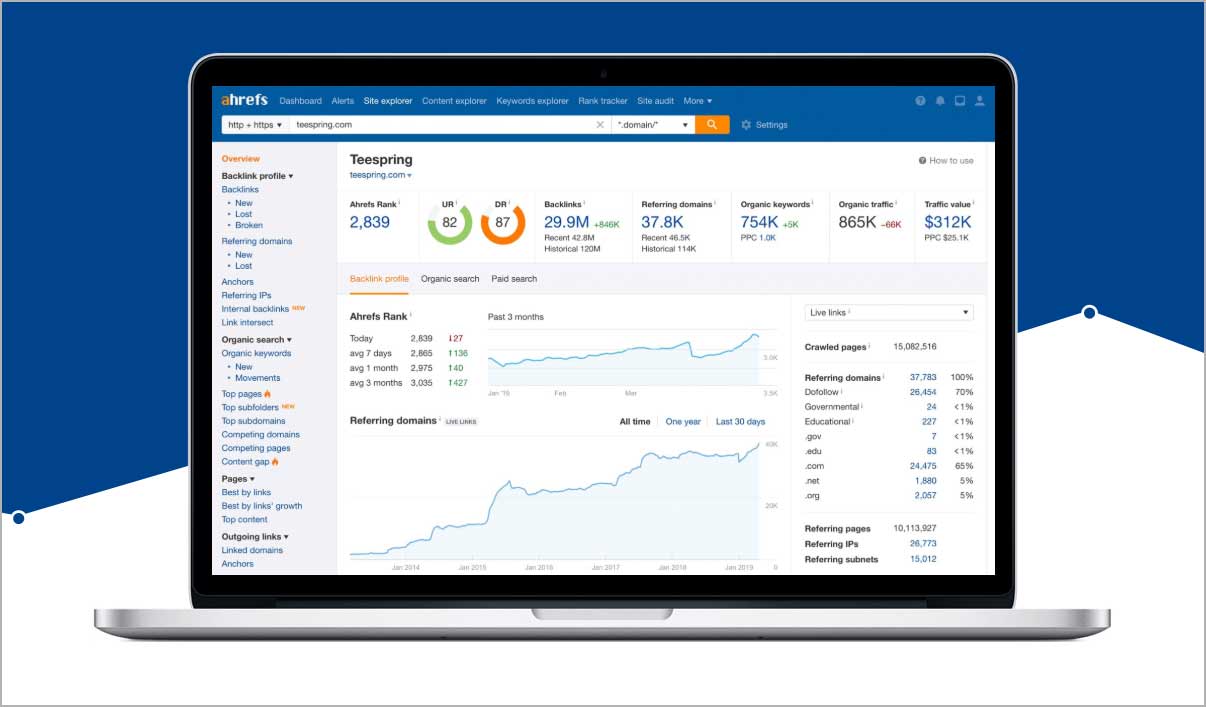 Apart from the range of features, Ahrefs' USP lies in the simple user interface that helps even a non-technical person to get the research done with absolute ease. Ahrefs has become one of the tools I use every single day for different needs from viral content research to website audit.
Features of Ahrefs
Site Explorer: I spend most of my time on Ahrefs, exploring the Site Explorer section. Not only can you get to analyze a whole website here but also can inspect a specific web page.
Put the URL, choose whether you want to analyze the whole site or just an URL, and hit the enter button.


You'll get to find the Ahrefs Rank, UR (URL Rating or Page Authority), DR (Domain Rating or Domain Authority), Backlinks, Referring Domains, Organic Keywords, Organic Traffic, and Traffic Value for your given URL.
Content Explorer: You can search the most happening and trendiest content on the internet just by typing the keyword! Ahrefs bot will find you the most popular articles for the keywords for specific regions (or everywhere). I always prefer this tool to see the current happenings and explore how the writings are being done. I don't even need Buzzsumo if I have access to Ahrefs Content Explorer.
Keywords Explorer: One of the most important jobs, if you're into SEO and marketing, Keyword research can be extensively done on Ahrefs.
You can put any keyword (or a set of keywords, separated by comma or lines) to know about its search volume (global and country-specific), difficulty, clicks (paid and organic), return rate, and many more metrics.

Moreover, you can get the other keyword ideas related to the one you have searched for.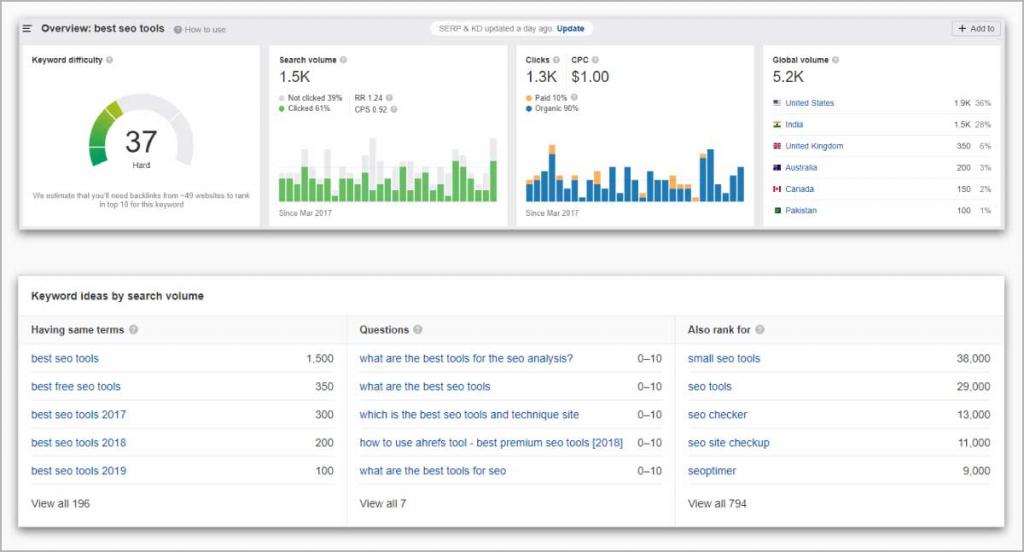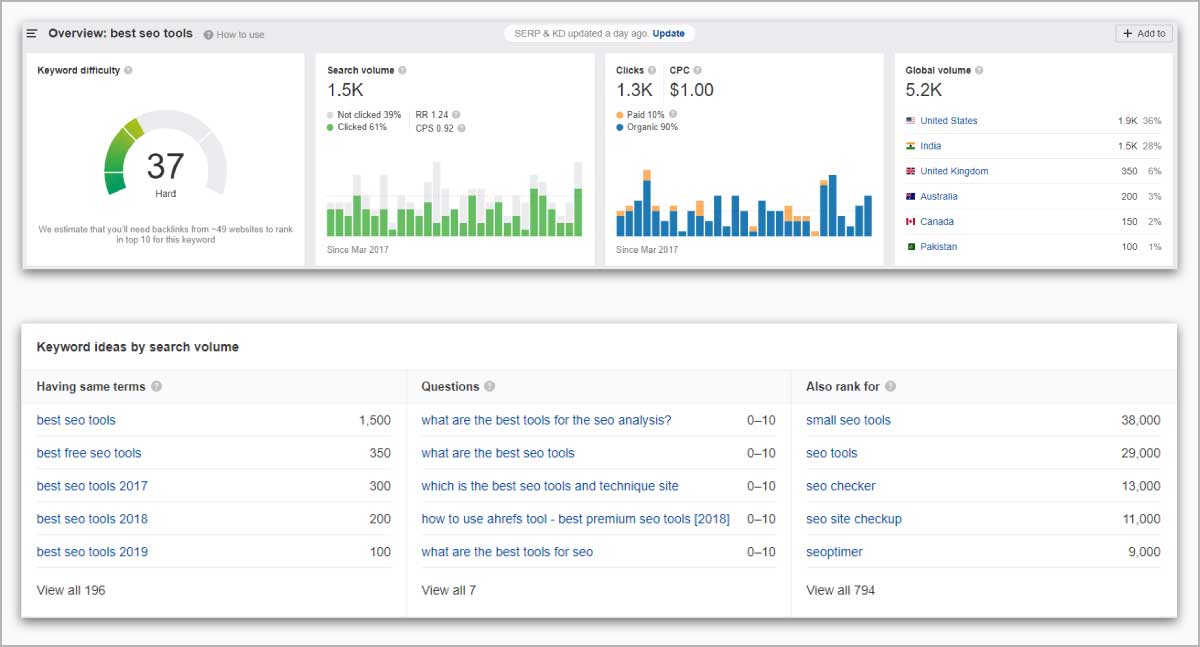 Other Features: Well, Ahrefs has truly become one of the best resources to get your SEO jobs done at a faster pace. And that's because this tool comes with a number of features that will need a whole new article to be described.
You can get to see the referring domains, their domain authority, number of backlinks you've got from there as well as the number of dofollow links you are receiving.


You can filter the links by link type like dofollow, governmental, educational, nofollow, and more!
You can see individual backlinks from all pages of a single domain.
Also, you can search a domain and see whether you have a backlink from the domain or not!
As I told you, Ahrefs is the best SEO tool to give you the right metrics before you make any move to your SEO projects. As per with me, I've learned after 10 years of experience and loads of mistakes, SEO is based on 50% strategy and 50% implementation! So, you need to strategize best to have the best implementation and get the best result!
Pricing
Well, it's a freemium tool, means that it has both free and paid plans. While the free trial is for 7 days, you need to switch to a paid after that. The paid plans start from $99/month and go up to $999/month.

Official Website: https://ahrefs.com/
SEMrush – Freemium All-in-One SEO Tool
My second pick would be SEMrush for the fact that this tool has taken competitor analysis and keyword research to an insane level! SEMrush gives you the precise data of your competitor's top keywords. So, you get the most profitable keywords without even grinding away in GKP (Google Keyword Planner). You just need to enter the competitor's URL into SEMrush and the tool will show you everything that you need to know.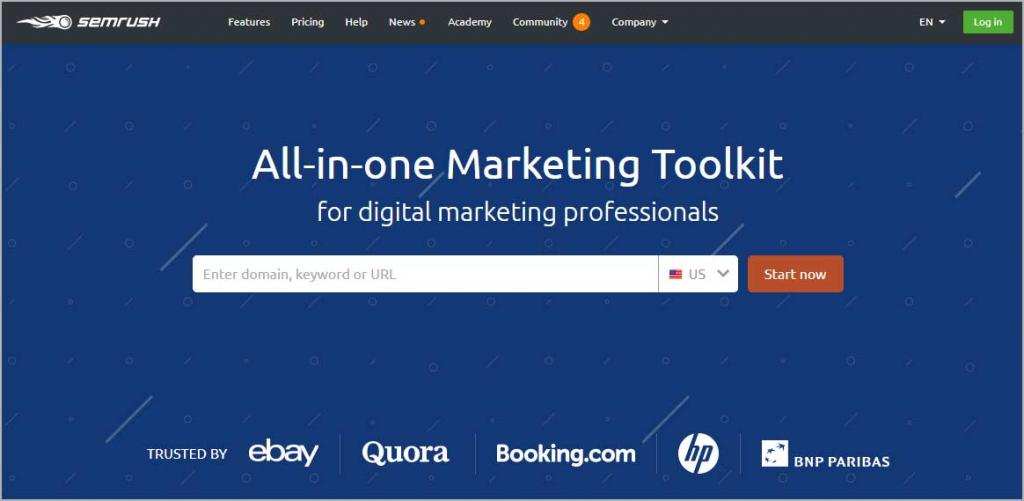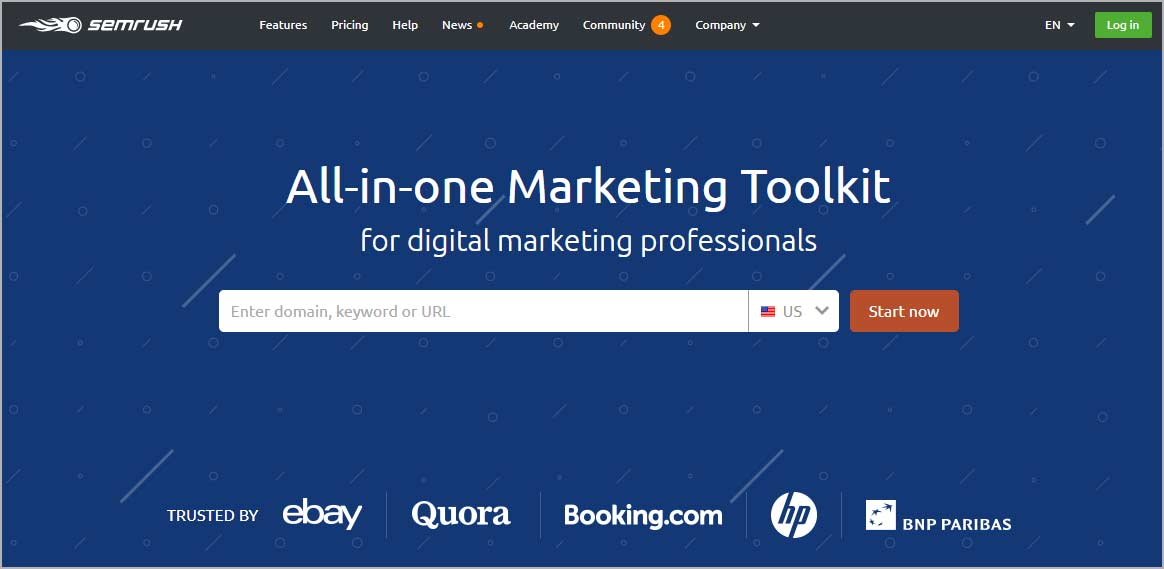 From the organic search volumes, paid search volumes, number of backlinks to organic and paid keywords separated by different countries, SEMrush displays everything that an SEO expert needs. Though the interface may seem a little complex at first, once you start using the tool, you'll start understanding the treasures SEMrush offers to you. Every time I'm concerned about my competition, I pay a visit to SEMrush and put an URL; and boom – it helps me in every way with all the possible strategies of my competitor that I could have missed! In short, I feel vulnerable without SEMrush a single day!
Features of SEMrush
Backlink Profile: Okay, so, first thing first – during my competitor analysis, often the first thing I look for is their backlink profile and I believe this is the case for most SEO experts and aspiring SEO enthusiasts.
You get to find all the domains who've given the valuable links to your competitor which can be the reason why they're (or maybe) getting an upper-hand on the SEO part.


Also, SEMrush will show you the anchor texts and linked URL of the backlinks alongside a pie chart, showing dofollow and nofollow links added with the number of text links, frame links, image links, and form links.
The tool will also display the top anchor texts where your site has been linked.


You can find the new and lost backlinks which will help you strengthen your link building strategy.


Keyword Distribution (Paid and Organic): The next thing I (and almost everyone else) love to find about my competitors is the top keywords they are ranking for. And SEMrush offers exactly what you need for spying on your competitor.
Organic and paid keyword list will be given for different countries on a pie chart


Also, the top organic keyword list will be there on the dashboard
All keywords will be shown with the keyword difficulty, volume, CPC (Cost Per Click) and traffic potential
You can discover the new and lost keywords along with changes in organic ranking.
Organic Competitors: You can also find the main organic competitors of yours on SEMrush since the tool suggests you the competitors (organic and paid) based on the URL you have entered. This is surely a sign of the best SEO tool that it is.
Branded vs. Non-Branded Search: This is a nice and unique feature of SEMrush which leverages you to find the types of searches your competitor is found from. Often, people find Intlum by searching Intlum, not by 'SEO company in Kolkata.' So, that's a branded search we get.

If this is the scenario with your competitor, the whole strategy will go upside down since your competitor is not competing at all; rather they are doing business completely based on their goodwill!
Data Export: You want to study offline? Fear not, you can always export the SEMrush data.
Other Feature: Well, you can analyze websites for the desktop version as well as the mobile version! We can't abandon almost 50% of the online searchers, can we?
Pricing
Registered users will get 10 requests for free on SEMrush and thereafter you need to make a purchase to their subscription plans which starts from $99.95/month (billed monthly).
Official Website: https://www.semrush.com/
Moz – Paid SEO Tool for Every Purpose
Moz is the veteran among the best SEO tools in the market. From a newbie to the experts in the industry, everybody falls for Moz, owing to its rich features. Moz is one tool that is extremely adaptable to the Google algorithm updates. Moreover, I totally liked the precision of the answers Moz gave me when I asked them any question for any concern on their chat portal. It's a huge boon for every SEO analyst out there, trying to rank higher, convert better.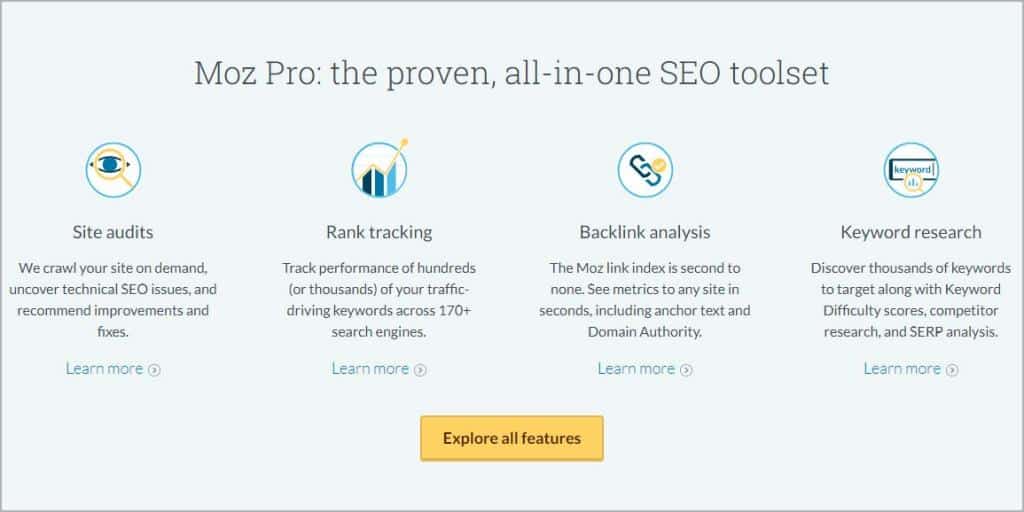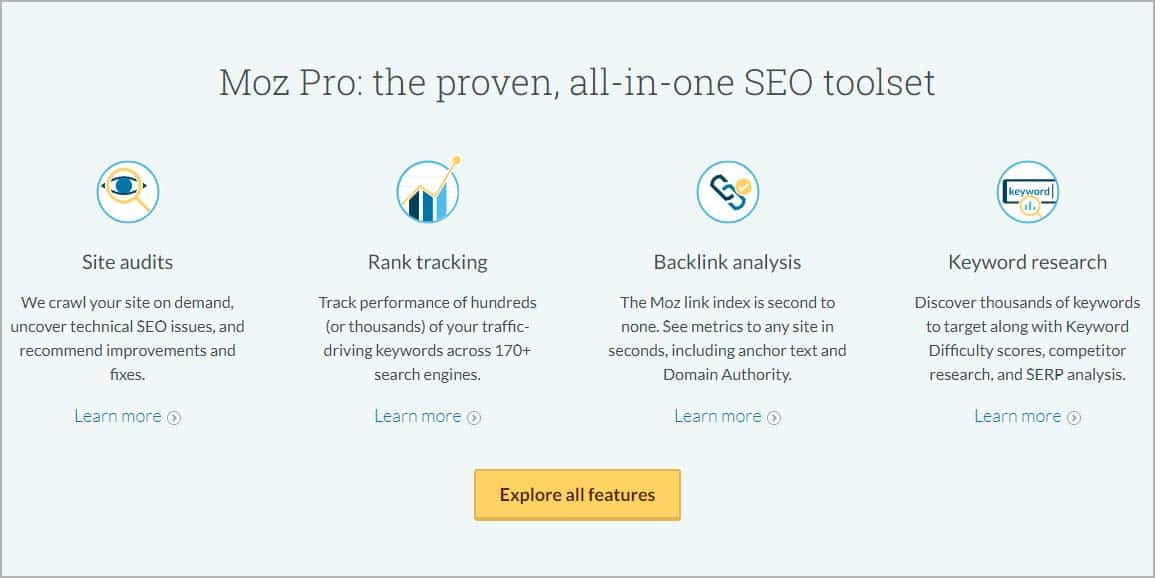 The insights from Moz would not only be a great help in measuring your website's performance but also will come in handy for the improvement of your site. Moz has two major products that help in backlink analysis, rank tracking, keyword research, content optimization, and other important metrics.
Moz Pro: Moz Pro is, considerably, the most popular product of Moz which is a software suite which can be utilized for link analysis, keyword research and on-page optimization. This insanely trendy keyword research tool offers valuable information on SERP features that pop up in the search result for a given keyword.
MozBar: MozBar is basically an extension that helps you every time you enter into a website. Available for both Chrome and Firefox, MozBar, when installed in your browser would allow you to see the important SEO metrics like Domain Authority and Page Authority along with the referring domains and number of backlinks of every web page.
Moreover, you can also see all the metrics of the Google search results which will help you evaluate the competition at a go. This feature is only available for the Moz Pro Subscribers.
Features of Moz
Open Site Explorer: You can analyze any link with your Moz Pro software by entering a URL. Moz will provide you every possible data and metric that you require. You can search for the whole domain, exact page, or subdomain.
Quite like Ahrefs, Moz will also fetch you the crucial data like Domain Authority, Linking Domains (basically, Backlinks), Inbound Links (referring domains), Ranking Keywords.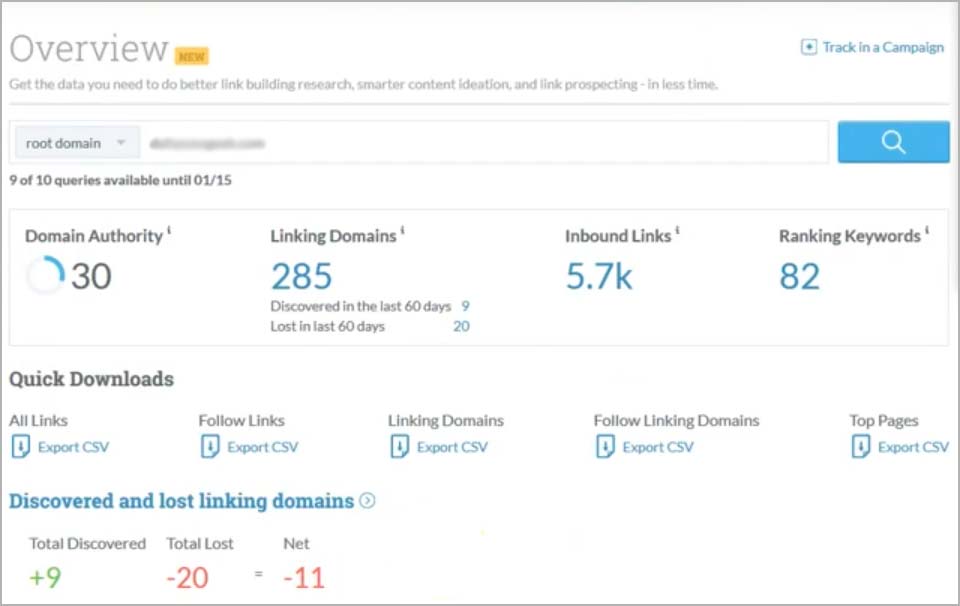 Open Site Explorer will also leverage you to find the backlinks with the anchor text, platform, and URL. Also, you can see the PA, DA and Spam Score of each backlink.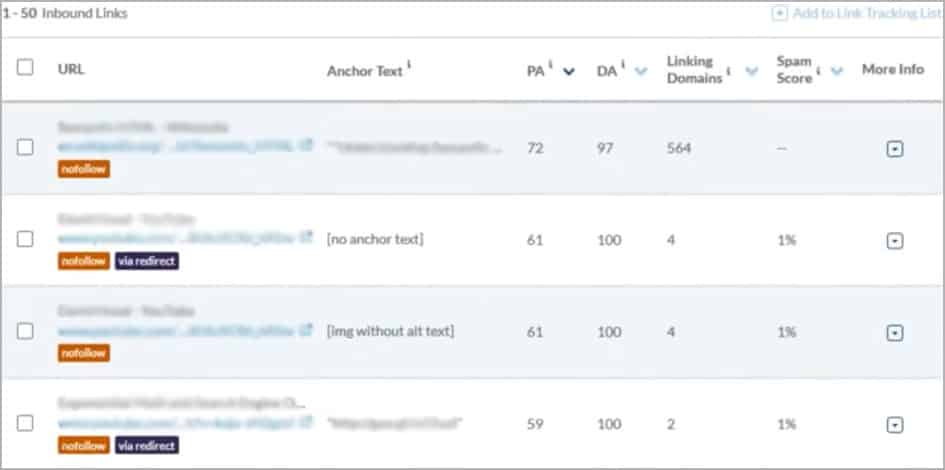 You can export all the data or individual data in CSV format.
Fresh Web Explorer: Want to search where you or your competitors have been mentioned? Fear not! Moz has everything sorted for you! Visit Fresh Web Explorer, enter your search term, and get every information you require.
A graph will display how many times your search term has been mentioned over a period of time.


You can access a list of URLs where the term(s) has been mentioned along with the page authority and date when the term has been mentioned. I love to loiter around this tool as it helps me find out the fresh contents for a particular topic.


Keyword Explorer: Very much similar to the keyword explorer on Ahrefs, this tool helps you run your research for choosing the keywords for any specific region and language.
It shows you the data for the monthly search volume, keyword difficulty, and organic CTR (Click Through Rate).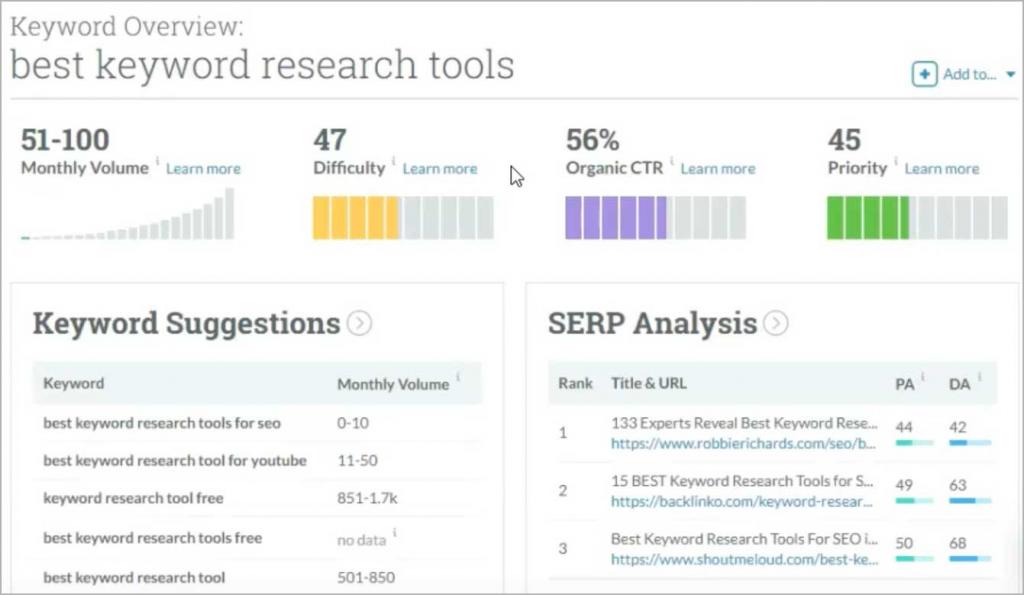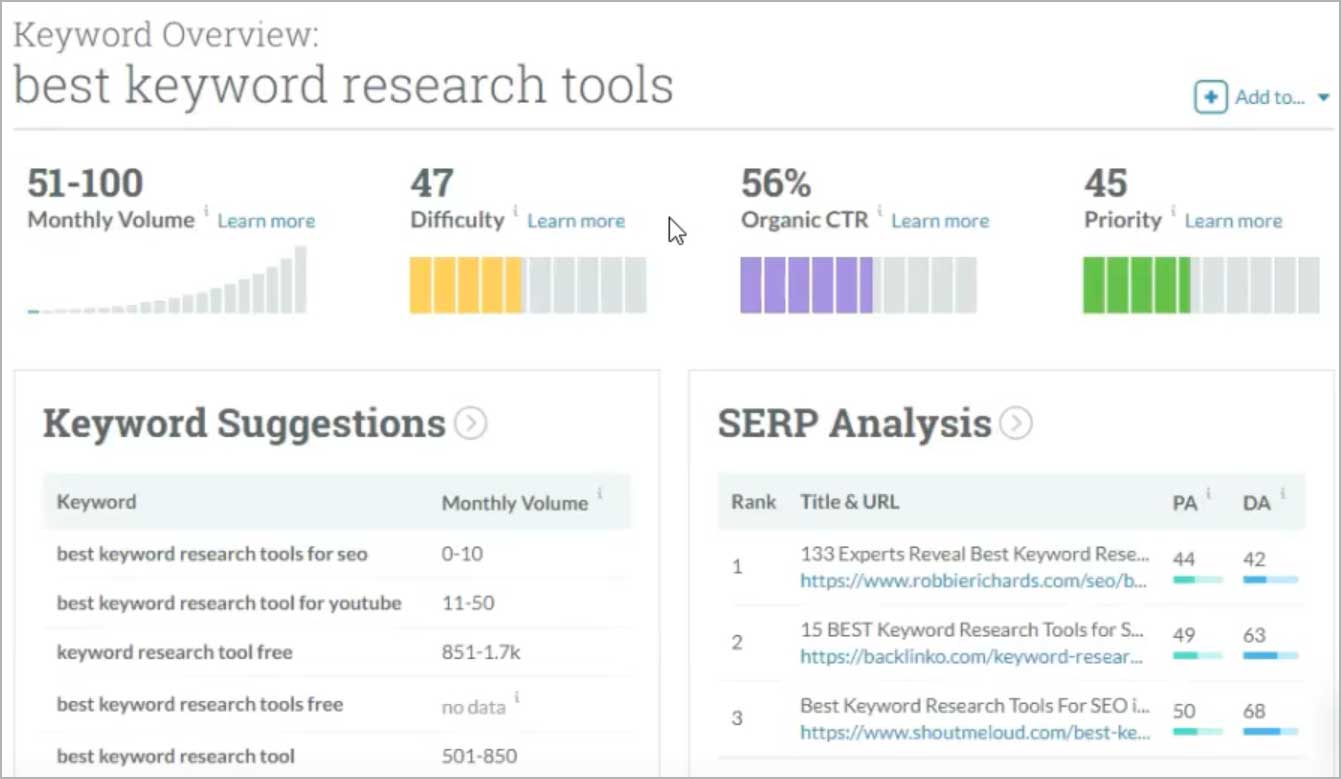 Moz bot will also suggest you a set of keywords against the one you have searched for with their metrics. I get a ton of benefits from this tool as I get a number of Long Tail keywords from here.
On Page Grader: This is an exceptional feature which is missing on Ahrefs. You can dig deeper into any web page of your competitor by entering the web page URL and a keyword you want to see the usage for. Guess what, you get an outstanding insight.
On Page Grader shows you the page's meta title, description, URL, the total number of keywords that are used, keyword location, and page score.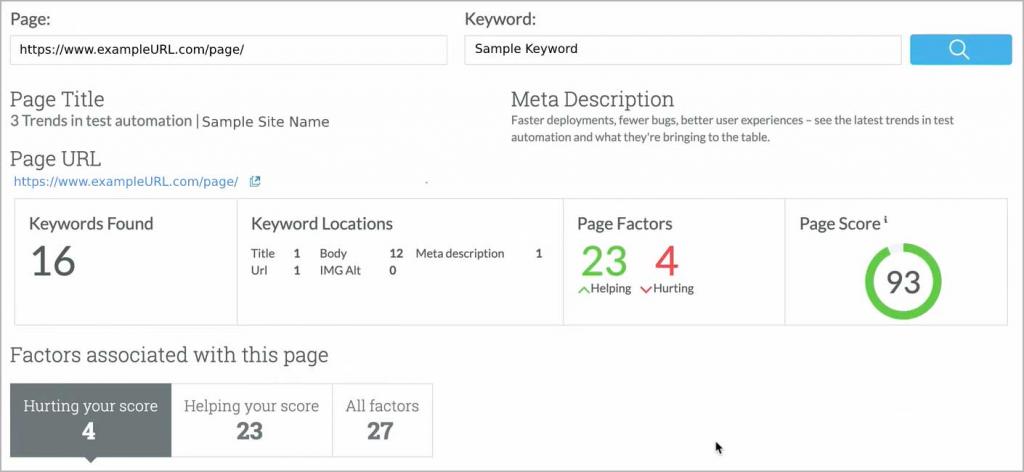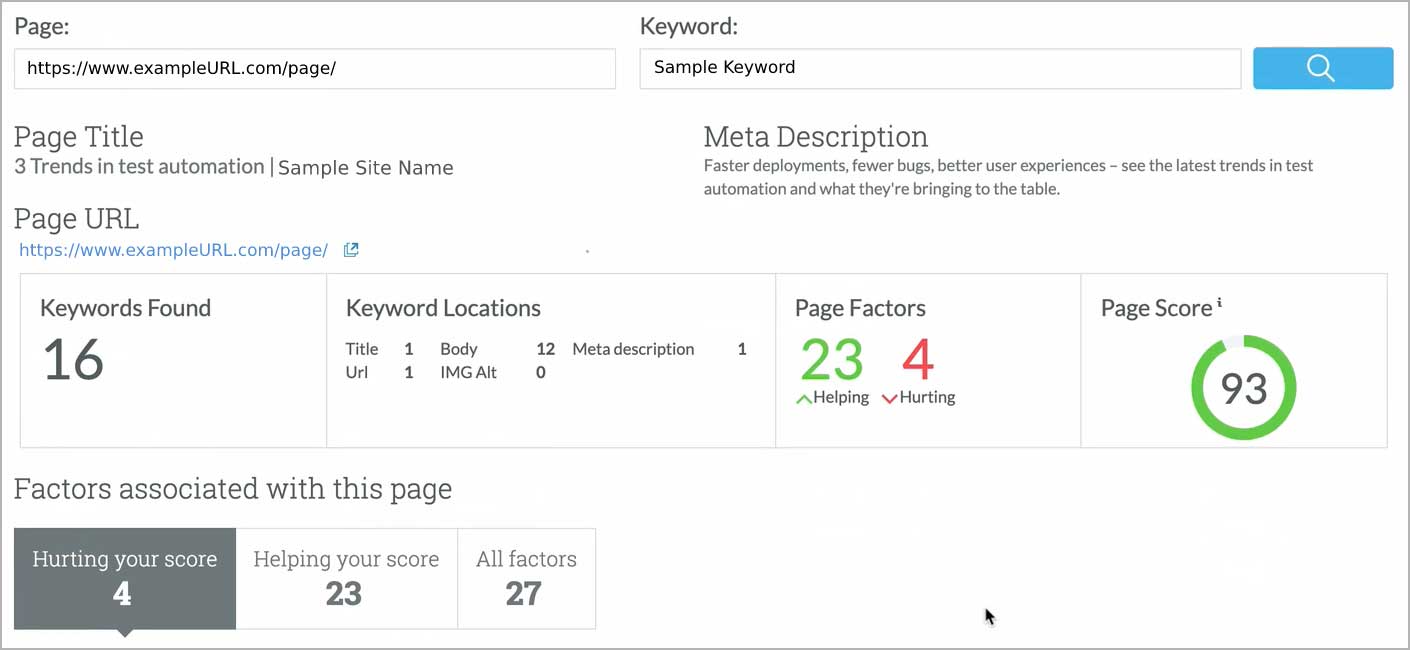 Also, you can see the positive and negative factors of the page as it will show you how the SEO can be improved for the page. If you want to know more about any factor, you can click to see the description.
Note: I want to mention, I don't follow everything that it says; it's a bot after all! And I know I'm smarter than the machines.
Rank Tracker: Track ranking of your or your competitor's pages against every keyword you can think of.
Pricing
Moz is freemium. While MozBar comes without any cost but Moz Pro is purchasable to use. While you can start the Moz Pro free trial for 30 days, you need to pay $179 + Tax/month for using it further.
Official Website: https://moz.com/
Google Search Console – Free SEO Tool for Website Performance Tracking
Especially, built for tracking down any website's performance in Google search results, GSC also displays you any issues associated with your website like website indexing (for desktop or mobile), AMP (Accelerated Mobile Pages), security issues, and last but not the least for sure, it helps you with your backlink tracking! Therefore, it becomes one of the best SEO tools that we have right now.
Note: Before starting with this SEO tool, you need to install Google Search Console on your website.


GSC is basically the tool for tracking the search engine's interaction with your website. And when you finish setting up the search console account by placing the tracking ID on your site and verifying your website on GSC, all you need is, kickstart your SEO analysis and rank your website on Google.
Google Search Console will fetch you an extensive range of highly crucial data that will undoubtedly be the key components for improving your website. The data will be organized in line with different metrics which makes it a tad more comforting (at least, for me). Information on Google Search Console will be separated smartly with different categories which makes it easier to distinguish distinct issues your site needs to work on with! When you combine all these data and evaluate them correctly, you're all ready to skyrocket your search ranking.
Features of Google Search Console
When you have a Google product that helps you in SEO, that must be one of the best SEO tools. But there're more reasons why GSC is on our list, and its features will explain to you why!
Performance:
Your website's performance graph will be shown with different key metrics like Total Clicks, Total Impressions, Average CTR, and Average Position for a particular range of time.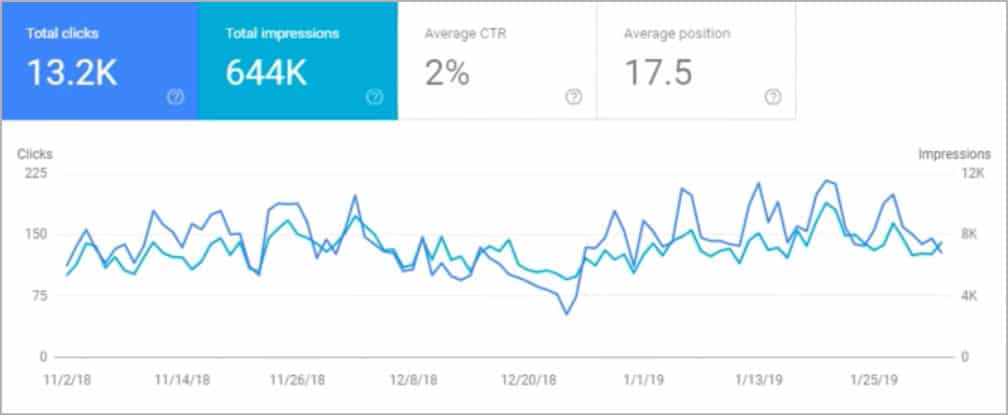 Moreover, you can also get the performance analysis by Queries (search terms), top pages, top countries (where the traffic is coming from), devices (device, used for accessing your site), and search appearance (how the search result appears) with clicks, CTR, position, and impression for each information.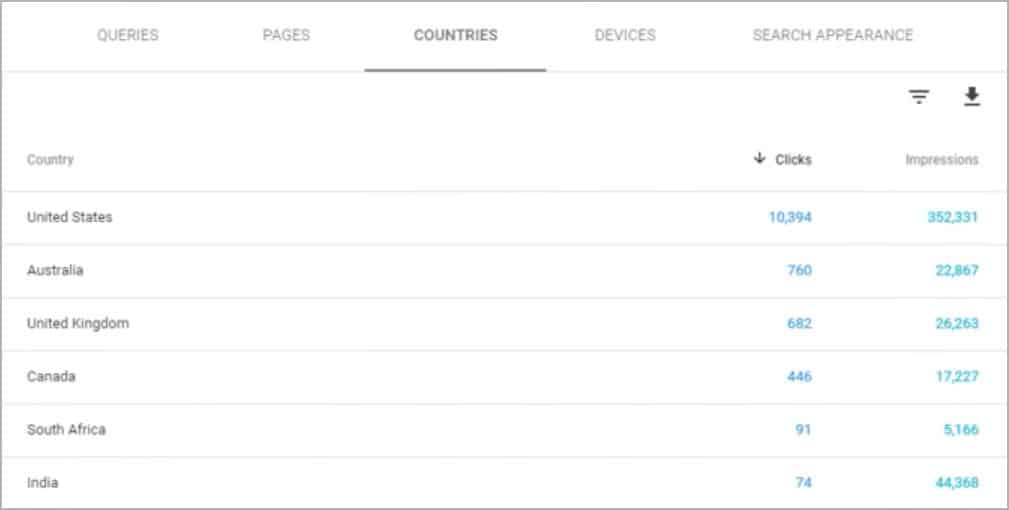 You can also fetch data from a specific web page of your website. I use it a lot to know the search term, used for the best-performing page of my site.
URL Inspection: Quite needless to say, you can inspect any web page URL by this tool!
You can get data for coverage, mobile usability, and AMP.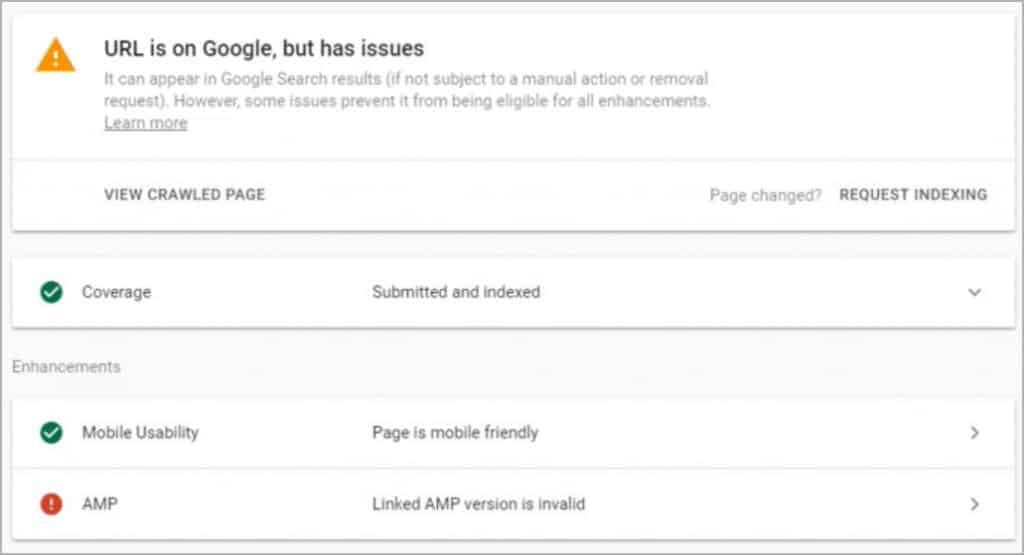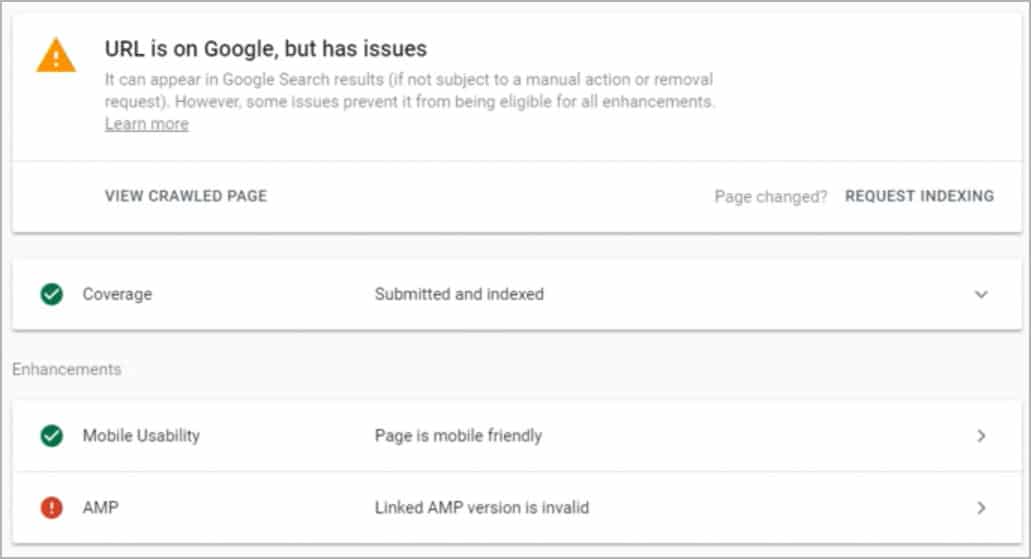 All the metrics will be shown with green check buttons or red exclamatory button. So, you'd know where to work on!
Coverage and Sitemaps: This feature makes you aware of the indexing issues your website has.
Inside Coverage, you can find the number of errors, valid pages with warning, valid pages (which have been indexed), and excluded pages.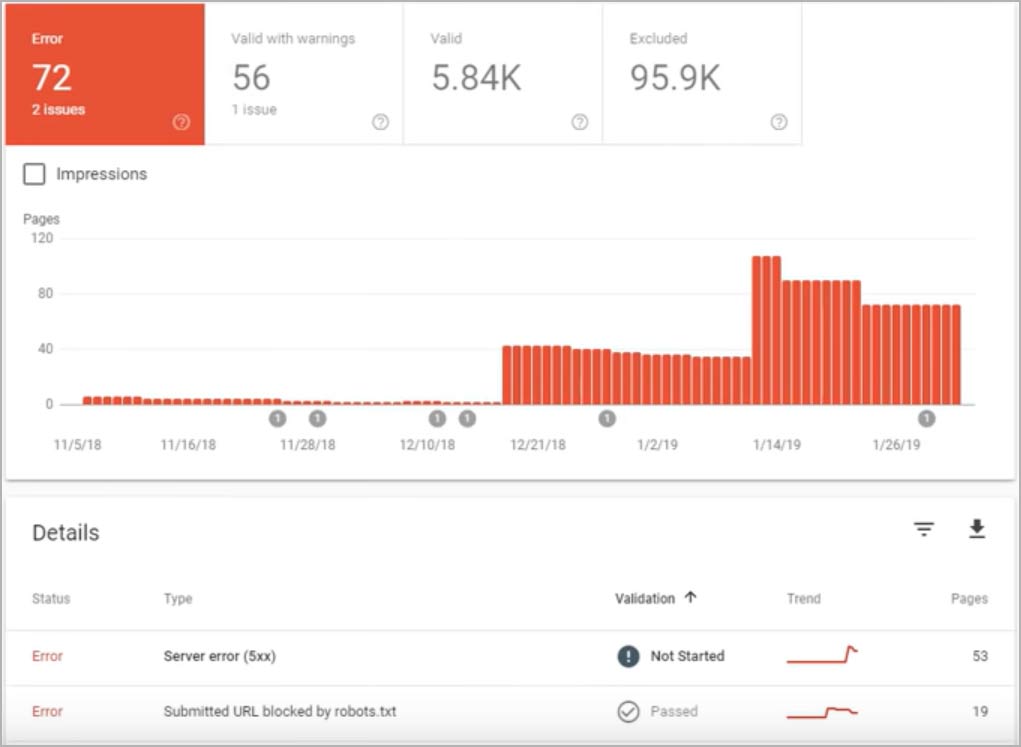 Also, the Coverage section will give you the details of the errors with the error type, validation, trend, and the number of pages which have that particular error.
Also, any particular error can be fixed by requesting Google for Validating the Error.
Sitemaps section shows you the active sitemap of your site with the sitemap type, submission date, last read date, active status, and number of URLs under the sitemap.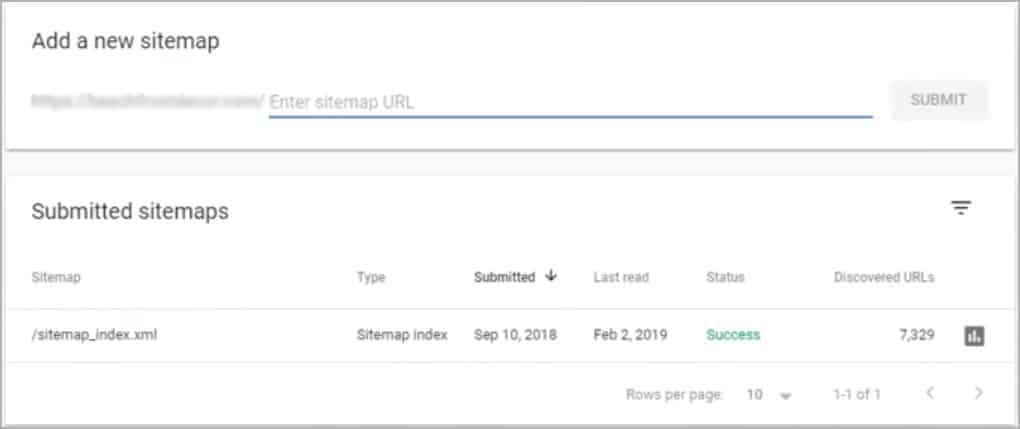 Sitemap submission is immensely easy since you just need to put the sitemap URL extension on the given field at the top and hit the Submit button.
Mobile Usability and AMP: I always keep an eye on these two sections on GSC since Google is extremely touchy about the mobiles, these days!
The mobile usability and AMP sections also show the errors with valid pages; this time, for the mobile version of your site.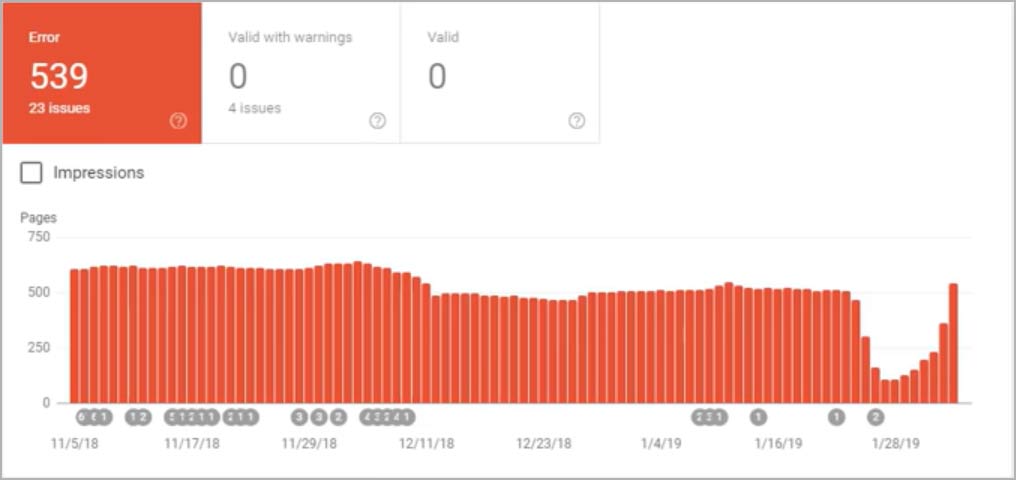 Here, just like Coverage, you can see the error details listed by type, validation, trend, and number of pages with that error.
Links: Internal and external linking have one of my top concerns from the day I started SEO. And GSC is one of the best SEO tools in 2019 that assists in a total evaluation of the linking your website has.
You can get the crucial and updated data like the top linked pages for external and internal links along with the figures.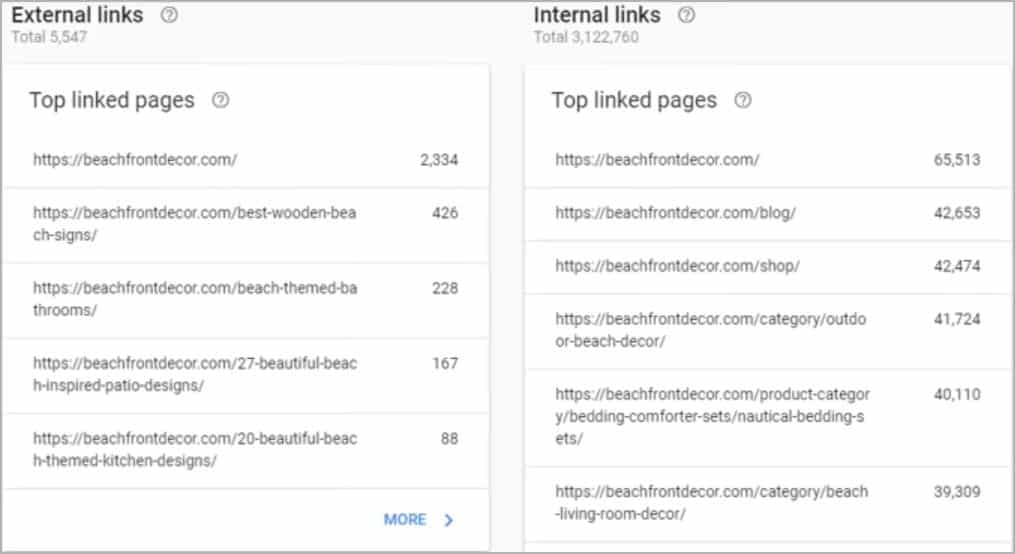 There will also be a list of backlinks (along with the source URL and number of backlinks, built there) your website has managed to build.
GSC will also help you know the most used anchor texts which can very well be the keyword you may target in recent future!
Lastly, all the data can be exported; so, you don't have to be online every single time.
Other Features: There are a number of other important features that revolve around the security of your site. GSC will promptly let you know whether there's any minor or major security issue under the Security Issues section. And the same goes with Manual Actions where you will be notified by the tool if there's anything that is needed to be taken care of.
Pricing
Well, here's the good news! Google Search Console is a bit difficult to understand at first but it's a free SEO tool!
Official Website: https://search.google.com/search-console/
Serpstat – Freemium All-in-One SEO Tool
One of the best growth hacking SEO tools available in the market, Serpstat is one of my favorite content marketing, search analytics, and keyword research tools that would hand you the keywords which can be used to grow your website traffic drastically. Quite like Ahrefs, SEMrush, and Moz, this is also an all-in-one SEO platform which can be useful for a number of SEO analysis jobs. Serpstat was free before; but now, they restrict the information after a certain limitation. Moreover, you would not be able to access all the features if you're not a paid subscriber.


However, Serpstat still pops up in my list because the pricing is fairly affordable, compared to the other similar online SEO tools. You would not only be able to analyze your competitors and find keywords, but you can also compare domains and URLs, track the ranking, do a site audit, analyze backlinks, and more! Well, there's a precaution: while I was doing my research for this article, there've been some functionalities which were not working properly on Serpstat. I hope that's a glitch in my case, and you'll not face any trouble.
Features of Serpstat
Competitor Analysis: Serpstat allows you to analyze your competitors just by entering the URL of your website or any web page.
Right after you put your website URL and hit enter, Serpstat will automatically fetch the other competitor of yours based on the nature of your website and generated keywords.
The competitor list will come with the common keywords, missing keywords, relevance rate, number of keywords generated on the site, and visibility.


Moreover, you will be able to edit the list of competitors and include one of your own preference.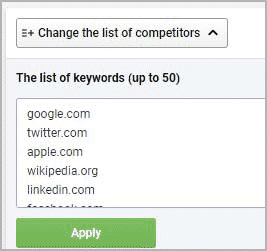 Keyword Research: Serpstat's core strength lies in Keyword Research and when you'd know the features, you'd know why!
You'll get a nice overview of the keyword (search volume, competition, CPC, and difficulty) you want to analyze.


There'll be a list of related keyword list for both organic and paid marketing with their individual volume, CPC, and other metrics.
You'll be able to find the Keyword Trends along with the list of competitors for the keywords. The keyword trend data is fetched from Google Trends, which is another viable SEO tool, described later in this article.


So, when you see the list filled with the biggies, looking for another keyword would be a smart idea, I guess (if you don't have much authority on your site, compared to them).
Backlink Analysis: The backlink analysis tool of Serpstat will help you know more about the backlinks your website has built till date. There will be analytical data with clear and precise data alongside a number of features.
There'll be statistics for referring domains, referring pages, indexed pages, linked domains, outbound links, and unique outbound links.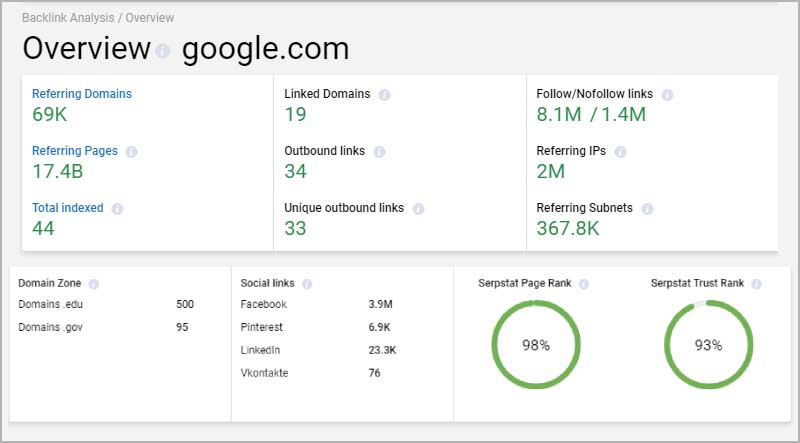 Moreover, it will also clearly show you the number of dofollow and nofollow links, referring IPs, and subnets.
You can also find the graphical representation for the unique backlink history and referring domains along with a bar diagram for New & Lost backlinks.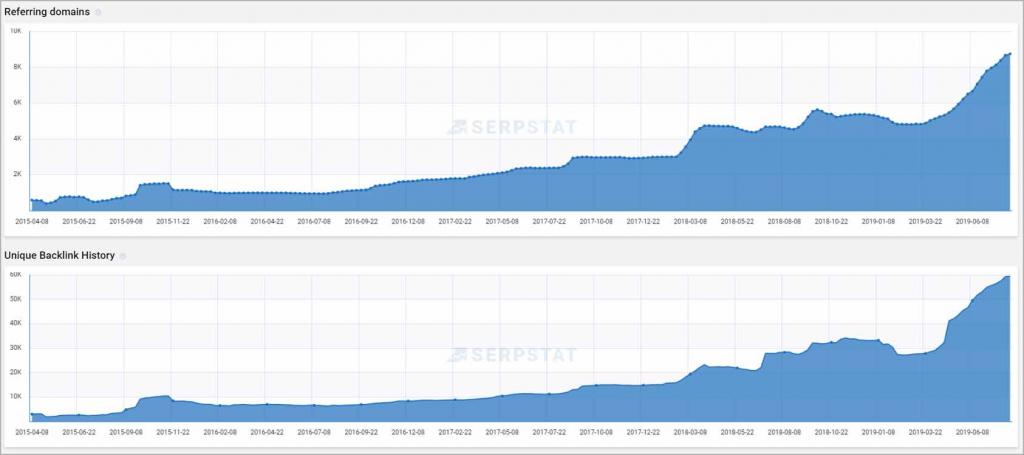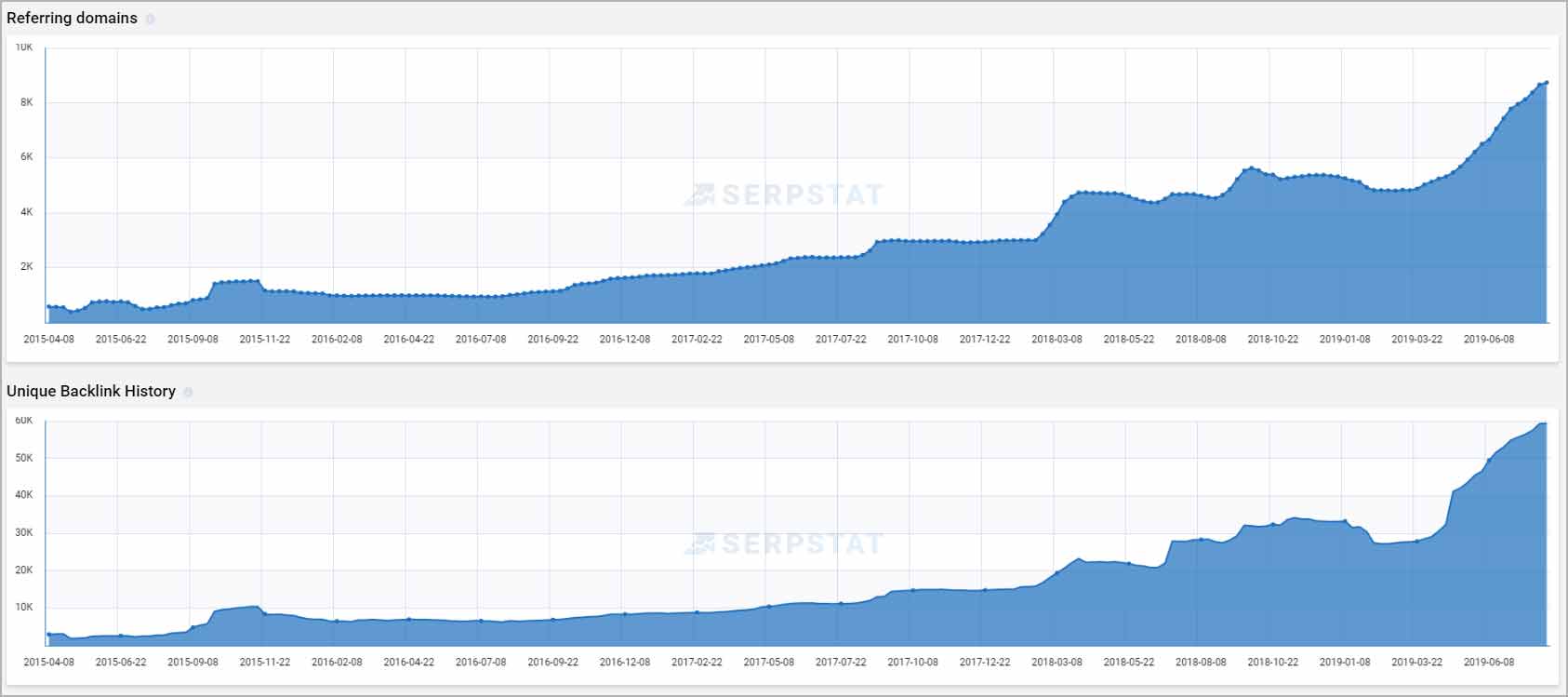 Also, you'll get the data for anchor text, domain extension (domain extensions that have given you the links), and countries where your backlinks are found.
Rank Tracker: Serpstat is the most appropriate SEO tool for rank tracking and many SEO experts are there who access the tool for tracking the keyword ranking for their website and for their competitors. You can get the real-time ranking for your entered URL here.
Site Audit: I, precisely, get shocked to see people who call themselves SEO analyst (even, experts) and don't audit a website prior to the optimization process! A website audit hands you the right information to decide where you need to work on and where not! And Serpstat passes with distinction when it comes to the website audit.
You can check the website loading speed which turns out to be a huge factor for user experience and eventually, ranking these days! The website loading time data will be shown separately for desktop and mobile along with the issues that are there!


Also, they're going to give you a score based on your website's current status. This score helps you evaluate your current website condition and improvements you (may or may not have) made.
It will show you the high, medium, and low priority issues along with green check marks for a number of ranking factors (arranged in different categories) that ensure you're going towards the right direction.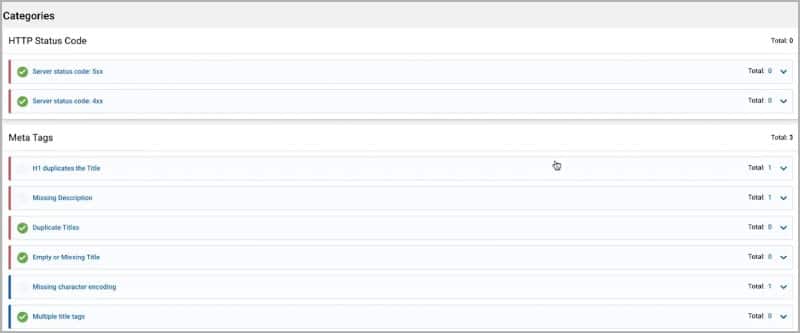 Pricing
Serpstat is free to use at first, but comes with limitations in terms of features and data. If you want to get the full access, you have to upgrade your free plan to a paid plan which starts from $55.20/month (for yearly subscription).
Official Website: https://serpstat.com/
Ubersuggest – Free Keyword Research SEO Tool
Well, if you want to find a completely free SEO tool, Ubersuggest would surely pop up as a viable candidate with a promising performance for keyword research, website analysis, content ideas, and backlink analysis. A product of a notable name in the SEO industry, Neil Patel, this promptly becomes one of the best SEO tools for the people who are just starting out and do not want to invest in the paid tools.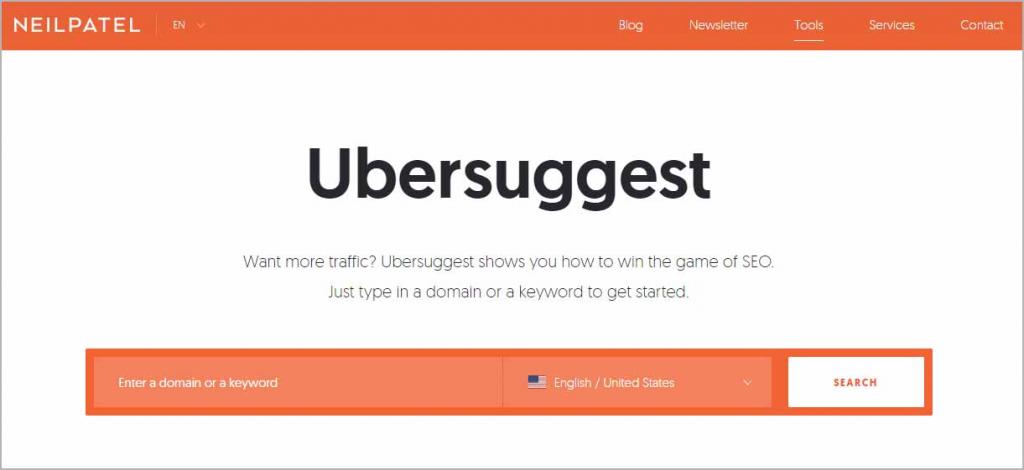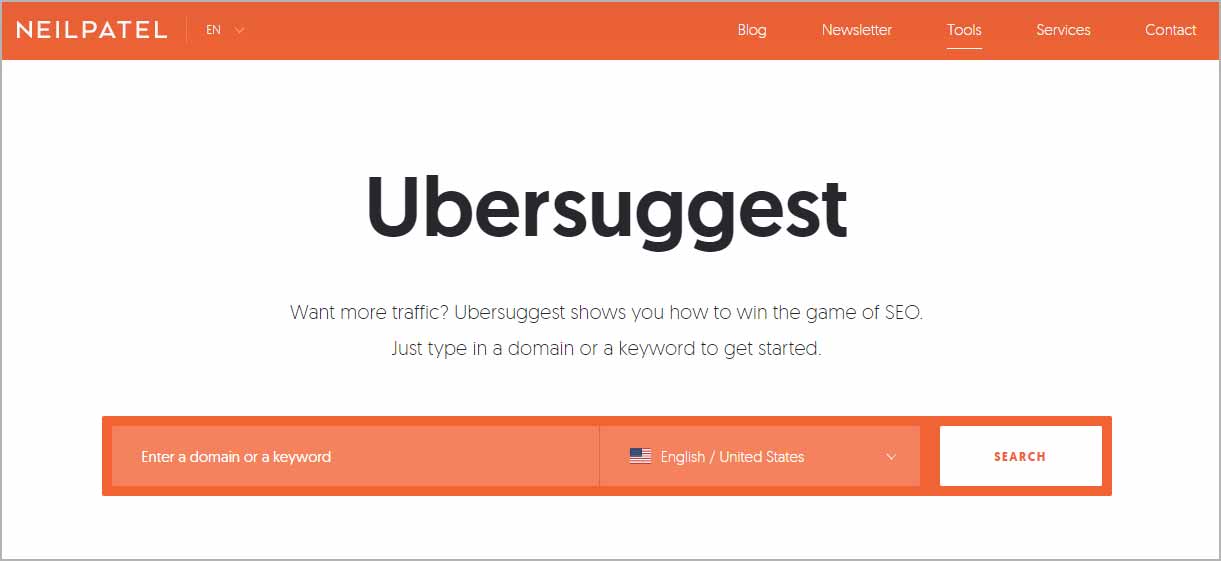 Ubersuggest allows you to analyze any given keyword or URL for a specific region! Ubersuggest helps you discover the short and long-term keywords along with their competition, CPC, volume, trends and more as the key metrics. Here, you'll be able to get the keyword idea for both Organic SEO and PPC campaigns. Moreover, this tool also works exceptionally well for spying on competitors as you can put any URL here, and the tool will help you find the backlinks, keywords, monthly traffic, domain score, and top pages of the website along with the important metrics like estimated visits, rank, and social shares that help you evaluate a website's marketing strategy and improve your SEO techniques.
Features of Ubersuggest
Astounding but true, Ubersuggest comes with a range of lucrative and rich features that can easily give a tough competition to the paid marketing tools available on the internet.
Domain Overview: The domain overview section covers each and every aspect of a domain that can come in handy for your optimization process.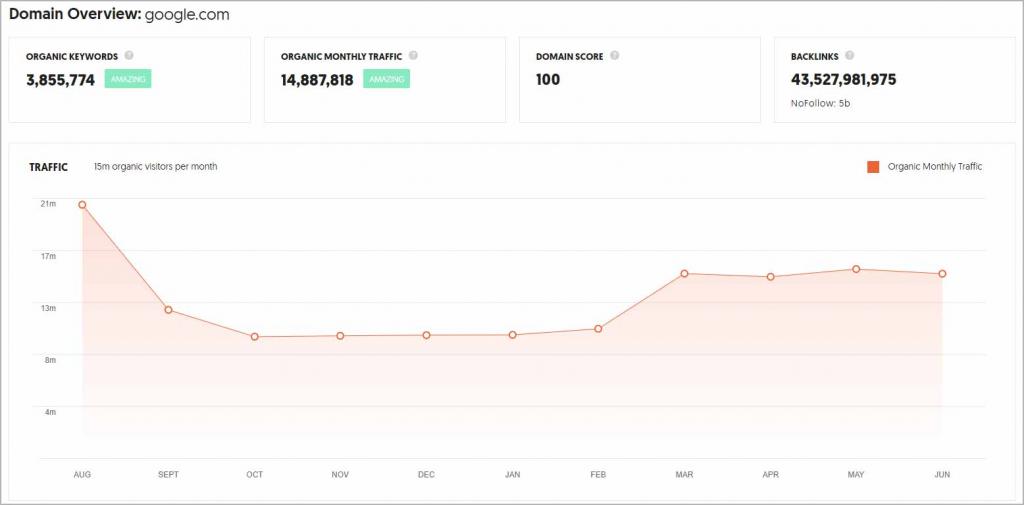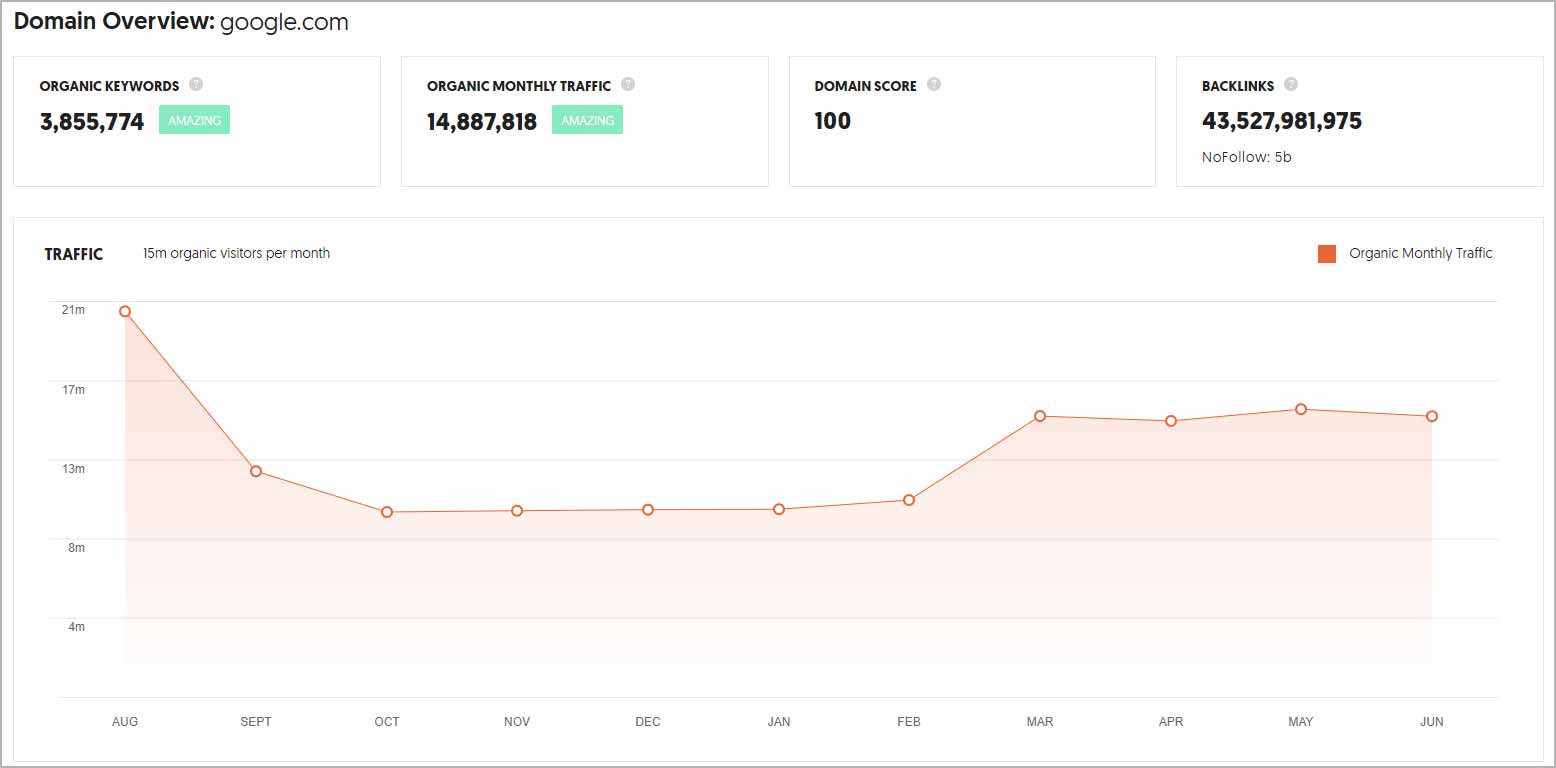 There will be definitive figures for organic keywords, organic monthly traffic, domain score, and backlinks (along with the number of nofollow links).
You will get a graphical presentation for your monthly website traffic which can help you in understanding the improvement over time.
Also, there'll be a bar diagram, representing the keywords' SERP positions over time.


You can find the top pages and keyword lists by country.


Keyword Research and Analysis: Ubersuggest has truly been a revolution among the free SEO tools with such innovation and precision in keyword research and analysis.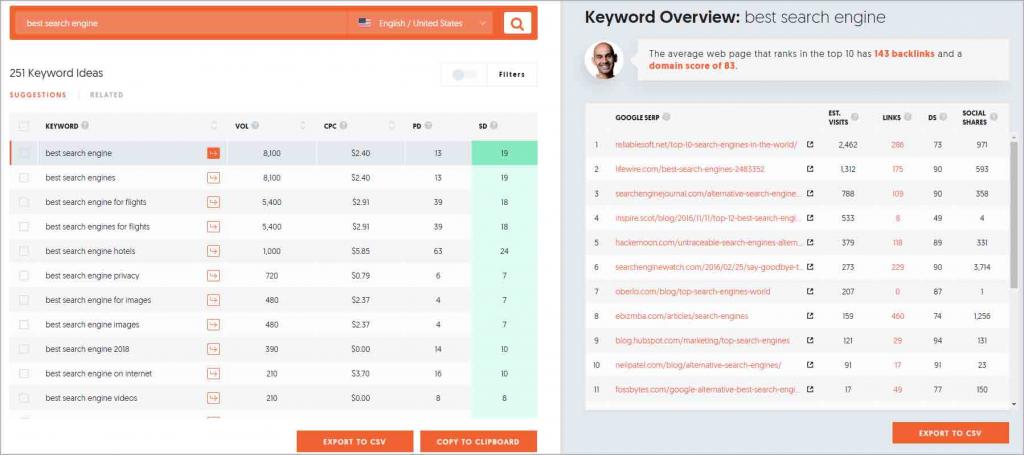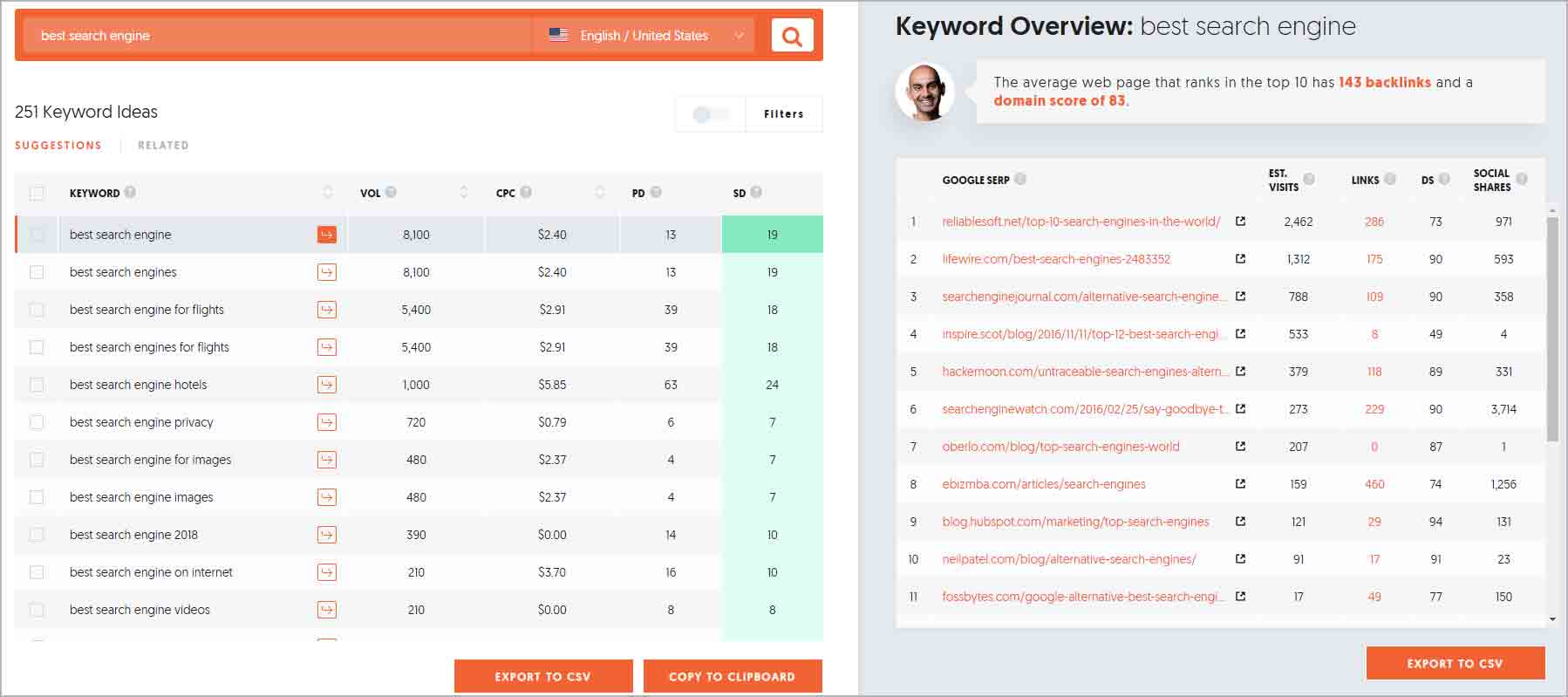 You can search for any keywords for any given countries and Ubersuggest will fetch the most crucial data for the term.
You can not only find the key metrics of the searched term, but the tool will also show you the related keywords and keyword suggestions (they call it Keyword Ideas) and their monthly search volume, CPC, and keyword difficulty (both for paid and organic search)
When you are studying a website (your new project, your own site, or your competitor site), you can easily find the keywords for the domain along with their SERP position, estimated visits per month, and other data for different countries.
Content Ideas: The latest addition to Ubersuggest, Content Ideas offers you the topics for your content based on your searched term. Here, they'll show you the related contents written by other websites along with their website URL, estimated visits for the article, backlinks for that page, and social shares. So, you know where they stand.


Website Audit: Auditing a website for SEO is immensely easy on Ubersuggest. It offers useful insights on the crucial metrics that can surely boost up your website to the next level.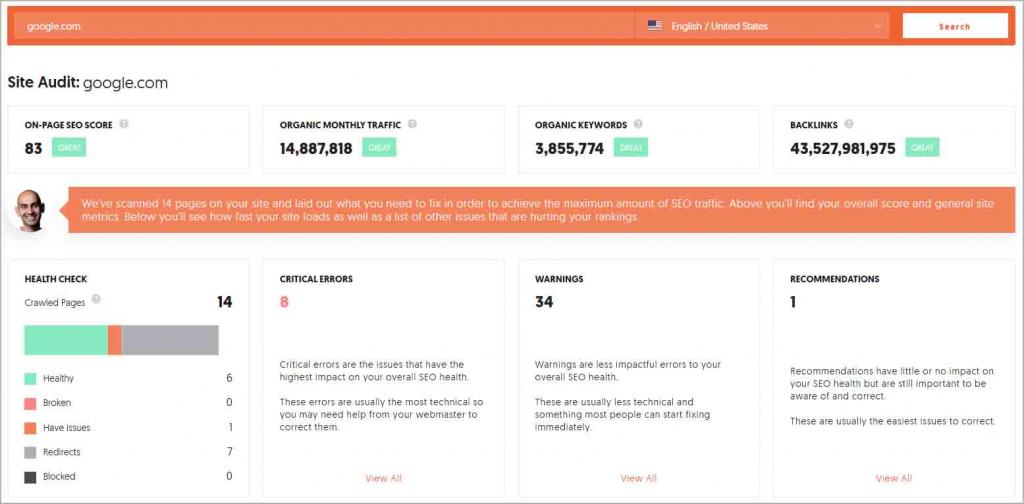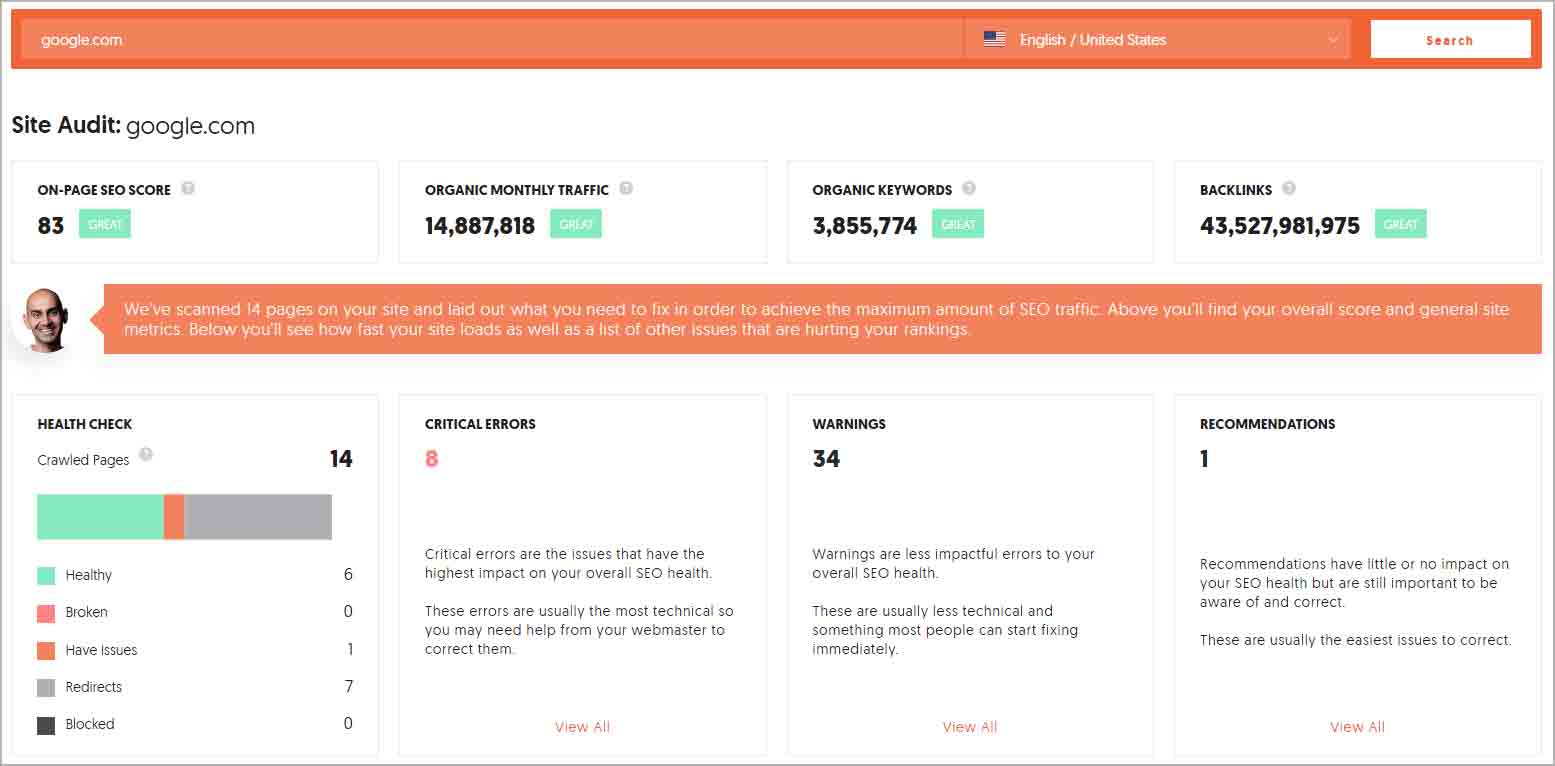 You'll get an on-page SEO score with a health check for your entered website.
The tool will also bring out the errors on your site and display them in a hierarchy from critical errors to warnings and recommendations. So, you know where to work on at the very first.
Moreover, it will also show you the loading time of your site both on desktop and mobile. So, you don't need to visit any other platform.


Note: If you want to optimize your website loading time, read our extensive guideline.
Backlink Analysis: Ubersuggest shows precise data when it comes to your website backlinks.
Each of your backlinks will be listed with the source domain score, page score, link type (text, frame, image, etc.), anchor text, first seen and last seen.


The free SEO tool will also showcase the source and target URL.


You can filter the backlink list by the backlink type (dofollow or nofollow) and some advanced filtration options.
I really looked up to the articles written by Neil Patel and now, I spend even more time on the site owing to the awesome features and functionalities provided by Ubersuggest. It's really uncanny to have such a great SEO analysis tool for free but when there's actually one available, we should all take advantage and boost our SEO results.
I want to give you a caution that sometimes the tool can take a little time to function but that's completely okay because you're saving a lot of bucks!
Pricing:
Free (No Hidden Cost)
Official Website: https://neilpatel.com/ubersuggest/
Screaming Frog SEO Spider – Freemium Website Audit SEO Software
Personally, I get surprised when I don't find Screaming Frog SEO spider, making the list of the best SEO tools on many articles! There's no way anyone can create an SEO tool list without mentioning this outstandingly intuitive and precise SEO software. Without any doubt, Screaming Frog SEO Spider is one of the top names when it comes to analyzing a website (whether it's yours or your competitors'). If you are looking for a site audit, experts would always suggest you the software because of its speed, precision, and almost unlimited features.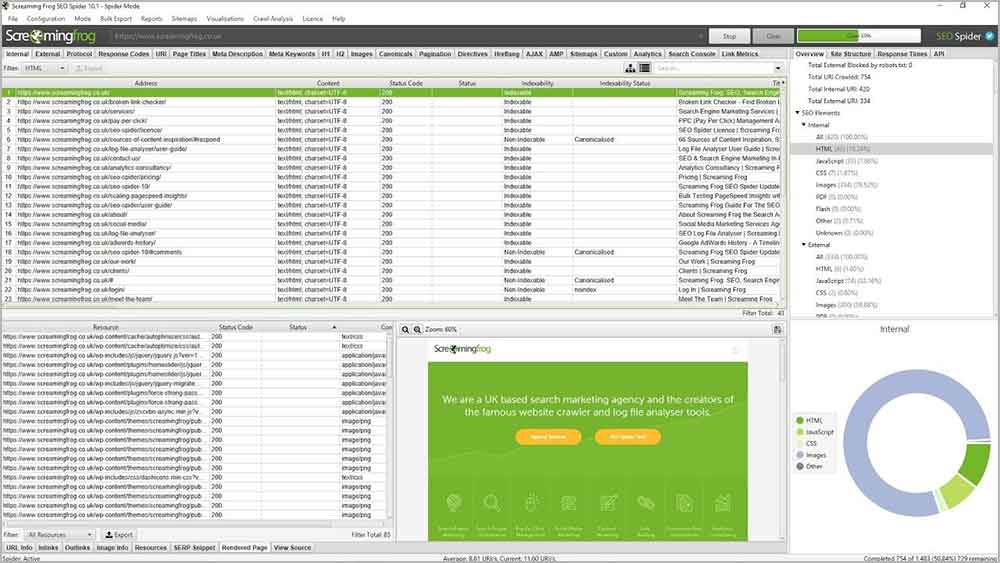 With this revolutionizing downloadable SEO software, it's super-fast to crawl your site or your competitor site and inspect every minute SEO factor which would ensure a drastic improvement for an error-free site. You can discover whether there's a 404 error, duplicate content, bad redirection, word count, tags, headers, and everything else you can think of! Screaming Frog SEO Spider enables you to find opportunities for quick fixes and get ideas on the optimization improvements.
In simpler words, what I can tell from my personal experience is, Screaming Frog SEO Spider is the best SEO software to have a quick site audit alongside a wonderful opportunity to get easy and actionable insights. If you're still in hesitation, I'd suggest you take a look at its features!
Features of Screaming Frog SEO Spider
If you ask, nine out of ten people (who possess SEO knowledge) would happily recommend you this tool for the site audit. That's because the tool is feature-rich and advanced in terms of functionality.
Broken Link Detection: The SEO Spider of Screaming Frog quickly crawls each and every component of your website and finds out the server error along with the 404 broken links. What I like more is, they let me export the errors and source URLs to fix; and I can even send them to my developer.
Meta Data and Page Title Analysis: There's a good chance that you might be losing the ranking and website traffic because of the poor page title and metadata! Well, you don't need to fear anymore since Screaming Frog SEO Spider comes to the rescue and identifies the metadata and page title that are too long, too short, duplicate, or missing across your website.
Duplicate Content Detection: This tool also helps you in finding the duplicate content across your website. You can detect the duplicate URLs (through md5 algorithmic check), partly duplicated components like heading, page title or description, and low-content pages, and take action against them.
Google Analytics Integration: Well, SEO Spider can even get connected to the Google Analytics API and you can start fetching the user data like bounce rate, sessions, goals, conversions, revenue for landing page, and the transactions against the crawling. You get each and every valuable data handed to you without any dilemma.
XML Sitemap Generation: This is not only a site audit tool, but the best SEO software that would take care of all your optimization requirements. And enabling you to create the XML sitemaps for images and the whole website (the regular one) is just an example of the capability of the software. The sitemaps are created with the advanced configuration with change frequency, priority, and last modified.
Site Architecture Analysis: Screaming Frog SEO Spider is powered with the ability to scrutinize the URL structure and internal linking by making use of the interactive crawling feature. Also, there'll be tree graph website visualizations and directory force-directed diagrams which would help you drastically in your SEO jobs.
JavaScript Website Crawling: With the integrated Chromium WRS, this software can render web pages in the best and fastest way possible. It can crawl the frameworks like React, Angular, and Vue.JS along with the dynamic and JavaScript-rich websites.
Crawl Saving and Re-Uploading: Once you crawl a website, you can save the crawl! Well, why waste those loading and crawling time for every single time you put a website for an audit? The paid subscribers can save the crawl data and open it on SEO Spider without going through the same process over and again.
Crawling and Validating AMP: Using the AMP Validator, officially integrated into the system, Screaming Frog SEO Spider crawls the AMP URLs and validate them so that your website and AMP pages do not get into any trouble during the process of the search optimization process.
Audit Redirects: The crawler of SEO Spider finds out the permanent and temporary redirects as well as detects the redirect loops and chains. On top of that, a list of URLs is uploaded by the software to audit during the migration process of a website.
Search Snippet: One impressive and innovative feature of Screaming Frog SEO Spider is the search snippet. After a site gets crawled, you can select one URL and see how it appears on Google SERP. This has been a great help for me since I could see whether the meta title and description are looking good on the SERP (whether the description is exceeding or not).
Pricing
Well, it's a freemium software which means you can use it for free with a certain limitation but need to pay for using further. Likewise, Screaming Frog SEO Spider is completely free to download and use for crawling up to 500 URLs with limited features and the paid license starts from £149.00/Year.
Official Website: https://www.screamingfrog.co.uk/seo-spider/
Mangools – Freemium All-in-One SEO Tool
One of the best SEO tools online, Mangools may not be so popular like its other counterparts, but it's very likely that you are aware of the sub-products of the tool. For instance, KWFinder is one of the most popular keyword research tools in the market and it's a sub-product of Mangools. Likewise, there are a handful of other effective SEO tools which, collectively, make Mangools one of the most efficient selections when you are rummaging for an SEO tool that would help you analyze your website, keywords, and competitor for the finest outcome.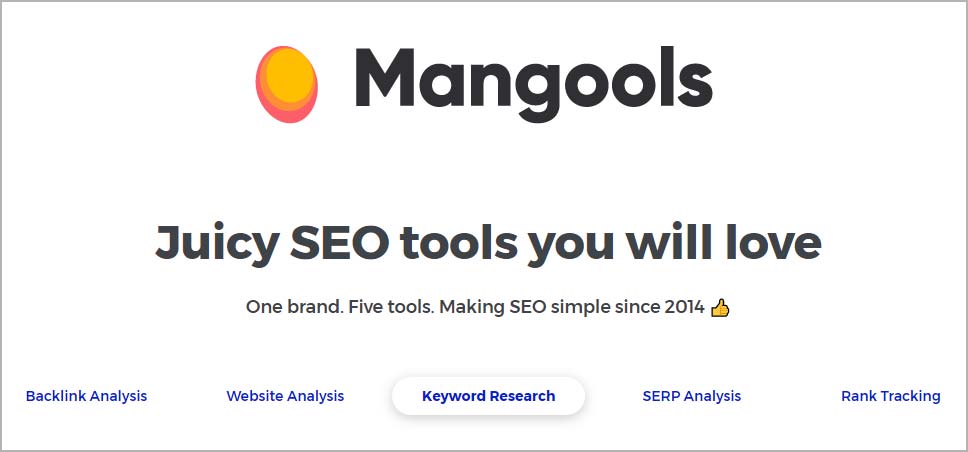 Mangools works just like Ahrefs, Moz, and SEMrush with different features and functionalities like keyword research, competitor analysis, backlink analysis, rank tracking, SERP inspection. It gets deep into the SEO process and lets you have the best insights and data that would help you in ranking your website and augment its credibility on the world of web. Unlike the popular SEO tools, it has different products for different functionalities which will be described below.
Moreover, it has a browser extension for Google Chrome and Mozilla Firefox, Keyword Anywhere, which is a nice tool to take SEO precautions on the go and keep increasing the conversion.
Mangools Products and Their Features
As I said earlier, Mangools has its own products which take care of different SEO prospects. At the moment the SEO platform has five SEO tools which can make your life easier in the digital marketing field.
KWFinder
KWFinder is the most popular tool of Mangools which is apt for conducting keyword research. With absolute ease of use, KWFinder comes with a simple interface which makes the job easy, even for an amateur.
Features of KWFinder
Not only can you run your keyword research by entering a keyword for specific (or non-specific) region and language, but can also search by a domain to find the keywords associated with it.
For Keyword Search, a list of related keywords will be fetched right after you search for any particular keyword. Also, a number of key metrics will be displayed for each keyword like the keyword trend, search volume, CPC, PPC, and difficulty. Also, you'll get the SERP overview of the searched keyword.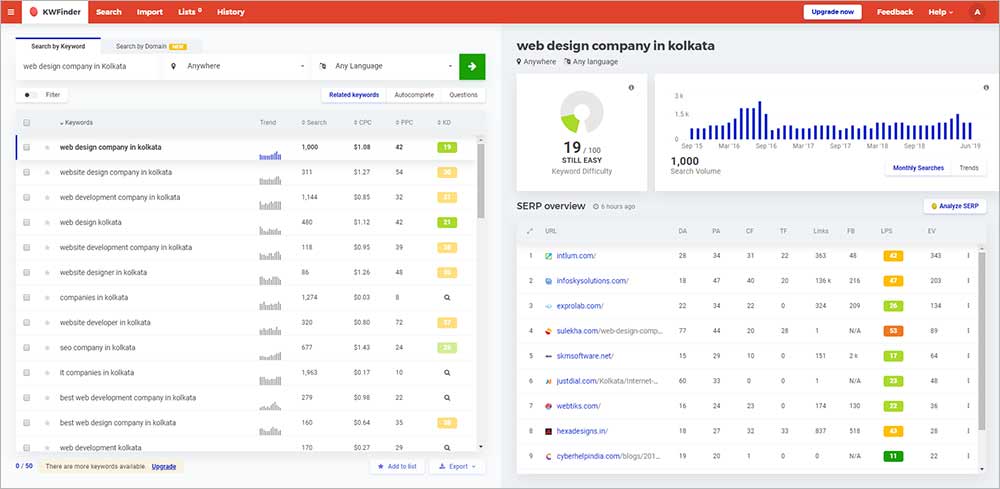 For Domain Search, you will get your hands on the top keywords, generated from the domain along with the SERP position, search volume, estimated visits, CPC, PPC, and keyword difficulty for each of the keywords on the list. Also, you can select any specific country(s) for discovering the keywords for those regions.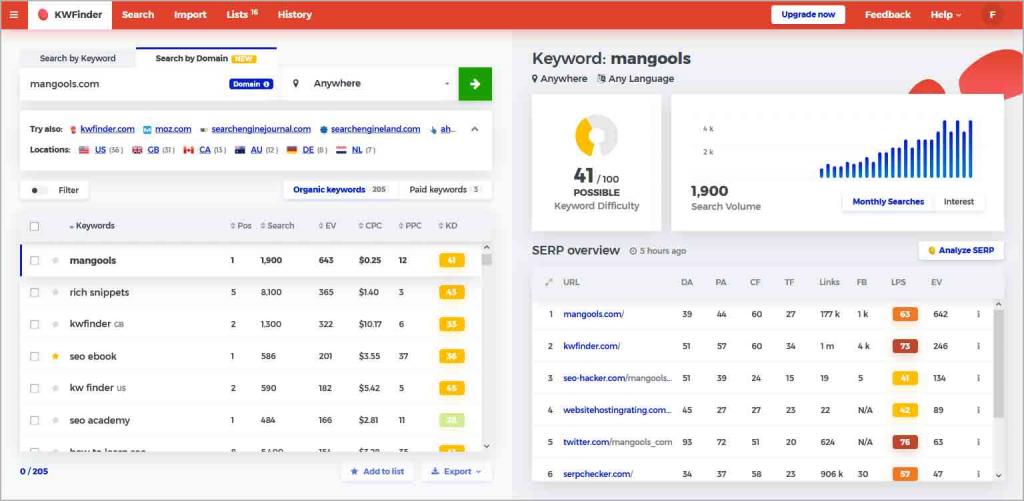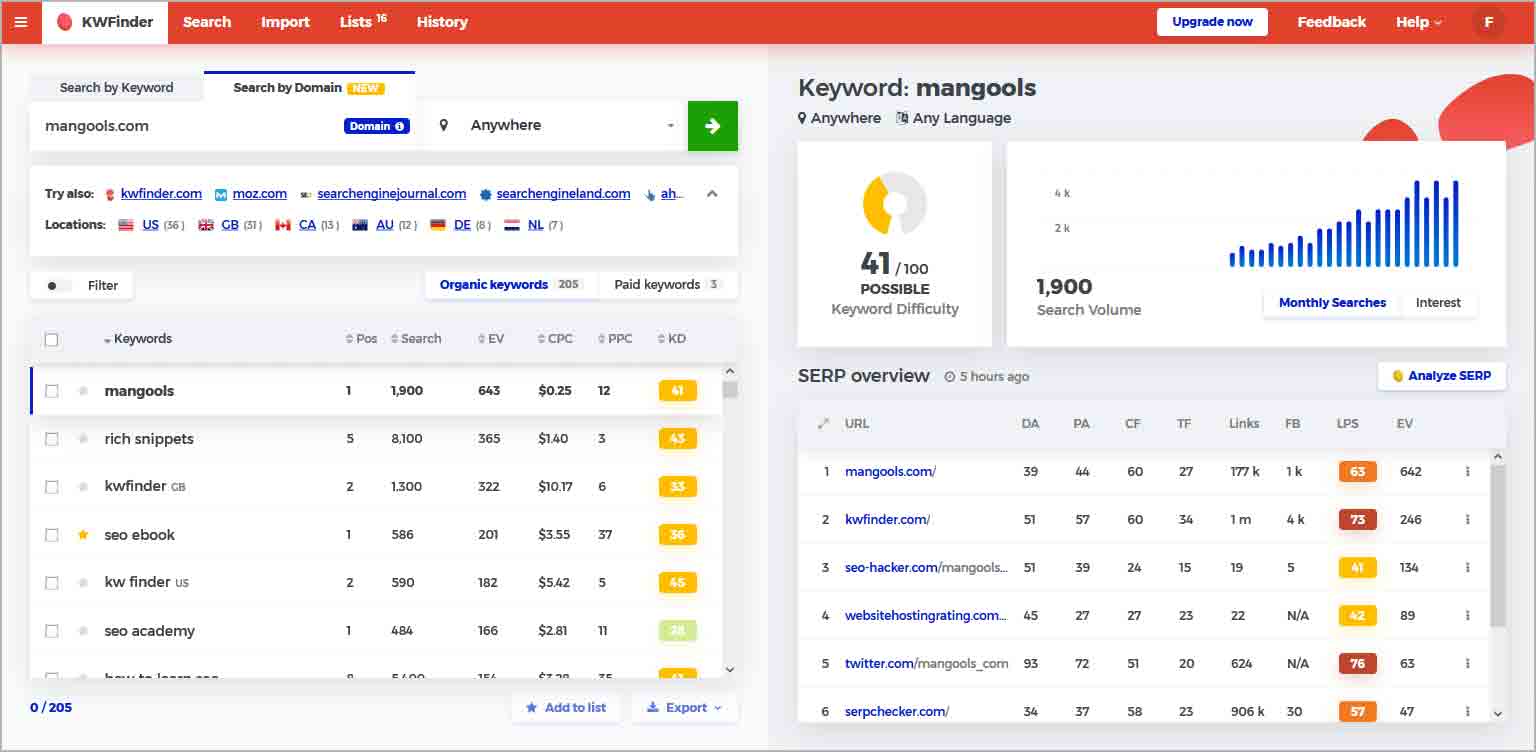 SERPChecker
SERPChecker is a tool that helps you get the local SERPs for over 50,000 locations, as the tool claims. It is one of the best SEO tools to understand your competitors' weak spot by analyzing the SERP in the most detailed manner. You can just enter a keyword, select a specific location (if any) you want to find the results from, select your device preference (desktop or mobile), and kickstart your analysis process which will give you more precision than you can imagine.
Features of SERPChecker
You'll get a perfect SERP analysis with the real-time SERP view along with the keyword difficulty and number of search results.
The SERP results will show up with important metrics like the rank position, percentage of visibility, and the CTR.
The results will come up with the title and URL along with the LPS (Link Profile Strength) which describes how hard it's gonna be for you to beat that site.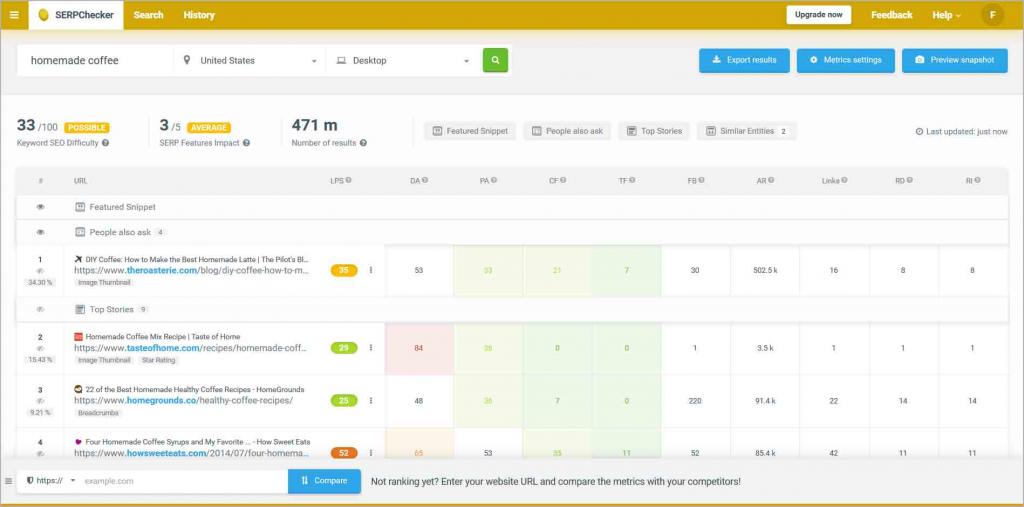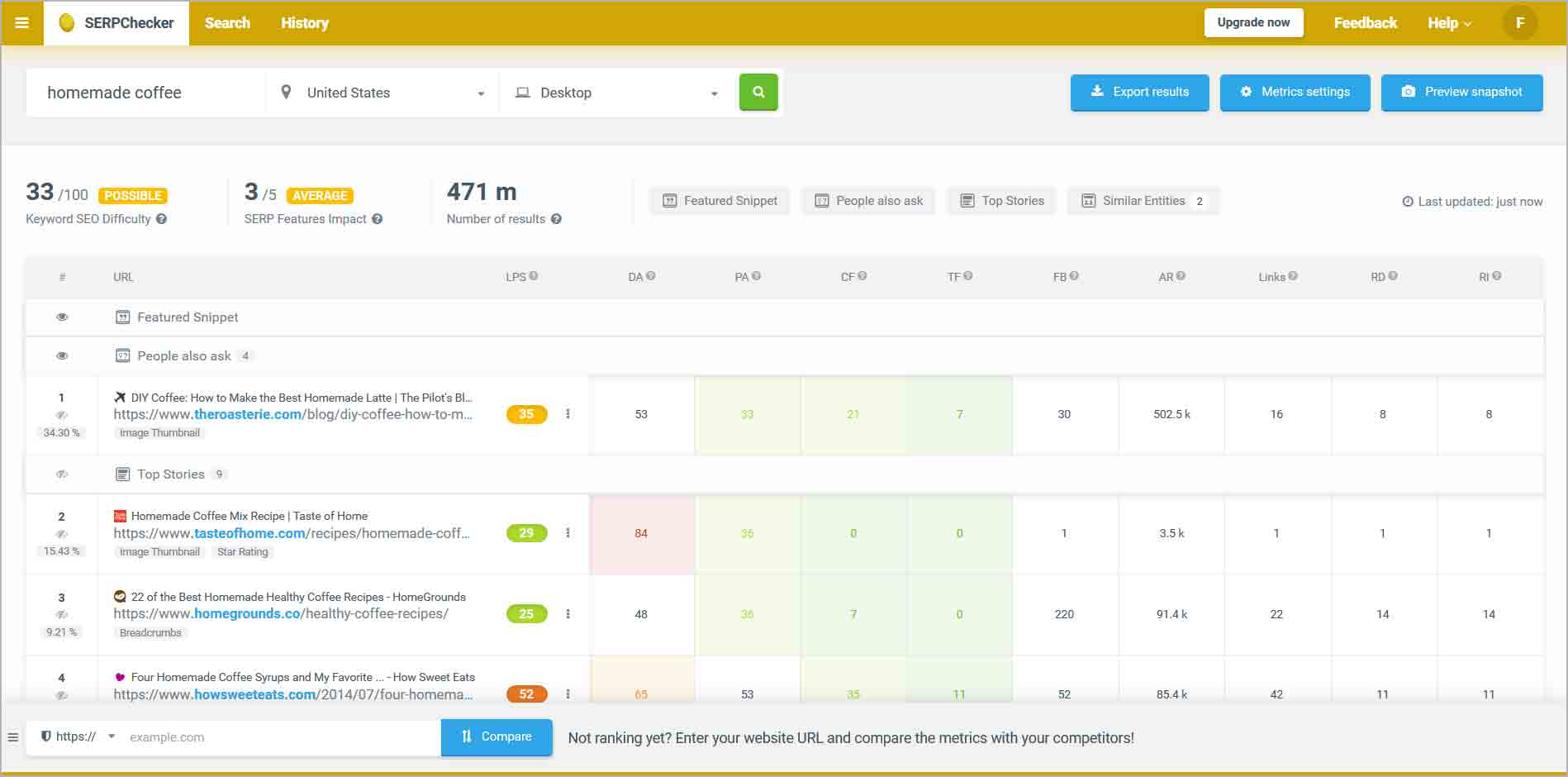 There'll be more metrics like DA, PA, CF (Citation Flow), TF (Trust Flow), Alexa Rank, number of backlinks, referring domains, and many more which help you understand every little strategy, taken by your competitor sites.
Moreover, you can also copy these metrics, copy one URL, visit the website profile (comes under SiteProfiler) and find the backlinks (comes under LinkMiner).
SERPWatcher
Apart from being too easy to use, SERPWatcher comes in handy for spying on your competitors with the utmost accuracy. You can enter your competitor's domain, followed by any specific country you want to spy on, and the device where you feel your competitor can be a step ahead! Also, you need to enter up to 12 keywords (in the free plan) which, you think, your competitor is excelling in.
Features of SERPWatcher
You will get the current ranking, changes in ranking, average ranking, best ranking, search volume, and estimated visits for all the keywords.
Also, there will be a dominance index score, based on the keywords you have entered. This score (out of 100) will determine how well the site is performing for those keywords on the day you are analyzing.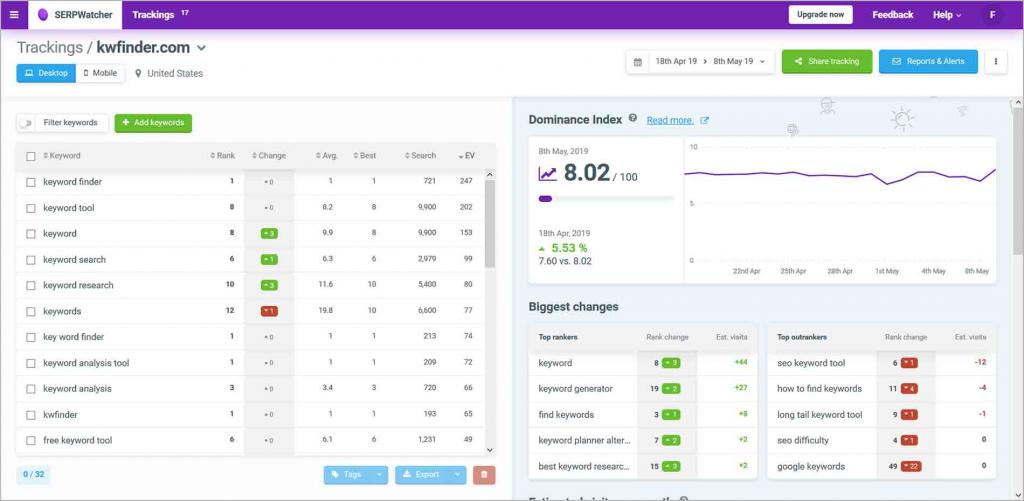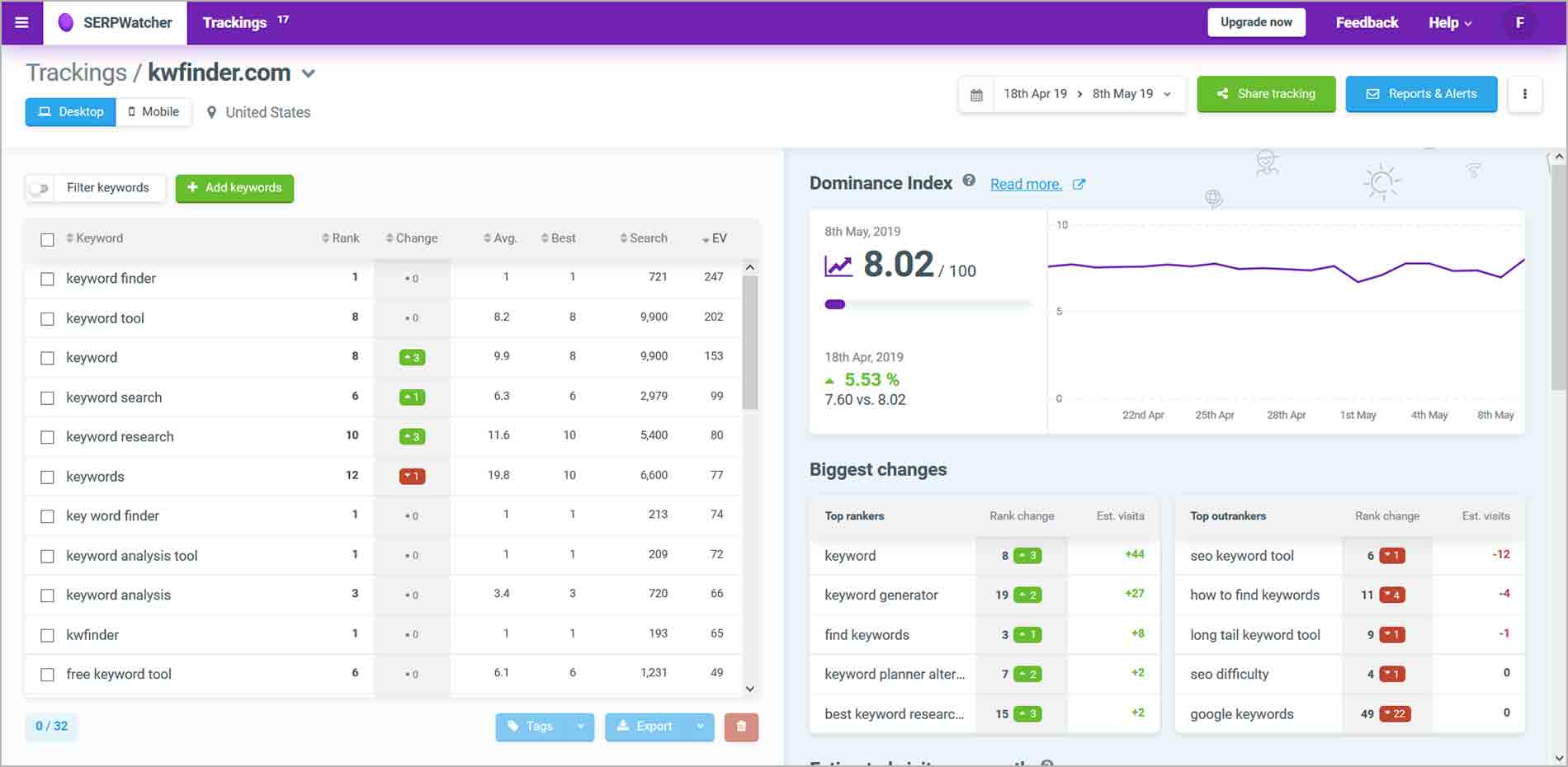 The SEO tool will also show you the keyword position flow that will tell you the exact number of improvement or drop in your entered keyword ranking.
Keyword position distribution section will show you the percentage of keywords distributed across pages.
All data can be exported.
LinkMiner
'Backlink or Content' is the marketing replacement for 'Chicken or Egg.' So, you must have got the idea of how important backlinks are! And LinkMiner is one of the best SEO tools that has strengthen its reputation over time for being one of the best free backlink checker tools as well! With a number of rich features and functionalities, this tool is going to help you find your and your competitor's strengths and weaknesses. For me, LinkMiner is an underrated tool that surely has the potential and right to be under the limelight.
Features of LinkMiner
The tool fetches all the backlink details for the domain put on the search bar with the site URL, name, and anchor text where your website has been linked.
There are further metrics like CF, TF, EL (External Links), AR (Alexa Rank), and LS (Link Strength) that will help you understand the whole scenario and analyze every backlink on a detailed manner.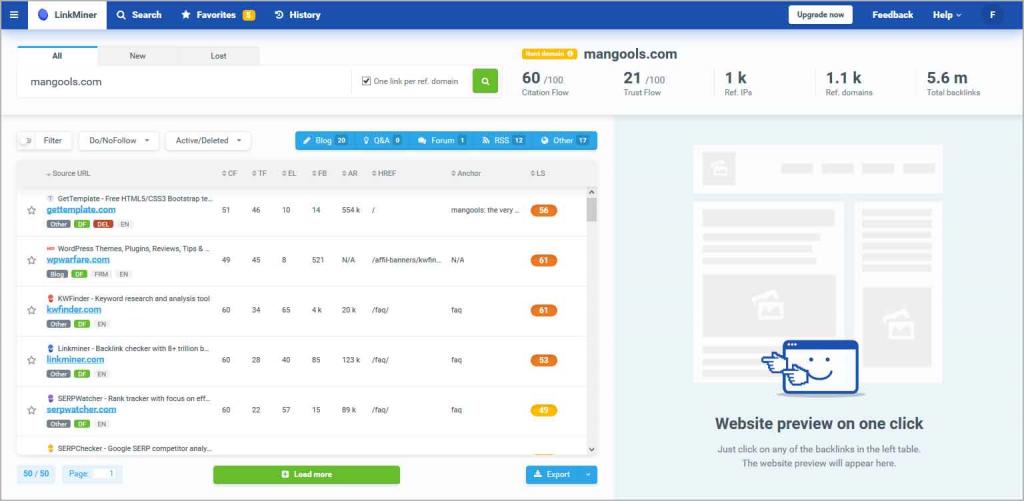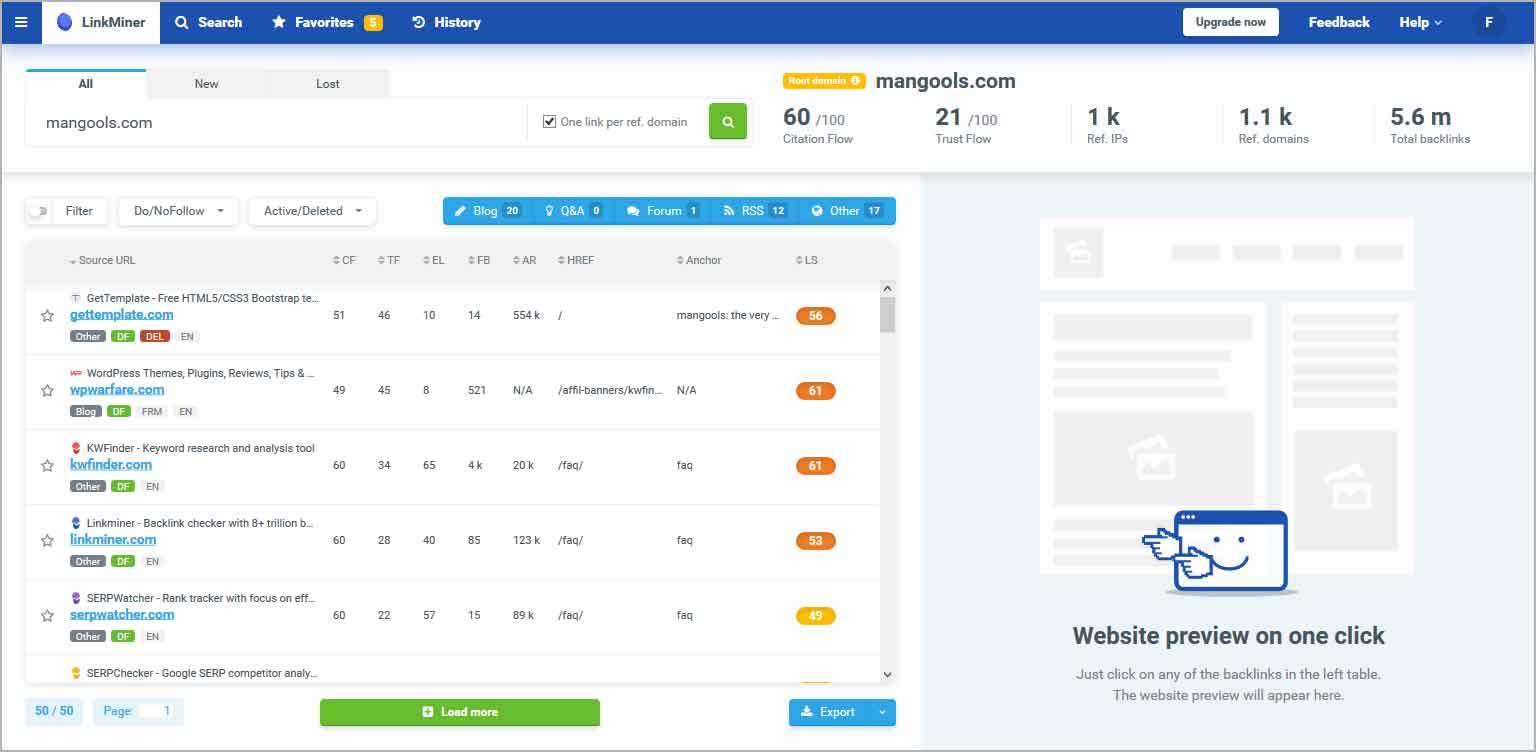 What's more, is, LinkMiner's list of backlinks is categorized by different platform types such as Blog, Q&A, Forum, RSS, and Others. So, you can easily evaluate where your strength is and where not!
One interesting feature of LinkMiner is that this tool shows you the website preview (with a mark on the anchor text) where your backlink has been built.


SiteProfiler
A true revolution in website analysis, SiteProfiler is one of the most uncommon yet intuitive SEO tool you can find on the internet. This tool lets you analyze any website with its backlink, top content, and competitors, all under the same roof. With an immensely simple and catchy interface, SiteProfiler will surely impress any SEO analyst with the extended features.
Features of SiteProfiler
On the overview of the entered domain/URL, you can find the Domain Authority, Page Authority, Citation Flow, Trust Flow, Alexa Rank, Referring IPs, and Facebook Shares with graphical presentation.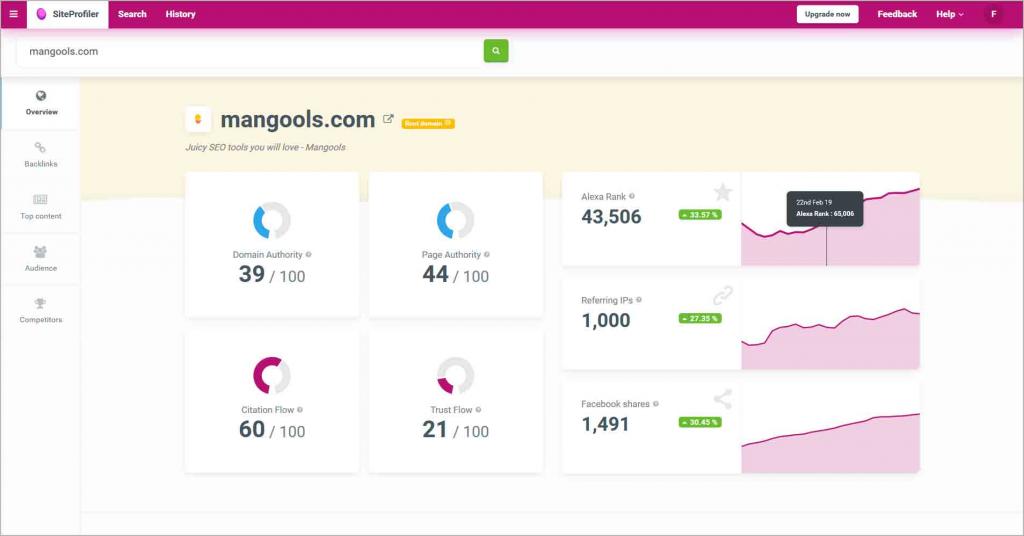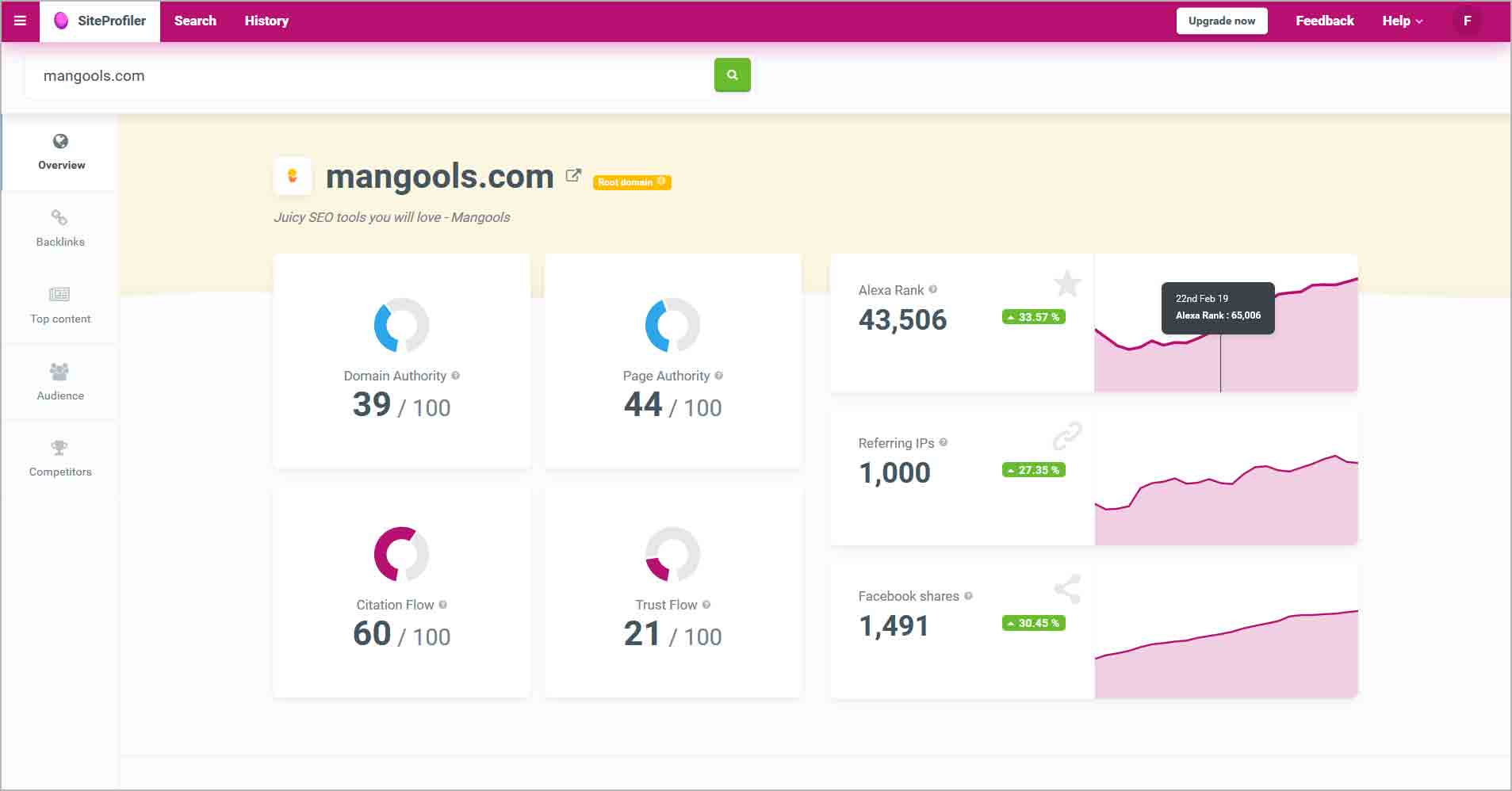 There will be a graphical presentation for the backlink profile as well where the total number of backlinks will be mentioned along with the new and deleted ones, displayed on a bar diagram.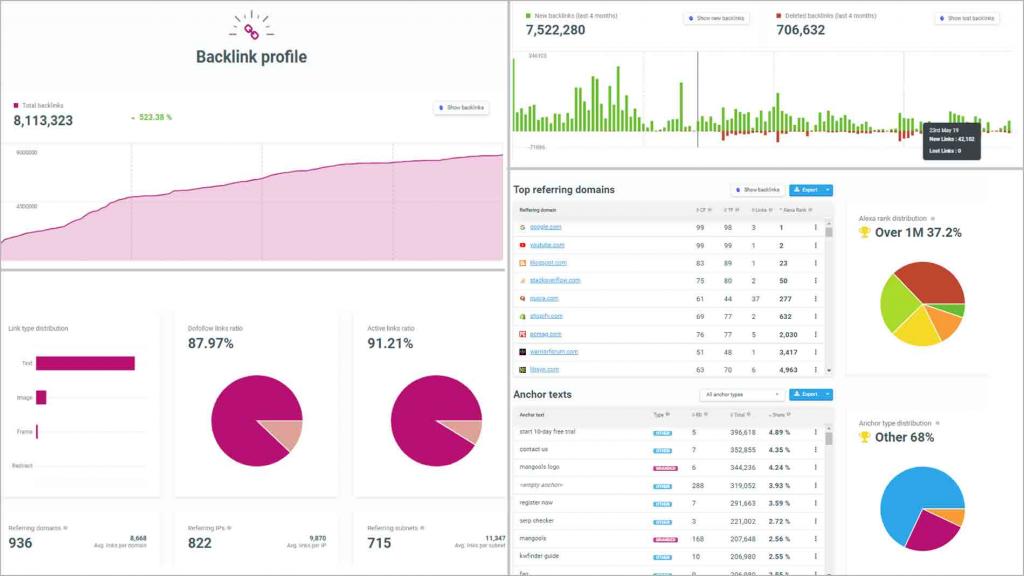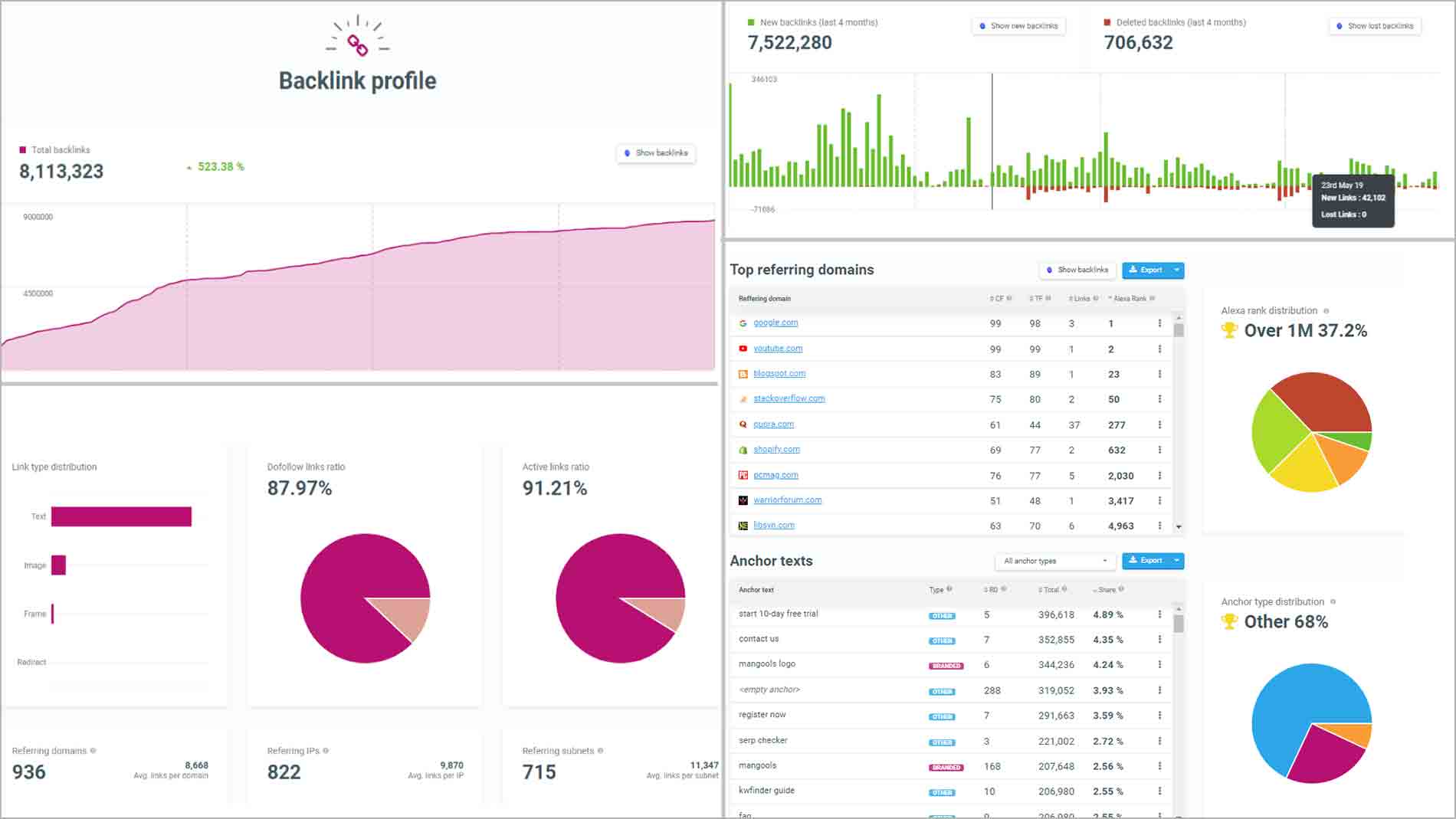 Also, the backlink analysis will have pie charts for dofollow-nofollow link distribution and active-inactive link ratio. The tool will also inform you of the backlink type (text, frame, image, or redirect) alongside the top referring domains, anchor text distributions, and more.
You'll find the top content of the site, determined by the Facebook share and referring domains.
Also, the competitor list will be there as per the website's nature and the content of the site.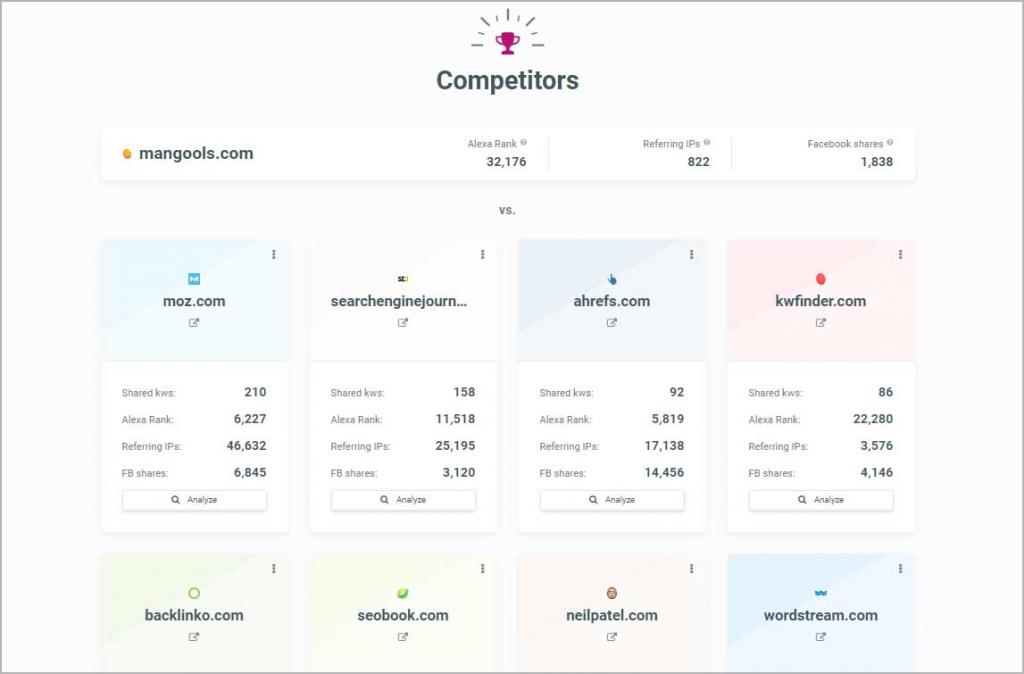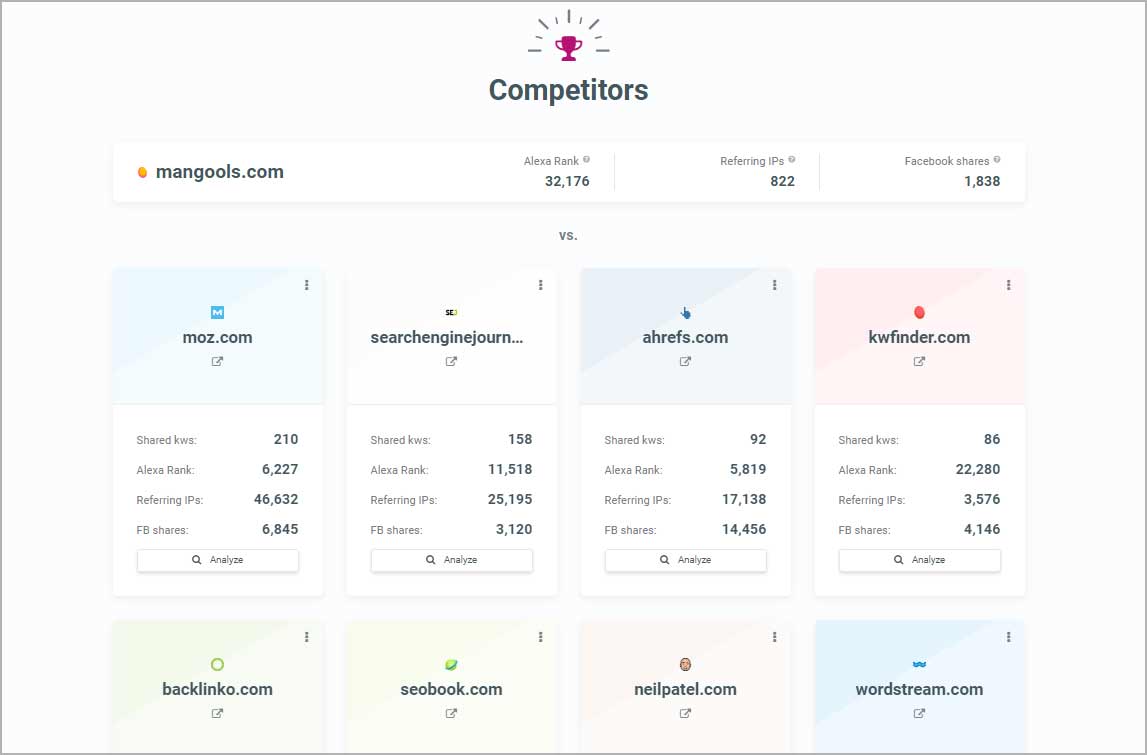 Mangools Pricing
Mangools is free to use for 10 days with limitations. But you can upgrade your plan with $29.90/month (basic plan). Subscribing a plan on Mangools will give you access to all the five tools mentioned above.
Official Website: https://mangools.com/
Google Keyword Planner – Free Keyword Research SEO Tool
People say, Google Keyword Planner is one of the best SEO tools in the market. Well, I say, it's the best SEO tool for doing the best keyword research if you know how to make the right use of it! You may wonder, why this tool still comes at the ninth position if it's the best one! Well, it's for one simple reason – GKP is only a keyword research tool which eliminates the possibilities to work on the other aspects of SEO! But if you want to keep on researching for keywords, GKP is the nicest thing you can use.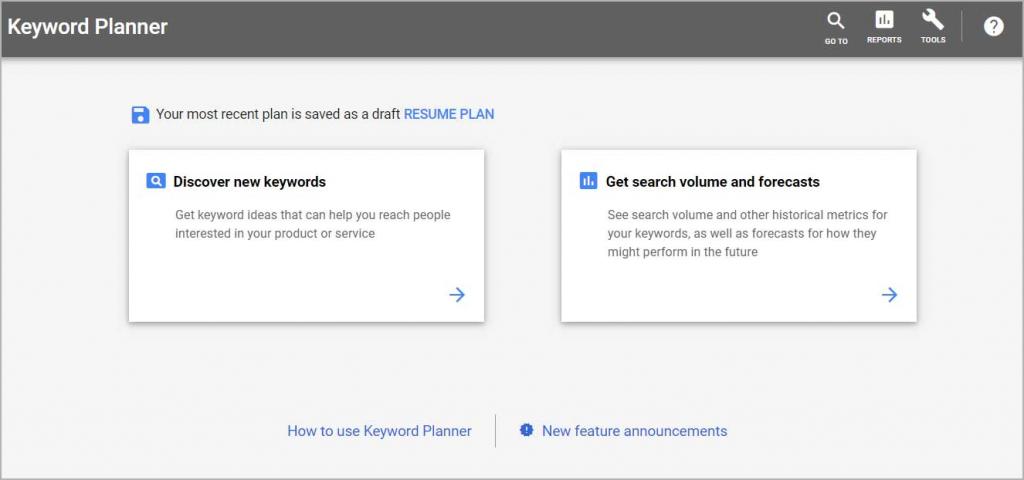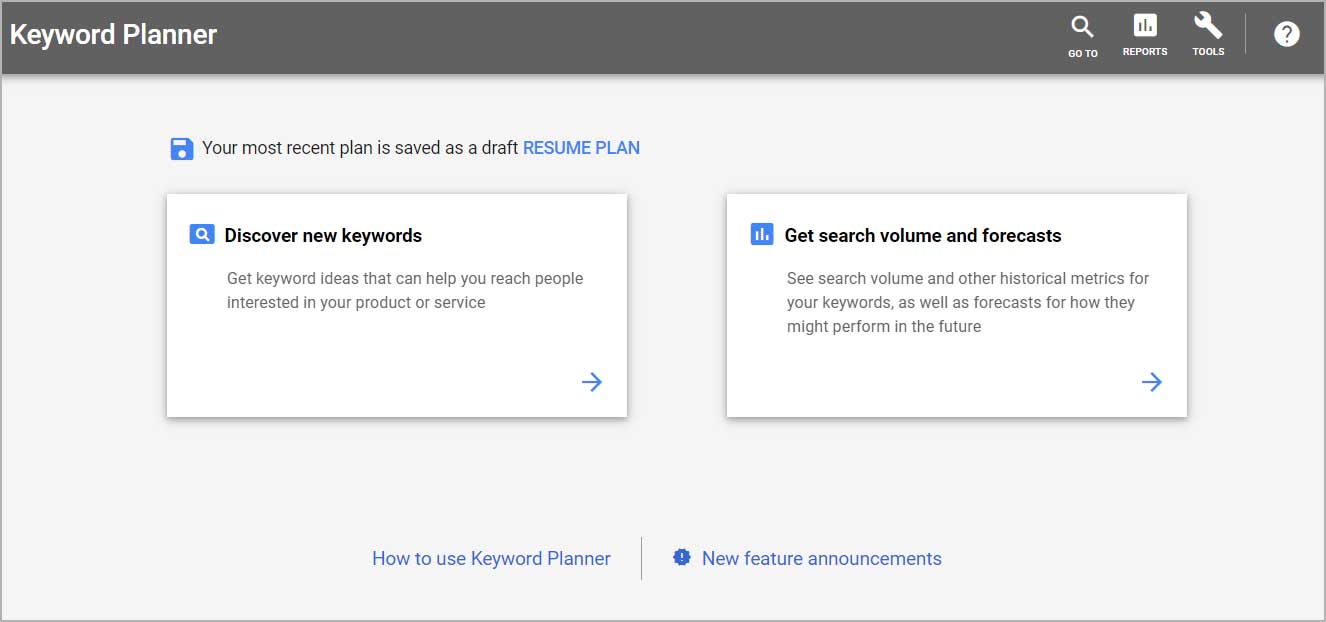 Google Keyword Planner is a sub-product of Google AdWords which primarily has the purpose of letting you find the most suitable keywords for your AdWords campaigns. However, over time, it has been proven that the tool works exceptionally for organic keyword research. Google Keyword Planner is the best tool on the internet to find keywords with reliable data. When you want to rank on Google, there can never be a better and more reliable keyword research tool than Google's own Keyword Planner. Moreover, it's completely free to use as long as you have an AdWords account.
Features of Google Keyword Planner
Google Keyword Planner has many features to be explored and utilized for extracting the right keywords you can use for your search optimization process.
Keyword Ideas: You can enter multiple keywords and phrases in order to get new keyword ideas based on the embedded keyword. The keywords, generated by GKP, can be used for your rank optimization as Longtail and LSI keywords.
GKP lets you search for new keywords for custom location, language, search network, and time frame.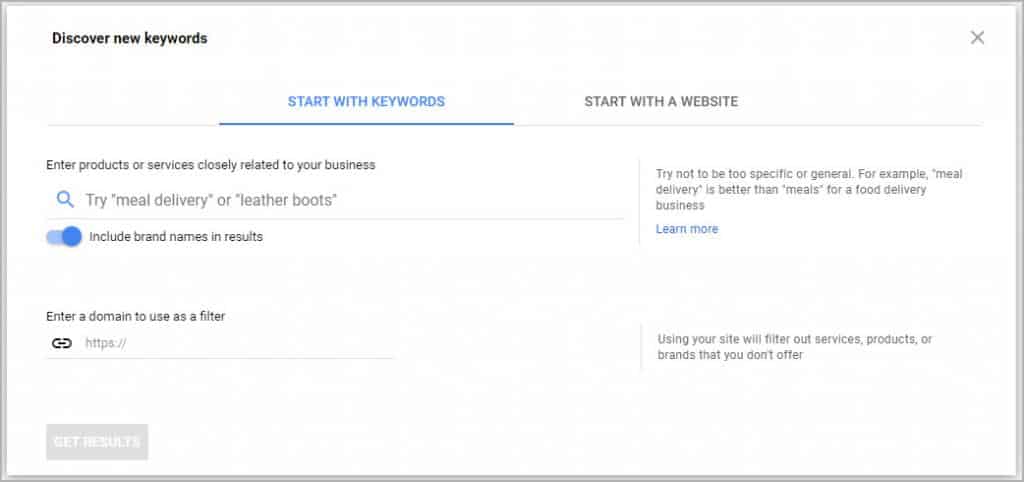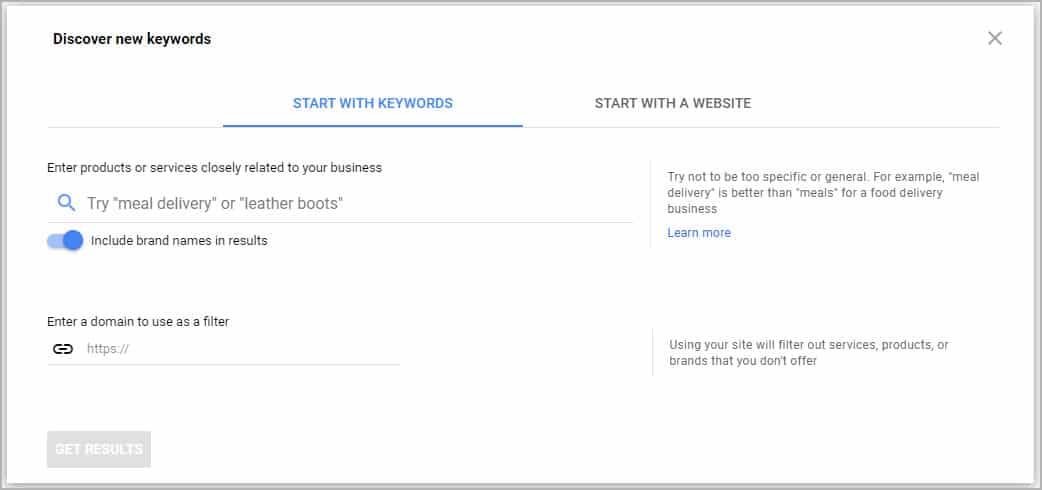 All the keywords will come under a list that will contain the volume, CPC, Competition, average monthly searches, organic average position (needs to be added manually), and page bid.


Keywords can be sorted by relevance and you can filter keywords by keyword text, competition, organic average position, organic impression share, Ad impression share, etc.
You can also add keywords to evaluate later and export the data in CSV format.
Google Keyword Planner also allows you to search for keywords from an entire website or a specific web page. Right after you enter the URL, you'll see all the generated keywords on the site or URL showing up with the key metrics like volume, CPC, average monthly search, competition, average impression share, and page bid to name a few.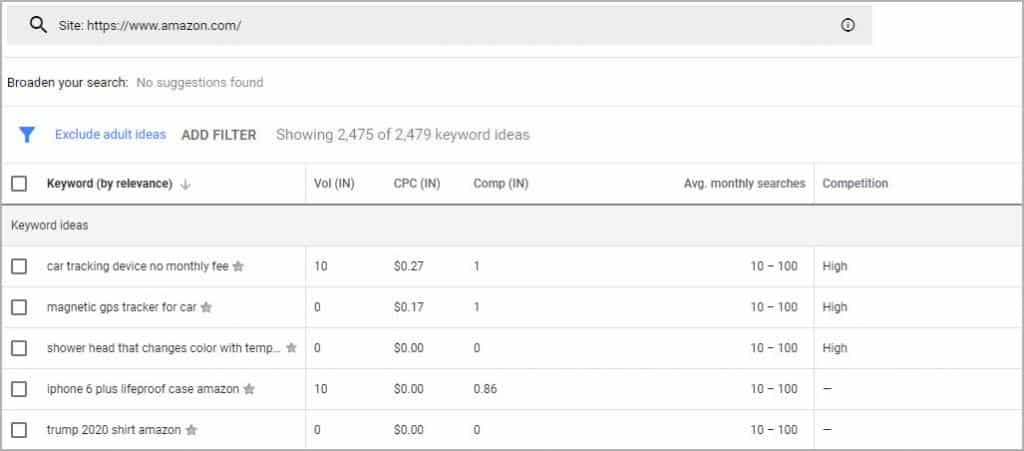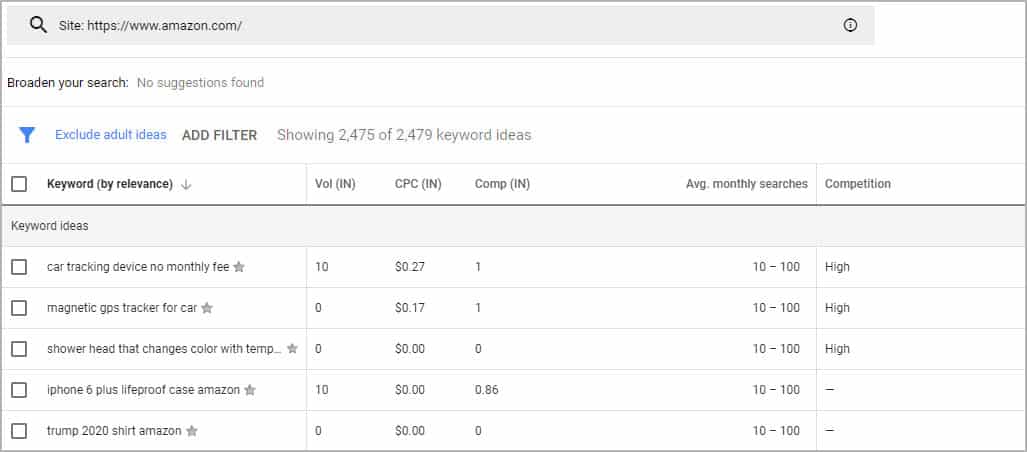 Keyword Forecast: This section of Google Keyword Planner is mainly built for the people, running ads on Google, as I already mentioned that GKP was primarily developed for the Google AdWords users. Though there's not much for the people looking for organic keywords, still you can get some valuable insights for your organic keyword research from this section.


You will get a number of statistics that you help you determine the keyword you need to choose in order to give a boost to your search ranking.


There will be the number of clicks and impression mentioned in the section along with the percentage of CTR and the average position for a specific cost. These metrics can also help you determine whether you would go for the keyword or not!
Pricing
Free (Only a Google AdWords account is required).
Official Website: https://ads.google.com/intl/en/home/tools/keyword-planner/
Google Trends – Free Keyword Trend Analysis Tool
Another wonderful Google product by our side, Google Trends is one of the best SEO tools that would help anybody with its outstanding intuitiveness despite its simplicity. It's a free SEO tool that has allowed me to take beneficial decisions during my SEO career. If you are a beginner (or even a pro) and do not want to invest in the paid SEO software and tools, Google Trends can be a viable help with a number of features that can blow your mind with their effectiveness.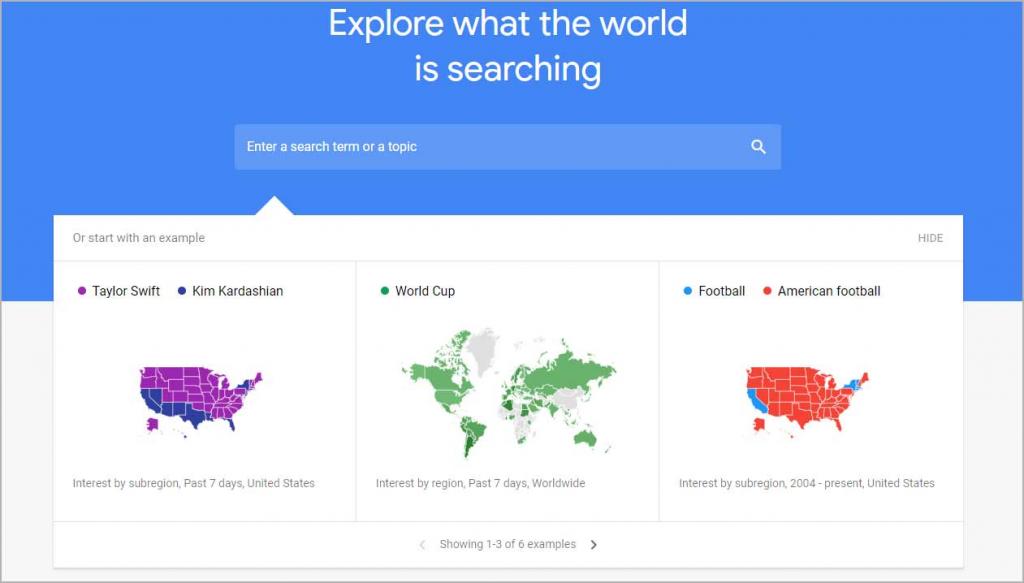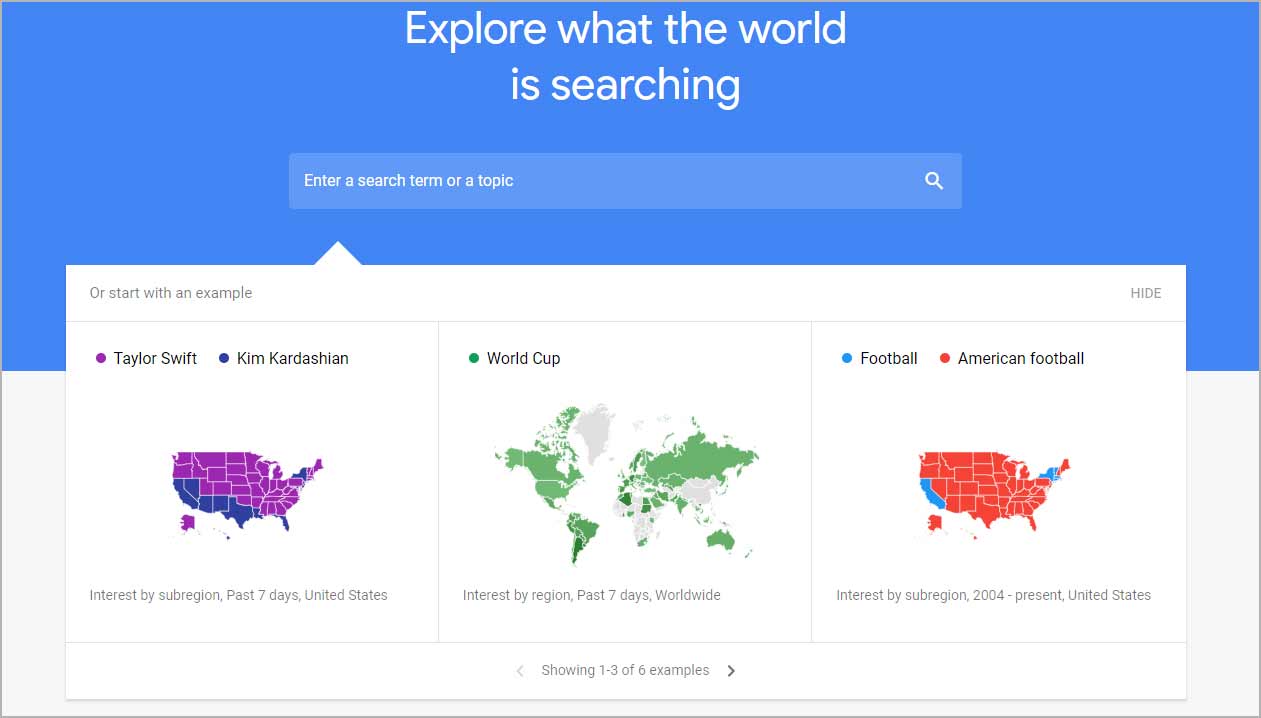 Google Trends is primarily used for detecting the changing trends of the keyword(s) over time. So, when you see a keyword trending in recent times, you can make use of that. Also, you can find the natural tendency of the change in the trend in order to determine whether the trend will remain in the future. Let me make it a bit clearer, if you don't know which keyword is going to help your site in the SEO and increased traffic, this tool is the perfect choice for you. With state-of-the-art features like top queries, rising queries, geographical locations (based on interest), interest over time, Google Trends must be on any list of free SEO tools or even best SEO tools.
Features of Google Trends
You will find the Search Query Comparison which is arguably the major feature of Google Trends where you can compare the interest level of different search queries for a specific time in a specific region – they call it Interest Over Time.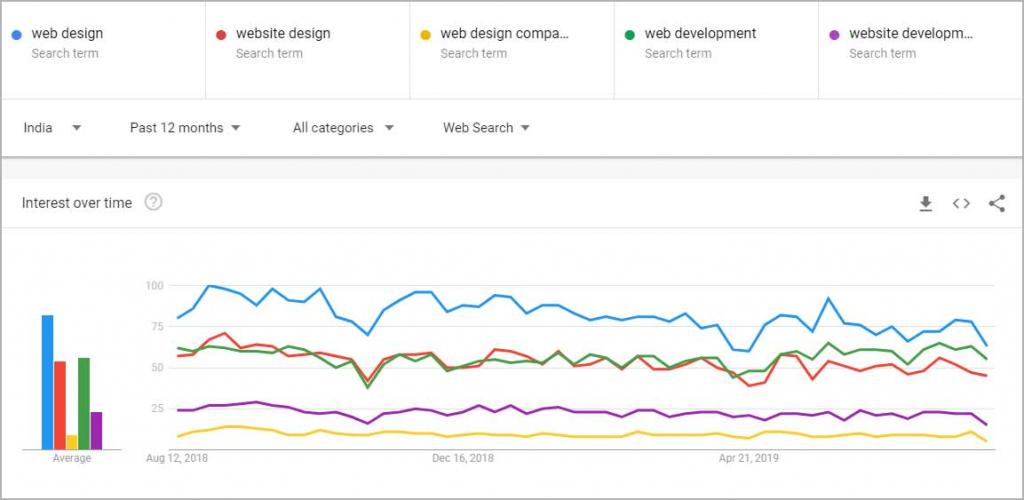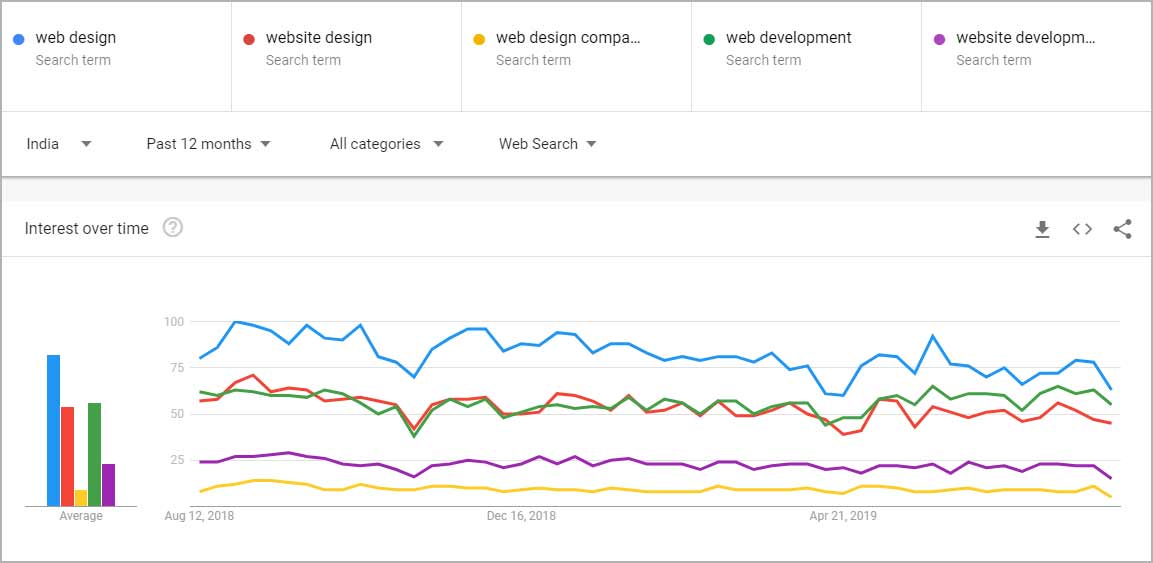 You can compare up to five queries at a time and the results will be shown in a graphical presentation with lines of different colors for different search terms.
Also, there will be Interest breakdown for the subregions for all the queries you have made. Suppose, you have compared five search queries, then you can hover on the subregions of the region you have selected and it will show you the interest level of each query with percentage.


Moreover, Google Trends will also display the interest rate of each region in a bar line for each of the search terms (if searched more than one).
Well, it's not the end! This free tool for SEO analysis will also help you find the related topics and related queries, based on your entered search term.


You can change the region and time frame as per your requirement along with the search method (web/image/news/YouTube/shopping).
Pricing
Free (no hidden charges).
Official Website: https://trends.google.com/trends/
Summary
Let me tell you what's SEO for me. For me, SEO is less implementation and more research and understanding. So, before you take any step forward, you need to make sure that you have the whole understanding of what's happening and what you are going to do. Closely observe your competitors to know their strategy. If you know what is bringing them to success and why, you'll be able to do it for you! Also, never fail to implement new strategies.
Yes, I've implemented too, I failed several times, but I got lessons, stood up tall and succeeded as well! And when you can get success without following others' path, you'll be an SEO analyst everybody would envy! These are the best SEO tools that can keep you going as they have done for me.