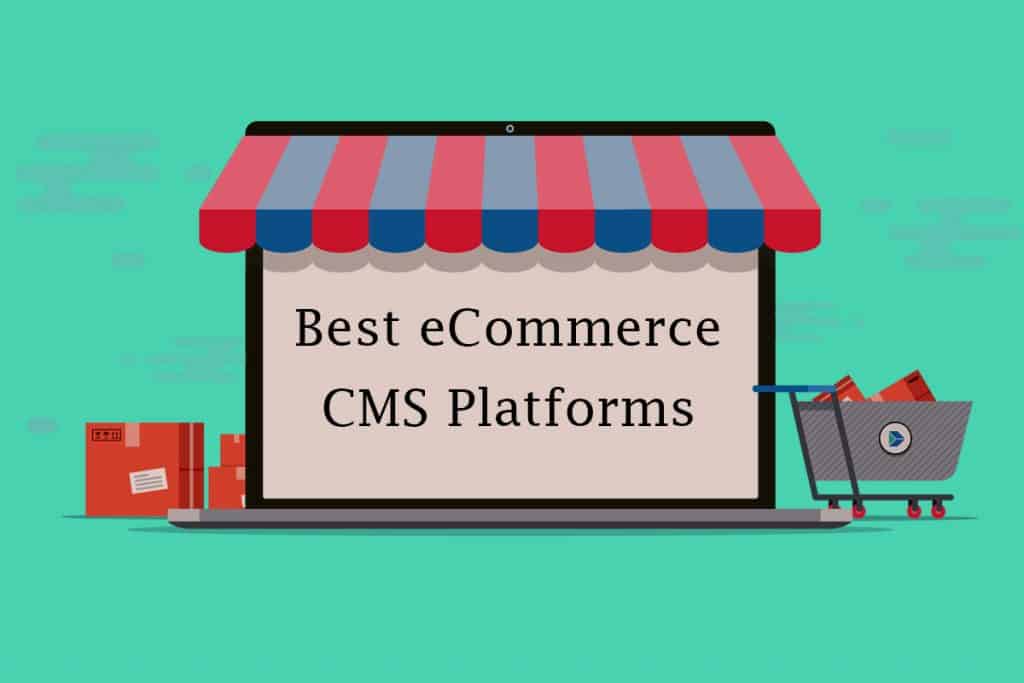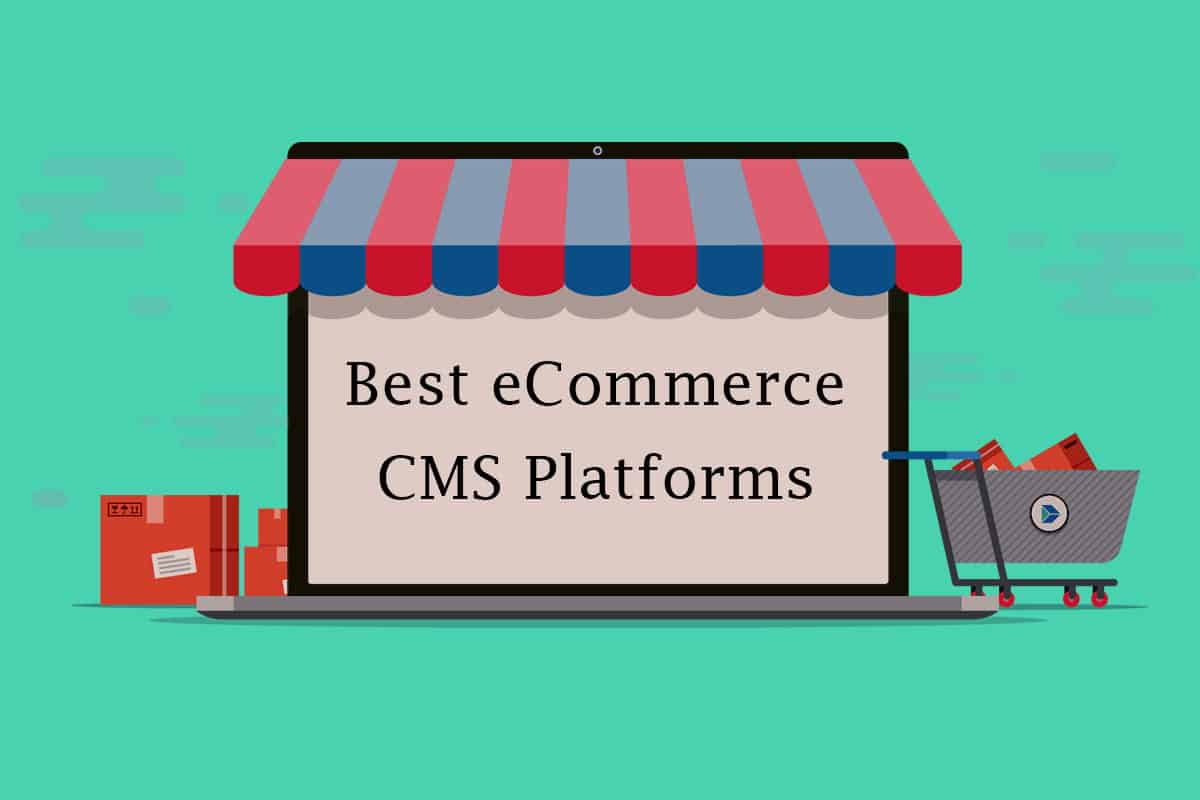 While the year 2018 has witnessed 50% hike among the overall digital buyers, eCommerce industry is on its verge of evolution and expansion. While more than 1 billion internet users have made an online purchase, it seems that this year and upcoming years, the number is only going to jack up. Looks like this is the high-time that we should portray the best eCommerce CMS Platform.
Yes, as you can see the incredible growth in online shopping, we believe, it is the best time for you to get into the stream and kickstart your online business if you have some really awesome product or service to offer your target audience.
If you want to start your online business, the very initial step you need to complete is choosing the eCommerce platform that can serve your need. That is the reason we are here to offer you the best set of CMS platforms which work best with the eCommerce websites. But you have to be cautious while choosing it as besides being visually appealing, your online store needs to be functional and cheap. So, here we go.
Best eCommerce CMS Platform to Build Your Online Store
In this list, we are listing both the free platforms and the platforms with the least amount of charges which are both Hosted and Self-Hosted.
Hosted eCommerce Website
The eCommerce websites which are based on SaaS system are called Hosted eCommerce websites where you just need to sign up with the company and start your online store. But you won't have any access to the software for coding and modification.
Self-Hosted eCommerce Website
Self-Hosted websites are usually the open source software which can be downloaded, run and edited as you require.
Now, when you have got an overall idea about the eCommerce websites and its different natures, let's get straightly into the main topic: Finest CMS Platforms for building eCommerce websites.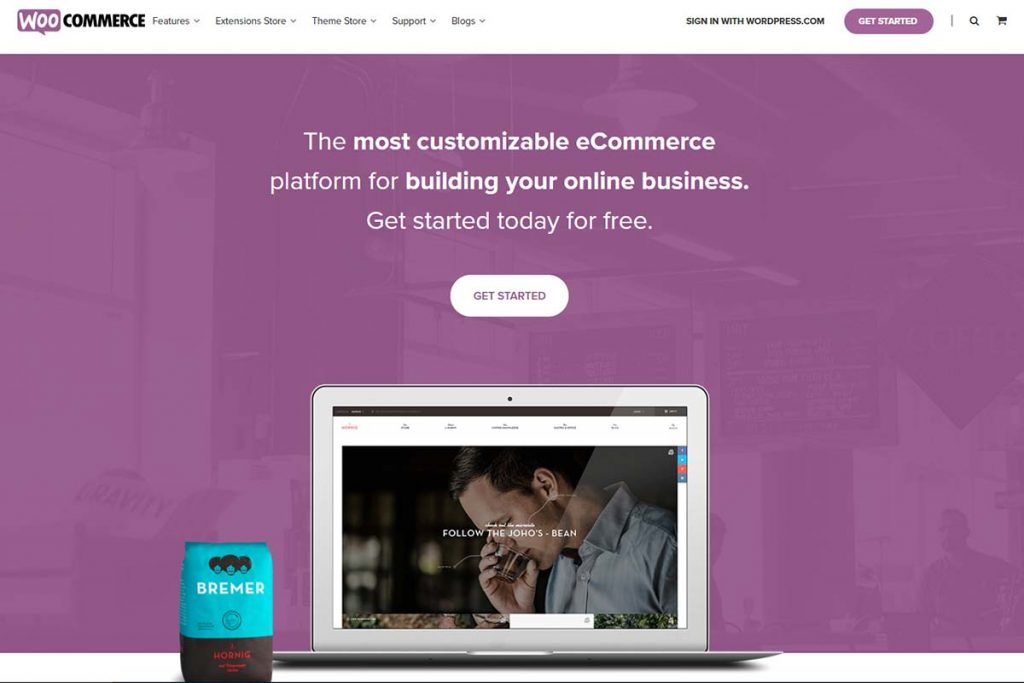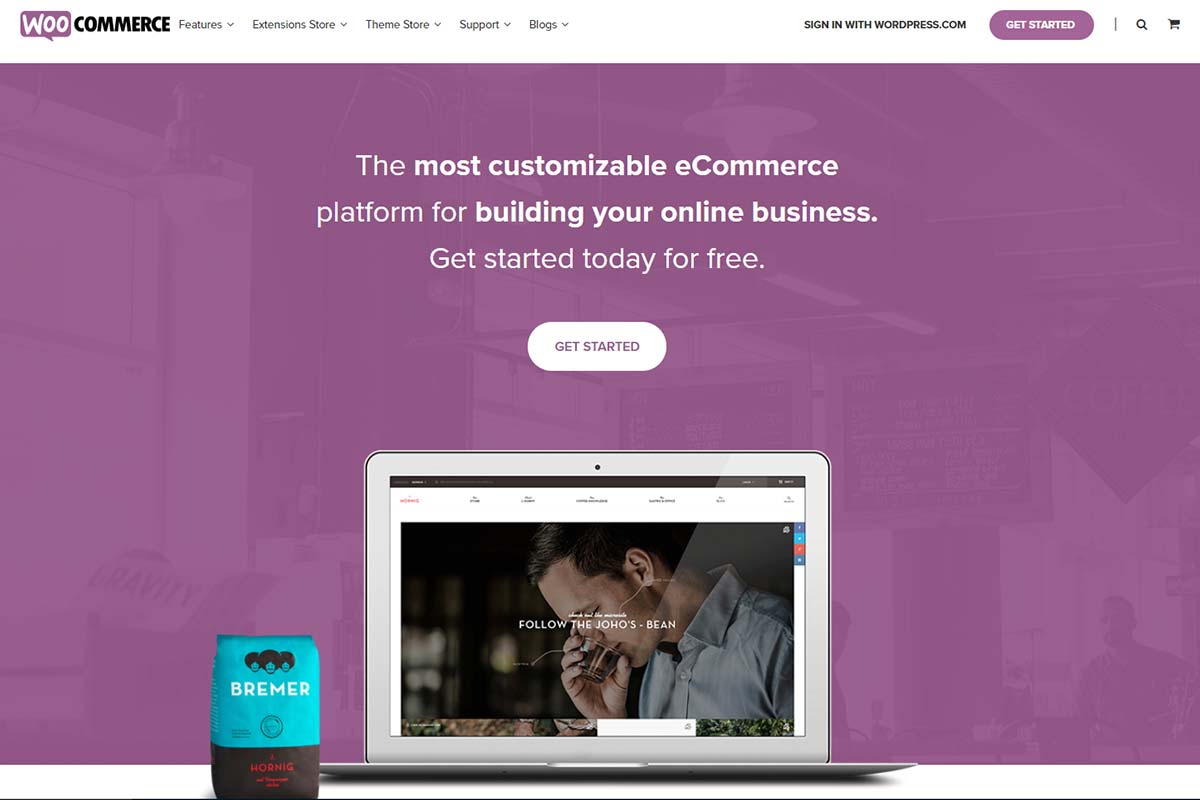 WooCommerce is an open-source eCommerce platform for building a captivating online store. The best part about WooCommerce is its customization. Anything and everything is customizable in WooCommerce which stimulates the developers and entrepreneurs to use the platform. We have kept the platform at the top of our list owing to the fact that it's completely free of cost!
WooCommerce is a free plugin for WordPress and claimed as the best eCommerce CMS platform because of the huge chances of easy customization, endless themes, extensions (400+) and add-ons which are crucial aspects for an online store. Below are the features WooCommerce can provide.
Features of WooCommerce
Compatible with every WordPress theme and the others from the web.
Easy and endless customization.
Shortcodes can be used to add products, checkout and all the related things on any webpage.
Enables you to add, edit and delete categories, attributes, and
Product rating and review.
Location customization.
Endless products, images, and
Easy sorting and filtering.
Built-in payment integration.
Price
WooCommerce comes free of cost initially.
These features make WooCommerce one of the best CMS platforms for the eCommerce websites. Every startup and small business have their utmost preference for this platform. Since it is free and widely acceptable, WooCommerce is the best option for you if you're an aspiring online store owner.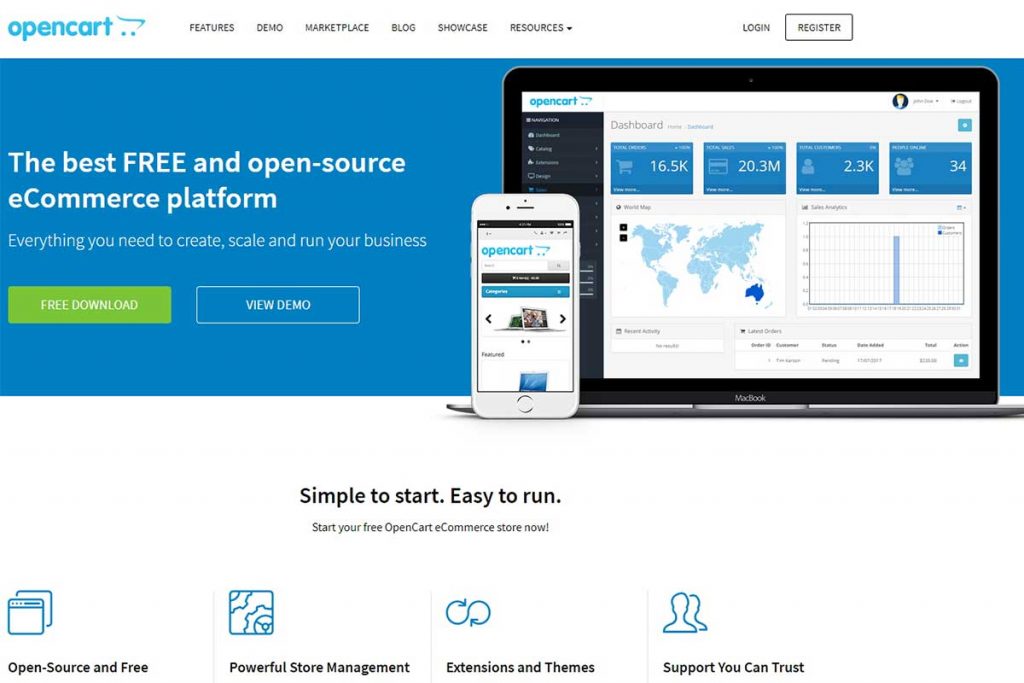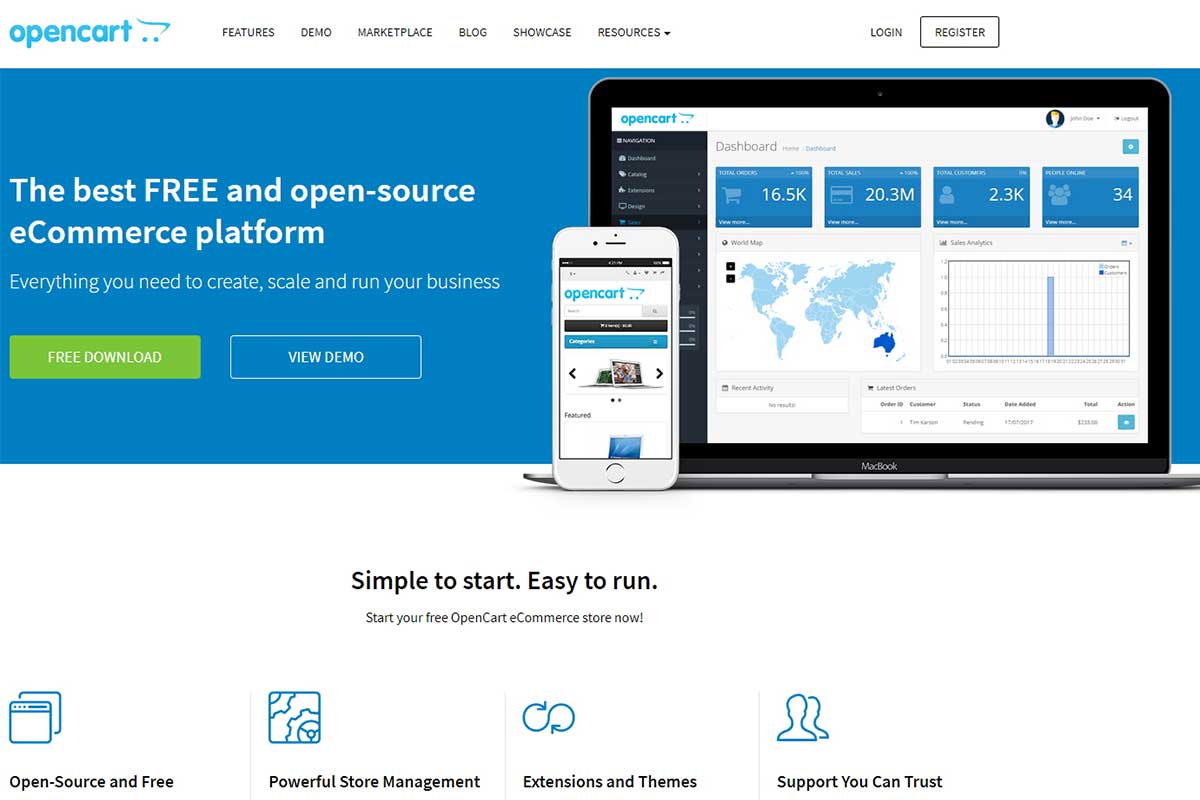 If you have a fair know-how regarding website design and development, then OpenCart is the best match for building an eCommerce website. This eCommerce CMS platform is one of the most lightweight platforms that are free to use and upgrade.
OpenCart is a PHP based online store management platform that uses HTML components and MySQL database. OpenCart has various features to offer including the support for multiple languages and currencies. Let's have a deeper look at the features of OpenCart.
Features of OpenCart
A fair knowledge of PHP, MySQL, and HTML with CSS would let you modify anything on your online store.
Thousands of extensions and modules.
OpenCart has virtual file structures which will help you to edit the core of the CMS if necessary.
Alluring and functional designs and templates.
Multilanguage and multicurrency support.
You can manage multiple online stores through OpenCart's Multi-Store facility.
OpenCart is very SEO friendly which will benefit you later on.
Supports more than 20 payment gateways.
Price
OpenCart comes free of cost initially.
Overall OpenCart seems to be a worthy candidate to be the best eCommerce CMS platform. Though the platform may not be as perfect as the other counterparts in terms of scalability, it is always good to start off.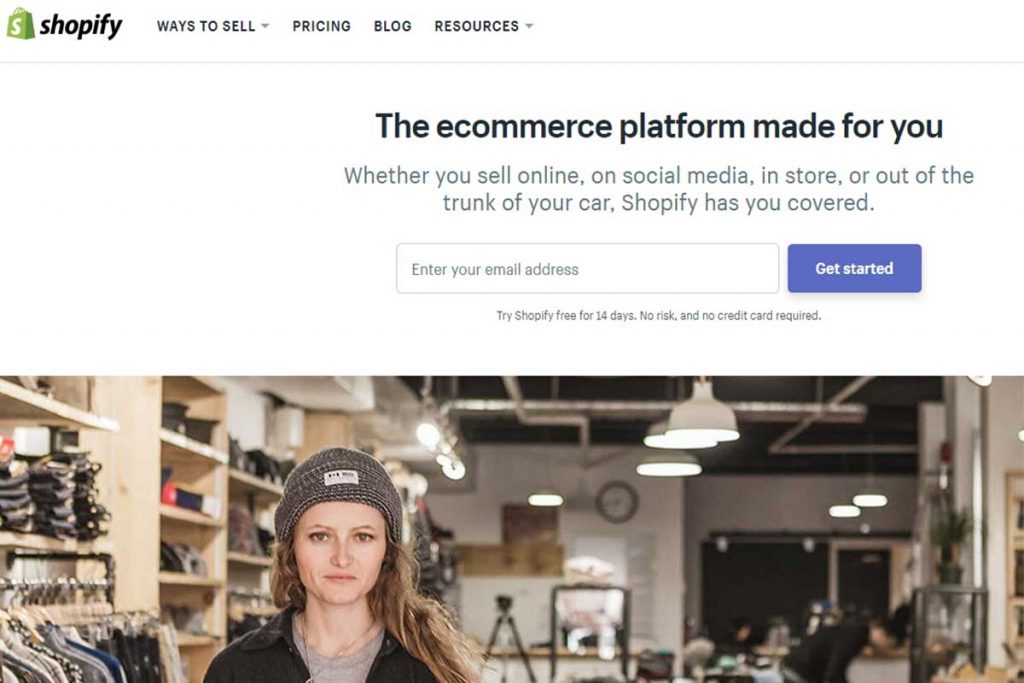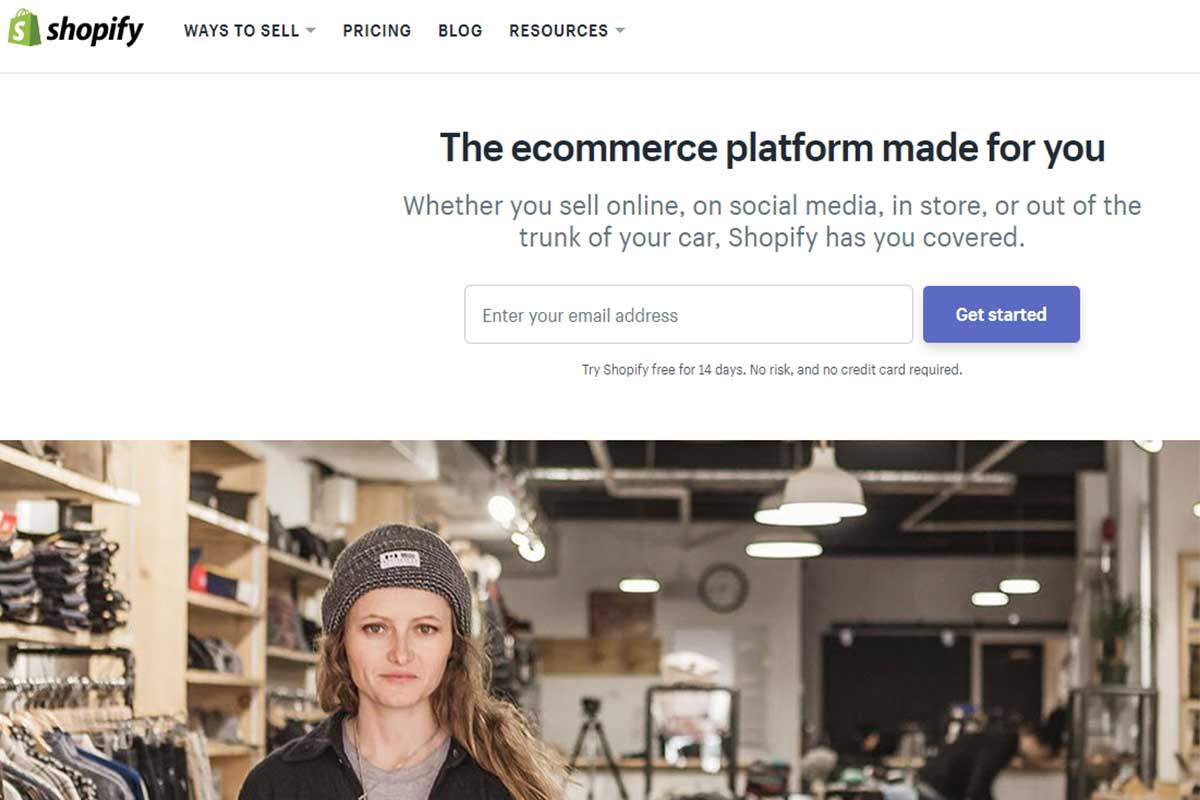 Shopify is, by far, the finest eCommerce solution for you if you want a ready-made eCommerce website. It is the best match for the small to medium-sized businesses taking the first step into eCommerce industry. Shopify contains ready-to-use templates. You can quickly start your online store utilizing those. Moreover, you can edit the templates as per your business requirement.
Whatever you possibly will require is covered in Shopify. Shopify store has its own extensions and add-ons. You may need to purchase those but you are surely going to enjoy an awesome combination of aesthetics and functionality. Below are the features offered by Shopify.
Features of Shopify
Endless products.
Endless bandwidth and storage.
Available online sales channels.
In-depth fraud analysis
Provides discount codes (extremely useful for online stores)
24/7 customer support.
A mobile application with full features.
Multilanguage support.
SEO ready site structure.
Daily basis backup.
Price
14-day free trial
Shopify Lite – $9/month
Basic Shopify – $29/month
Shopify – $79/month
Advanced Shopify – $299/month
Shopify Plus – NA
Shopify, moreover, allows you to sell both the physical and digital products through your online store. This platform is flexible, easy-to-use and highly scalable with your business growth.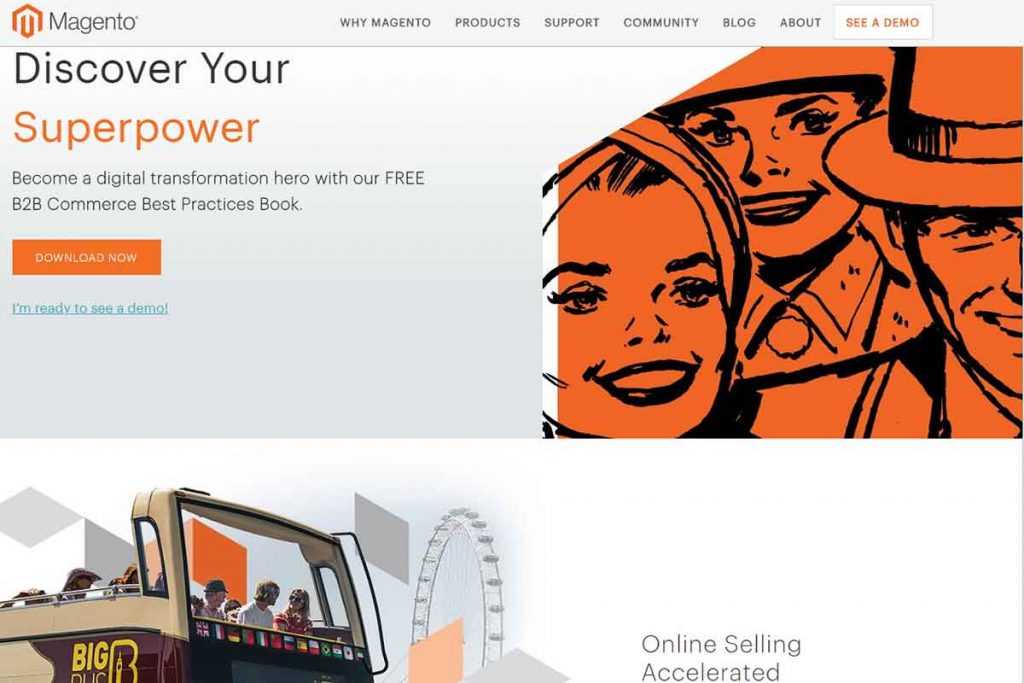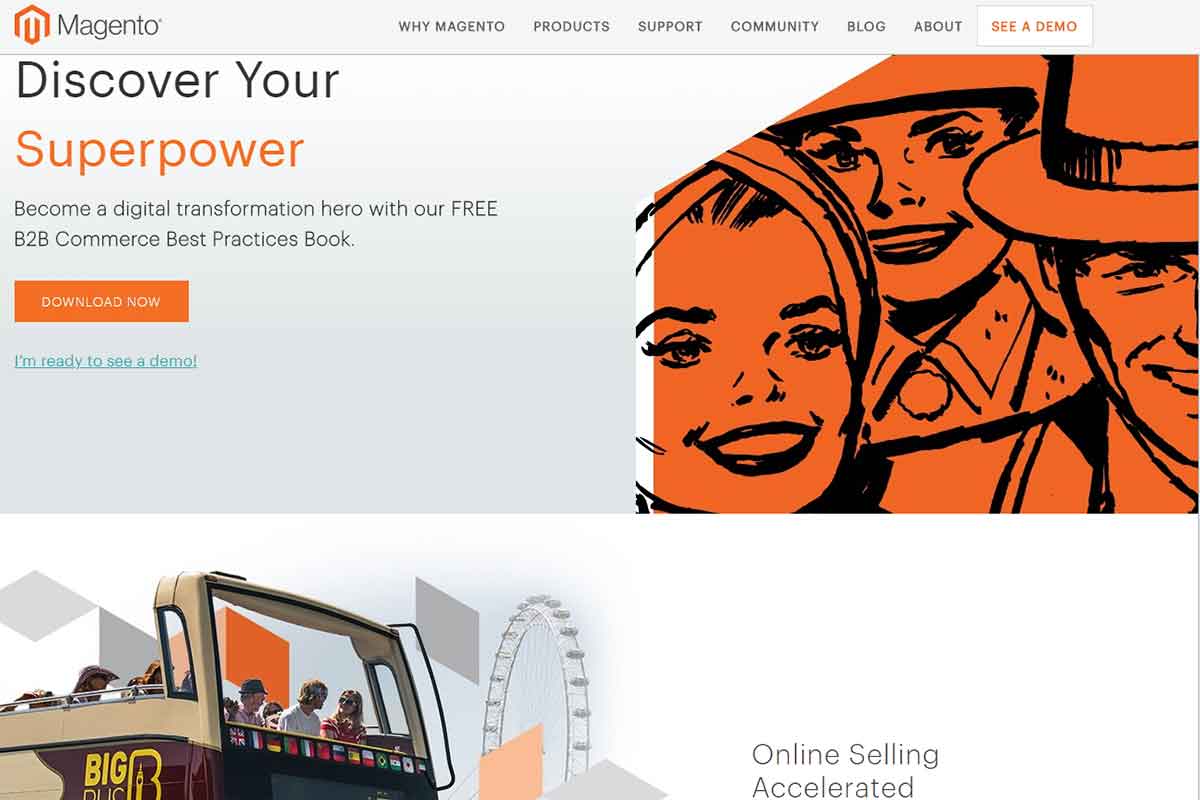 If you want to build a large eCommerce website with huge features, functionality, and design, Magento is the best eCommerce CMS platform for you to avail. If you have a pro level proficiency in web development, Magento will serve you the best in the industry.
Magento provides the uppermost level of flexibility and control over the add-ons, extensions and store development. Since Magento has its own specializations for the large-sized online stores, it is quite clear that the platform will be scalable that will match your business growth. Let's have a look at the top features of Magento.
Features of Magento
Magento's scripts and incorporated with Google analytics, so, it produces detailed analytics and reports.
Multiple product images, extensive reviews, Wishlist and much more.
Advanced product filtering and navigation option.
Ample of payment gateway integration.
SEO friendly site structure.
One-page checkout.
Provides discount codes, coupons.
Supports multiple languages and currencies.
Price
Free community edition but comes with a price further as per your requirement.
Without the mentioned features, there are endless features present in Magento CMS. That is the reason why Magento is one of the most liked eCommerce CMS platforms worldwide. Though Magento charges you for the website development, the community version of Magento is free of cost.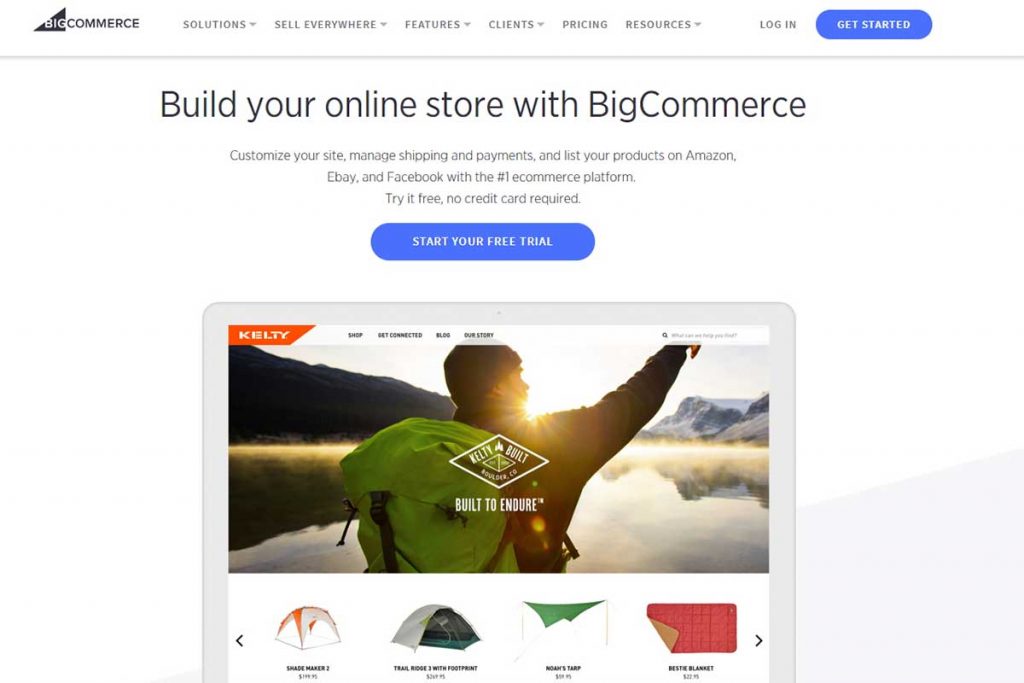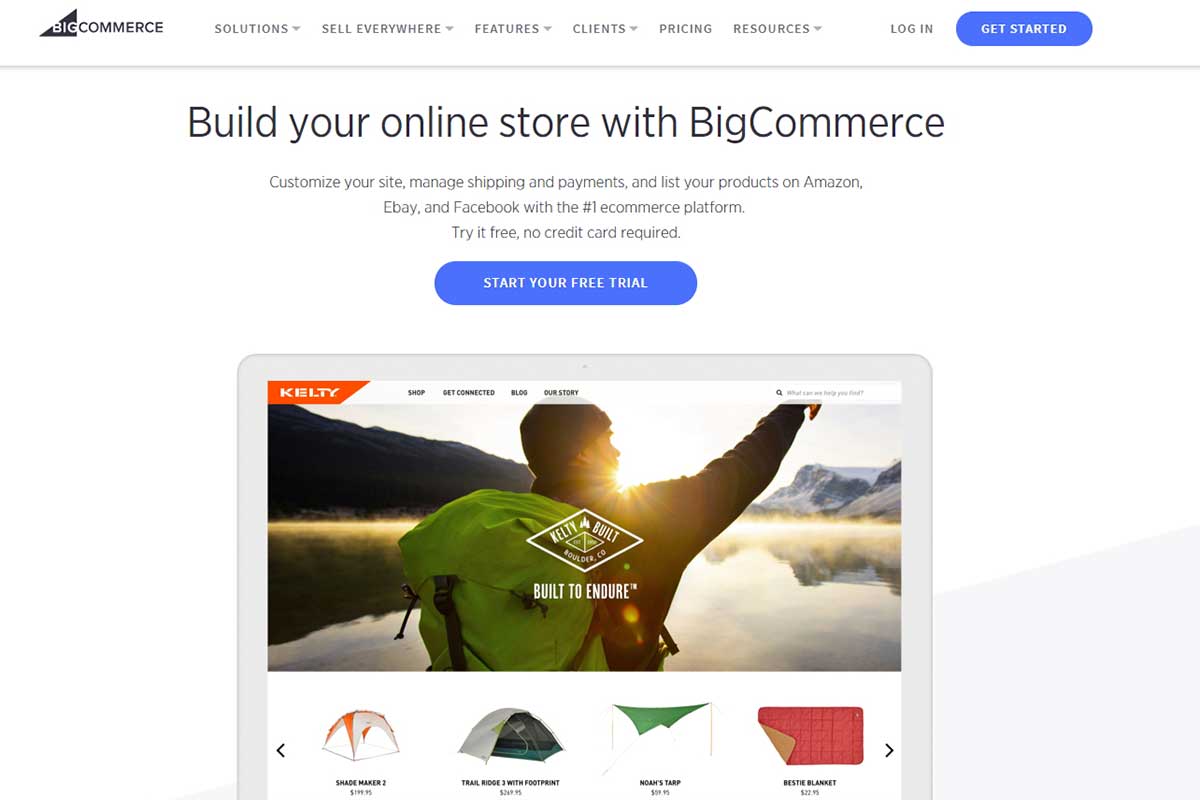 If you don't even have any profound knowledge about designing, BigCommerce is going to amaze you by building beautiful and responsive web stores. It is a user-friendly and cloud-based software which is perfect for the beginners.
BigCommerce is focused on handling shipping, checkouts, products, payments, coupons, incorporation and much more. Moreover, BigCommerce comes with jaw-dropping features that will never fail to gape you in awe. Here are the top features of the CMS platform for eCommerce websites.
Features of BigCommerce
Fast page loading speed.
Awesomely designed templates to build your website.
Customization options are available, so, change everything that is required.
BigCommerce's up-to-the-minute security avails you 99.99% average uptime.
You will be able to migrate your store and import your products.
BigCommerce launch services enable you to setup, edit, optimize and improve your store.
Multiple leading names in the payment gateways can be incorporated.
Handling and managing your orders and inventories are effortless with BigCommerce.
BigCommerce is immensely SEO friendly.
24/7 customer support.
Price
15-day free trial
Standard – $29.95 per month
Plus – $79.95 per month
Pro – Starting at $249.95 per month
Enterprise – NA
All these features make BigCommerce one of the most intriguing eCommerce CMS platforms in today's date. With more than 320 free and low-cost add-ons, BigCommerce is the first priority for many online store owners who want to get an amazingly designed eCommerce website.
Wix (Hosted)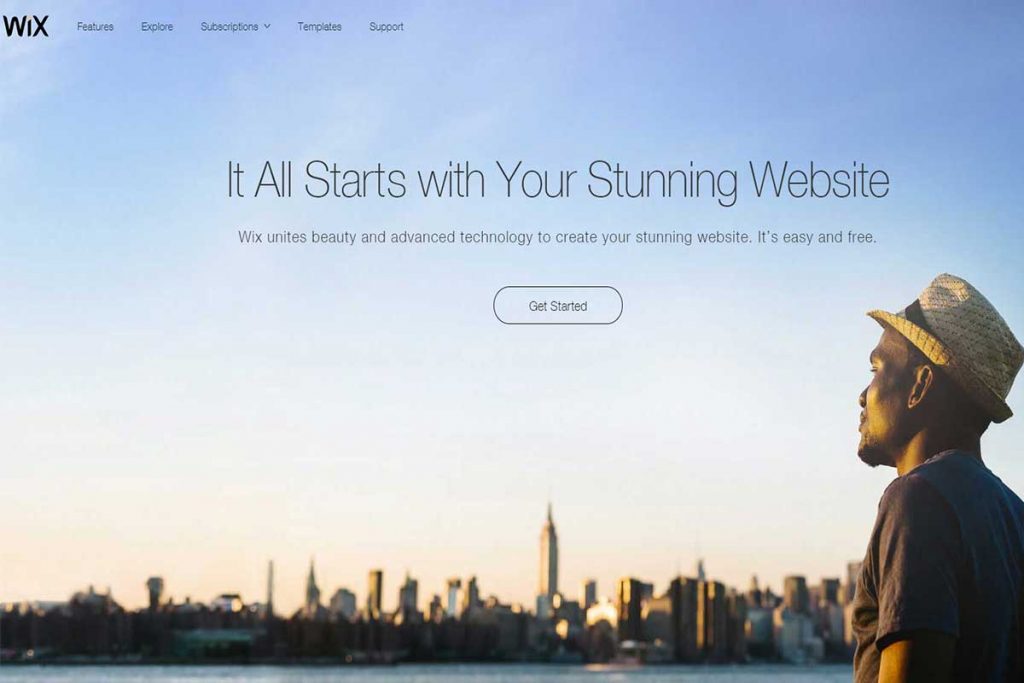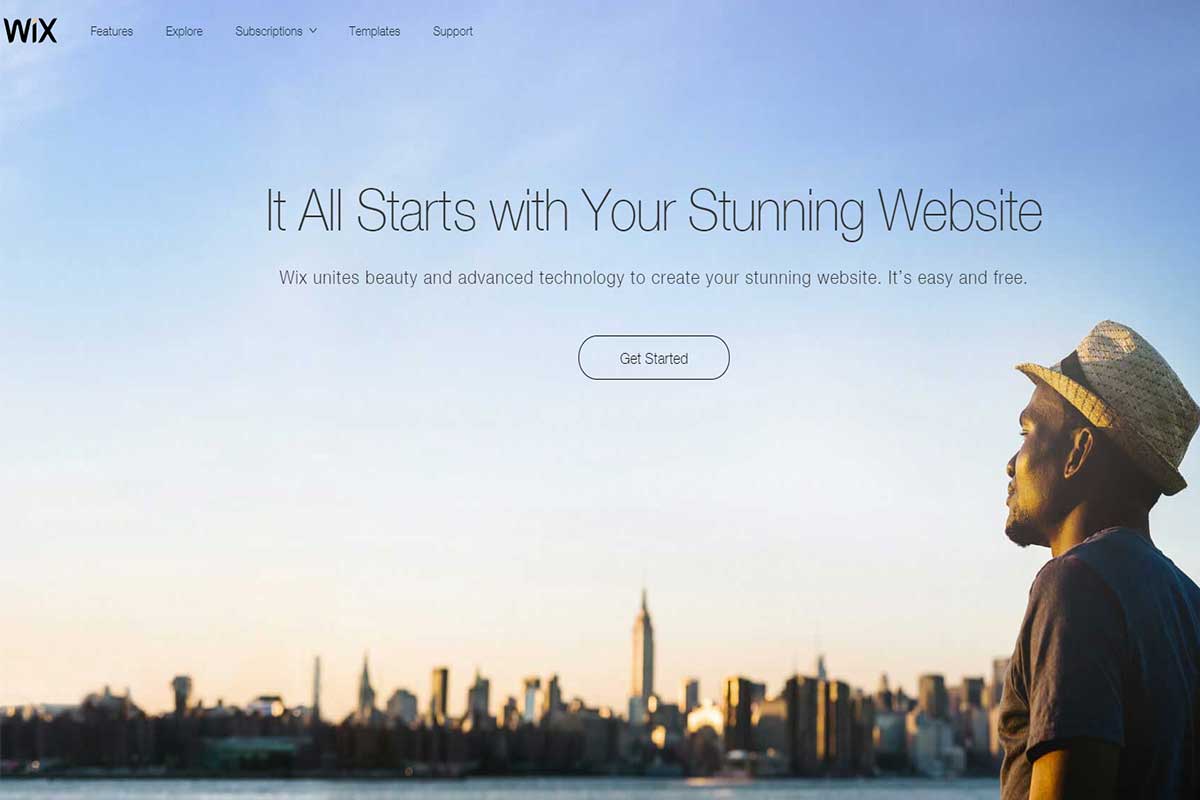 Get yourself a functional eCommerce website for selling your products online with the help of Wix eCommerce platform. But that's not the attractive part of Wix. Wix eCommerce has an incredible ability to incorporate the advanced and beneficial tools in the store in terms of third-party apps, marketing, social media, promoting, etc.
You will be handed ready-made templates and drag-and-drop editor which will surely enhance your website's design and make it look professional even you don't have any experience in design. Let's have a quick look at the top features offered by Wix.
Features of Wix
Create custom forms, database and dynamic pages with Wix.
Wix's JavaScript and APIs give you the full control of your site.
Image filters will make your stunning images more stunning.
Wix offers you advanced features for each blog post on your online store which includes SEO title and description, date and much more.
Wix Mobile Editor instantly shows you the hidden elements of your site. You can show them if you want.
Frozen, Disappear and Fade Out scrolling effects are available in mobile version.
Price
Initially free
eCommerce – 485 INR/month
Unlimited – 372 INR/month
Combo – 247 INR/month
Connect Domain – 122 INR/month
All the above features we've mentioned are hugely beneficial if you are considering to build an online shopping site. Especially if you are a small or medium level business, then Wix can simply be the best eCommerce CMS platform available in the market.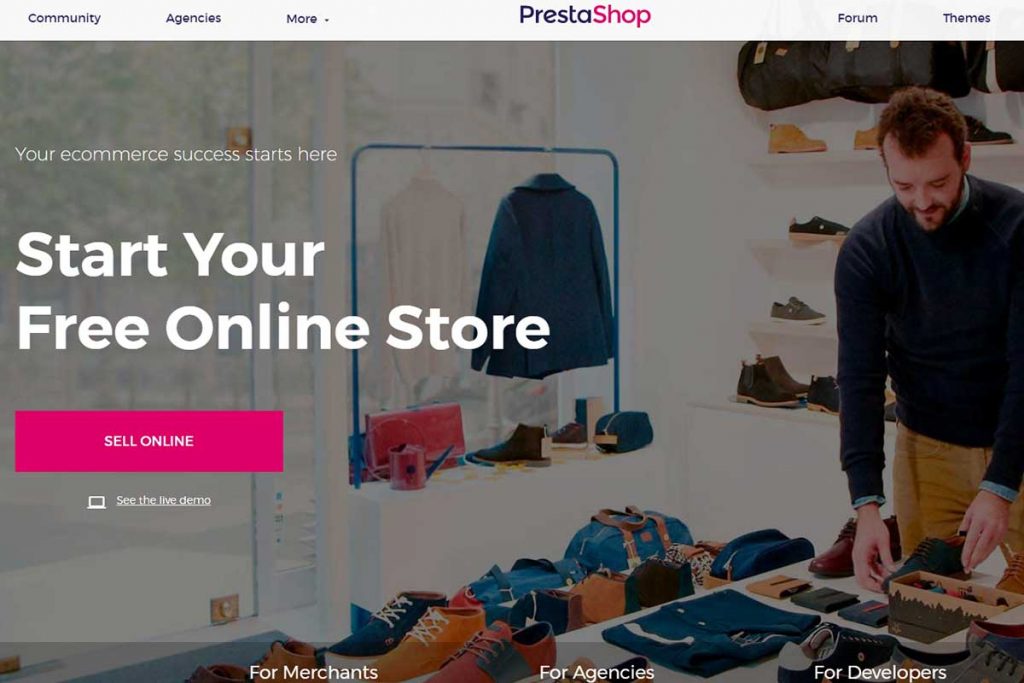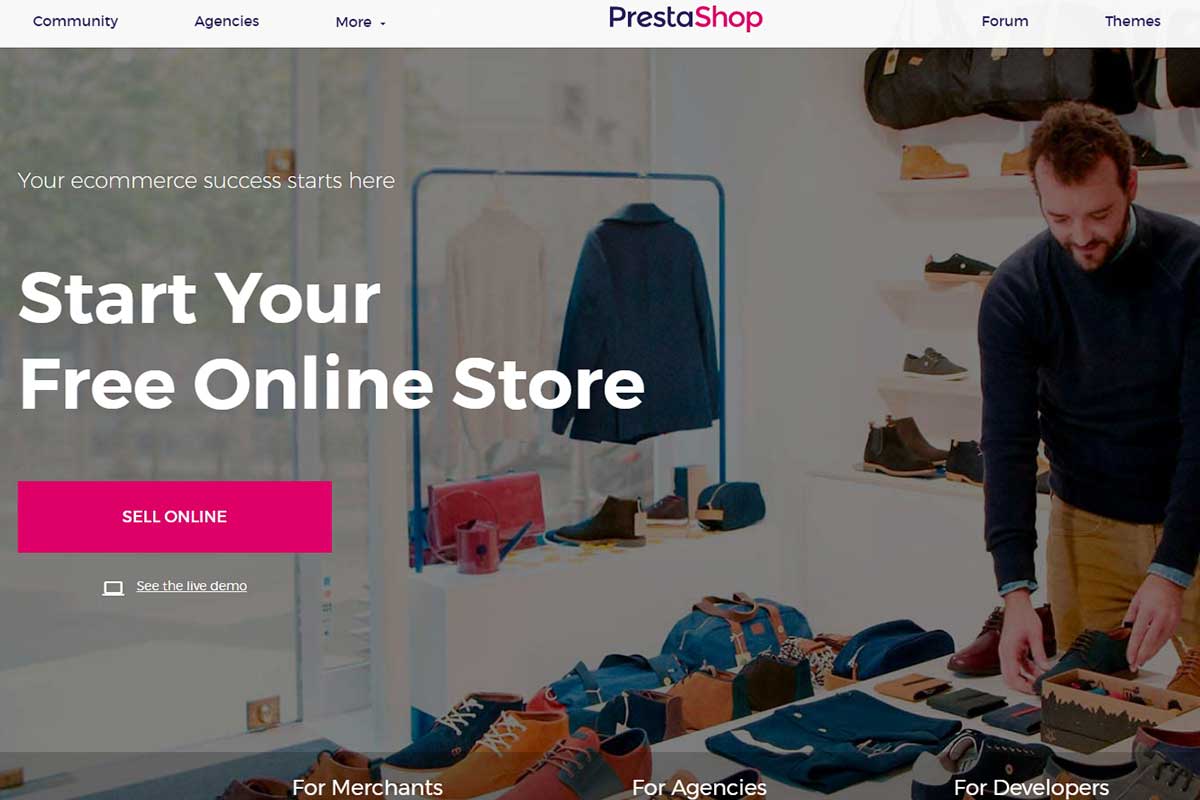 You can customize PrestaShop with a little web development knowledge. It is a free and open source eCommerce CMS which can be downloaded for the real-time management of your online store. PrestaShop comes with more than 250 unique features that become the benefits a user would love to find in an eCommerce store. So, let's take a quick tour of the most useful features.
Features of PrestaShop
You can quickly create the products and shape their features and standards.
Provides Inventory tracking for each product.
Offers multiple payment gateways and configures the shipping procedures
One-page checkout.
Create discounts and coupons.
Product suggestion for consumers.
Specific email templates can be built.
Top-notch SEO facility.
Price
PrestaShop comes free of cost initially.
These awesome features (and the unmentioned) make PrestaShop one of the most endearing CMS platforms for an online store. So, if you are willing to get an online store for your business, PrestaShop can be the best eCommerce CMS platform for you.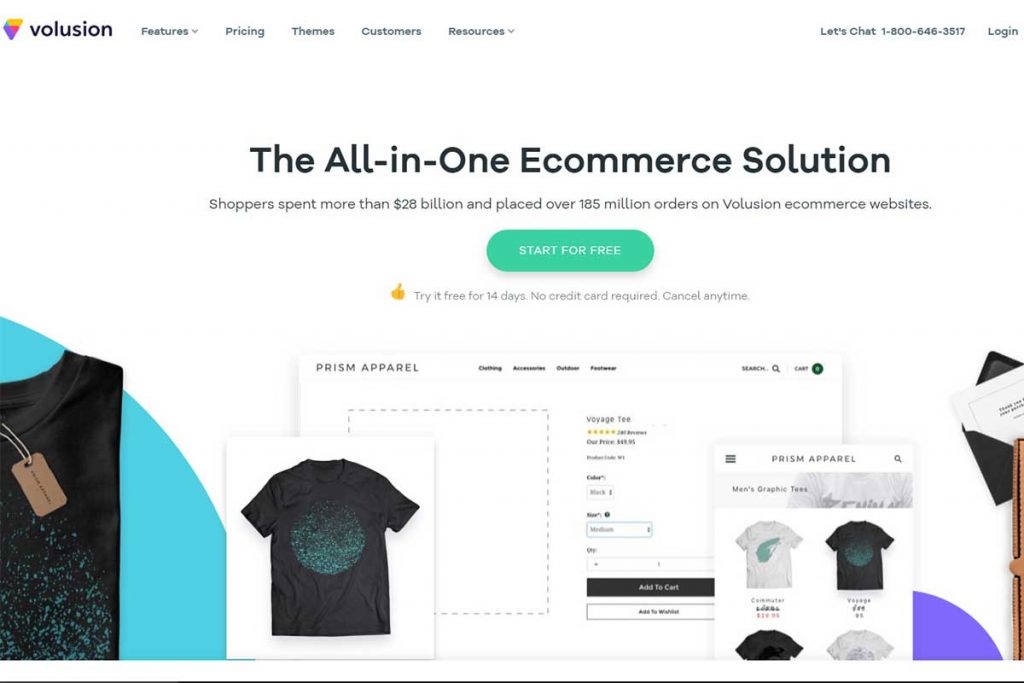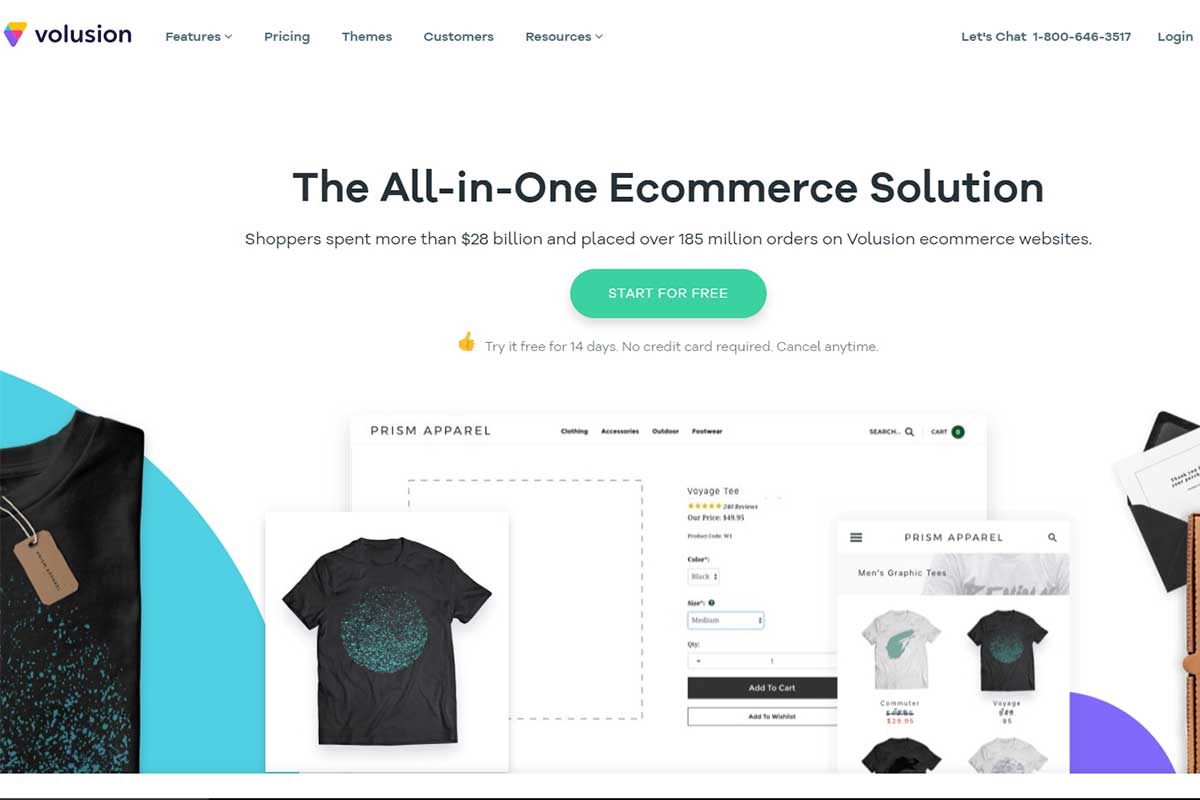 Volusion is another cloud-based eCommerce CMS solution which can take your business to another level with its immense expertise and skills in online store development. What makes Volusion different from its other counterparts is its built-in features that appear directly on the dashboard. So, you won't require downloading any add-on from the app stores. So, let's have a quick look at the main features of the eCommerce CMS platform.
Features of Volusion
Responsive themes.
An advanced content editor without any backend coding.
Avails you a custom domain which creates a unique identity for you online.
Incorporate different navigation styles to amaze your consumers.
Easy product category page creation.
Improved design with CSS editor.
Numerous payment integrations including Amazon Pay, PayPal and much more.
PCI Compliant
Barcode generator.
Tax calculator
Add intuitive images, description of your products.
Price
14-day free trial
Mini – $15/month
Plus – $35/month
Pro – $75/month
Premium – $135/month
The above features are some of the awesome offerings made by Volusion. The eCommerce CMS offers a few more useful features including the likes of 'Deal of the Day' My Rewards program, Amazon and eBay integration. Every feature of Volusion will only help you to build your brand online.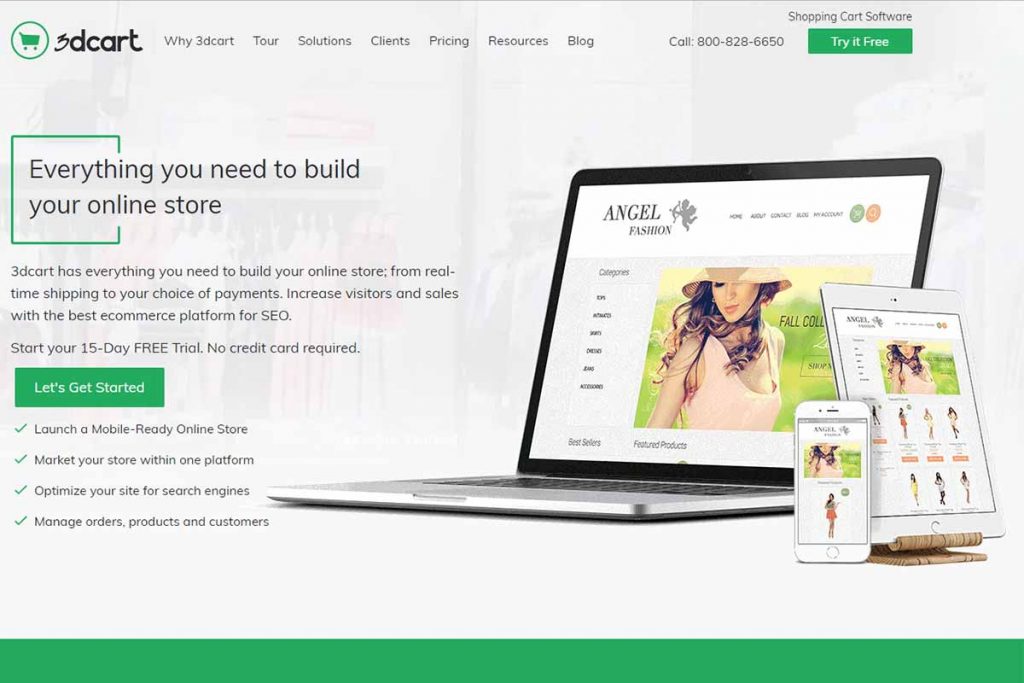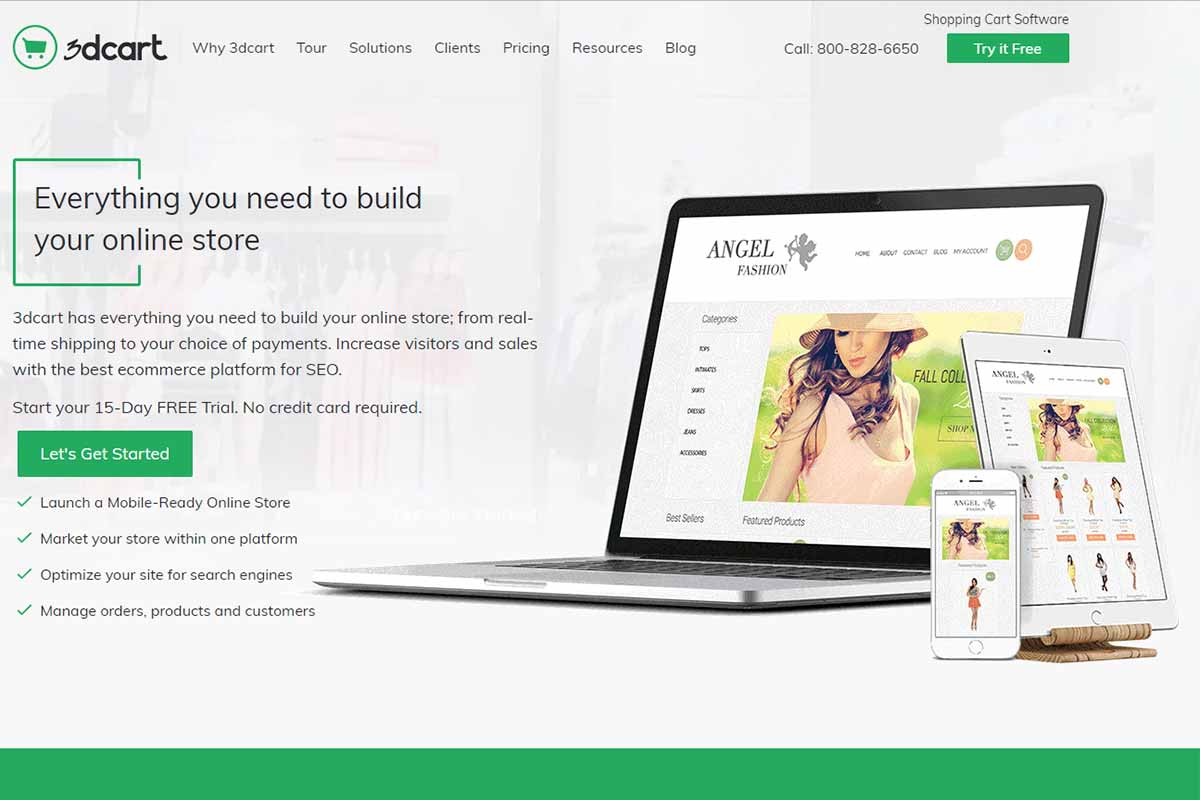 If you have both the physical and digital products to sell online, 3dCart can be a viable option for you to choose. Besides having the strong API integration that no other platform offers, it contains an array of selling tools like mobile selling and social selling on top social media such as Twitter, Pinterest, and Facebook. Now, we'll show you the remarkable features provided by 3dCart.
Features of 3dCart
Mobile and Social friendly.
24/7 consumer support.
Manage your products easily.
Product question-answers.
Protected Shopping cart.
Responsive design.
Customizable designs.
Various payment integrations.
eBay and Amazon sync.
Built-in blog optimizable or SEO.
Coupons and gift cards.
SEO friendly.
Price
14-day free trial.
Starter – $35.99/month
Professional – $65.99/month
Professional Plus – $99.99/ month
With all these features in its kitty, 3dCart covers every component that you want from the best eCommerce CMS Platform. So, start enjoying the improved revenue of your online store with 3dCart.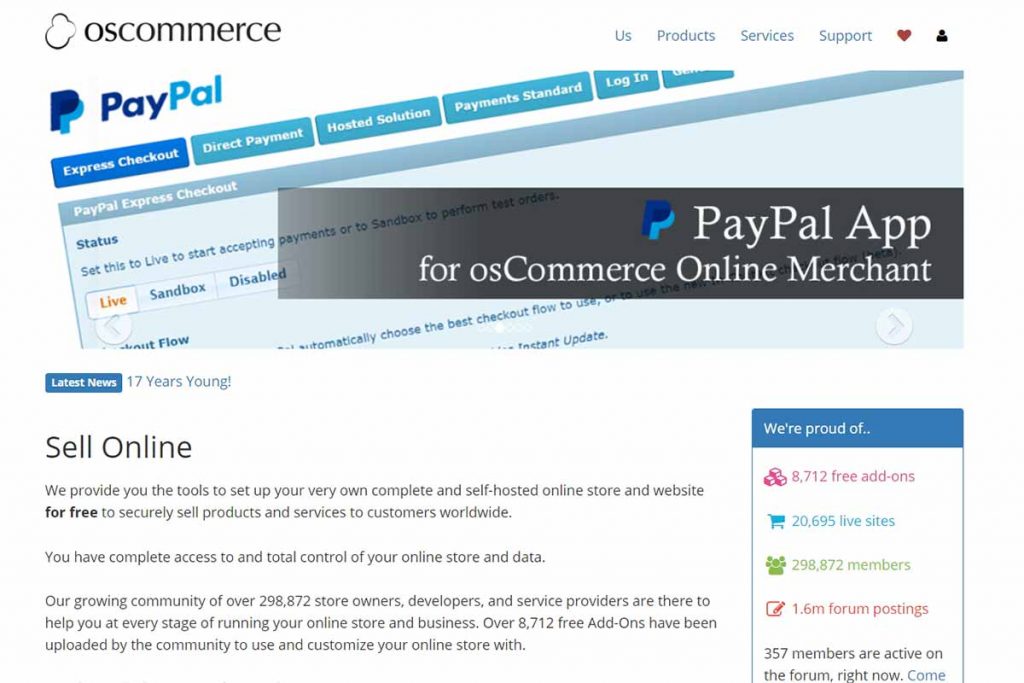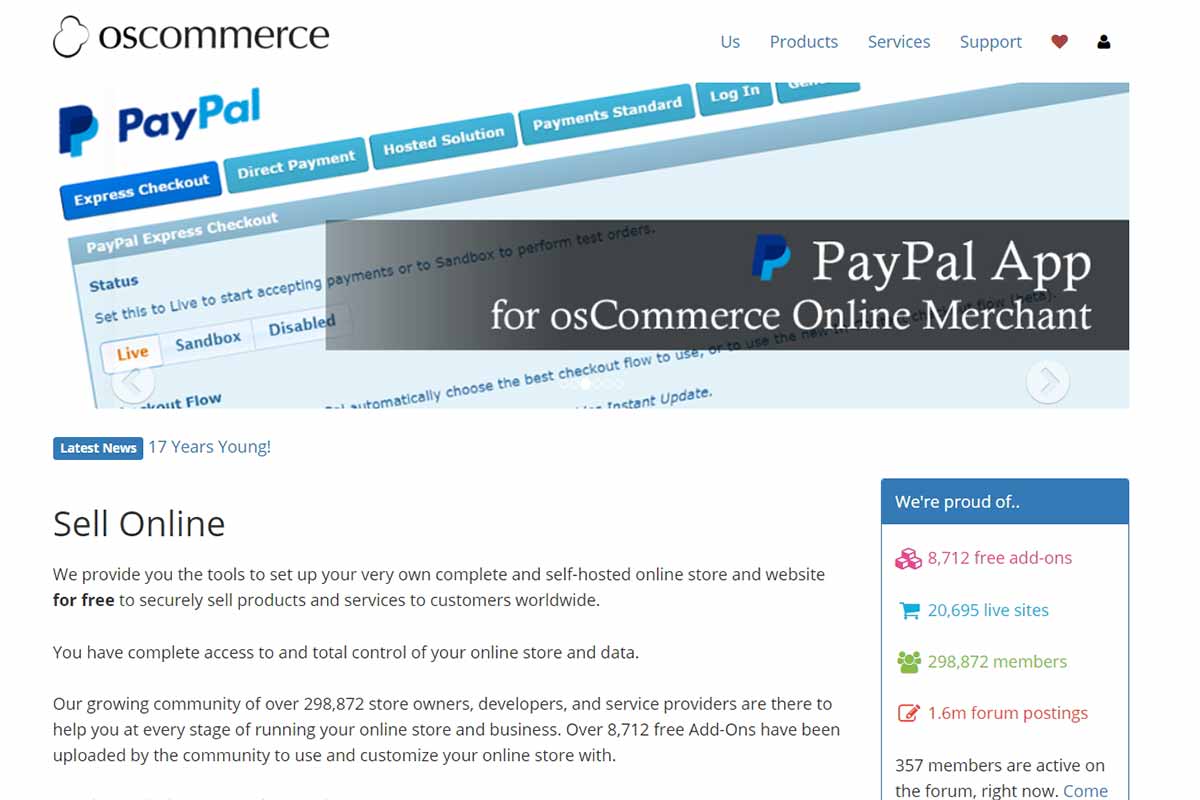 With the presence of more than a decade, osCommerce is one of the most reliable eCommerce CMS platforms that will never disappoint you if you are seeking an open source eCommerce platform. The platform has more than 7000 add-ons in its community which make your job easier to work with this CMS. So, let's have a look what features osCommerce has to offer you.
Features of osCommerce
Endless products and categories.
Easily backup and restore your database on osCommerce.
osCommerce can run with PHP 4.
Supports both the physical and digital products.
Secure administration area with username and password.
Huge integration options.
Supports multiple currencies.
Currency exchange rates and updated automatically.
Offers good technical and consumer support.
Consumer and product statistics.
Price
osCommerce comes free of cost initially.
As you can see, each of the described features will play a pivotal role in the success story of your online store. Moreover, the interface of osCommerce is extremely easy to use and contains profound customization options. So, if you are in search of the best eCommerce CMS platform, osCommerce can be the destination.
This is our list of the best eCommerce CMS Platforms. If you have a plan to start an online store to sell your products but not quite sure which is going to suit your needs, all the detailed description about the CMS platforms for eCommerce websites will certainly help you to take the decision. Write us back how helpful our list has been for you. All the best wishes from our side for your upcoming online store.