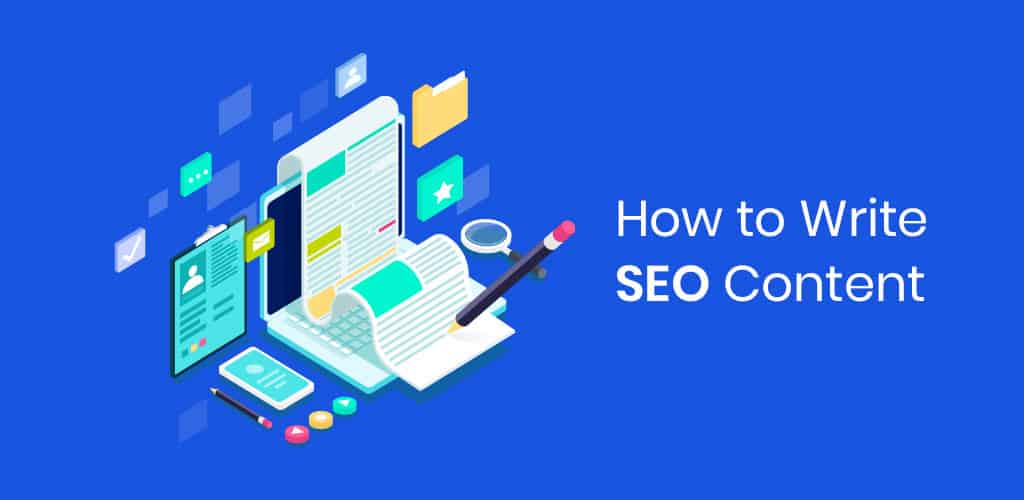 So, you want to reach your target audience. Yes, reaching your potential customers is very much important when it comes to increasing your sales. As a marketer, you also need to convey your message to the right people if you want to achieve business growth rapidly.
SEO copywriting can be the right option for you since it will help you accomplish both your two goals, which are – grabbing the attention of your target group and conveying your message to them. If you know how to write SEO content and follow the right strategies, you will also be able to improve your website's rank in search engine result pages (SERPs). Confused? Well, don't be. Let us explain it from the beginning before we start digging deeper.
SEO and SEO Copywriting: Understanding the Basics
Search Engine Optimization or SEO is an effective procedure of optimizing an entire website or particular webpages of a website to help them get visible among the results on SERP (search engine result page) for specific keyword(s). On the other hand, SEO copywriting is all about creating content that is optimized for Google and other search engines, yet will appeal to people in the best way.
Still confused? Now, this example will help you understand better. Suppose, you have a business website and you sell TV. Quite naturally, your objective is to reach TV buyers. Now, how do you reach them quickly so that your sales are increased? One of the best ways to achieve this goal is to write SEO content for them. Before creating content, you need to select the right topics you think are important for your online business and your target group. And then insert relevant keywords in your content and optimize it properly.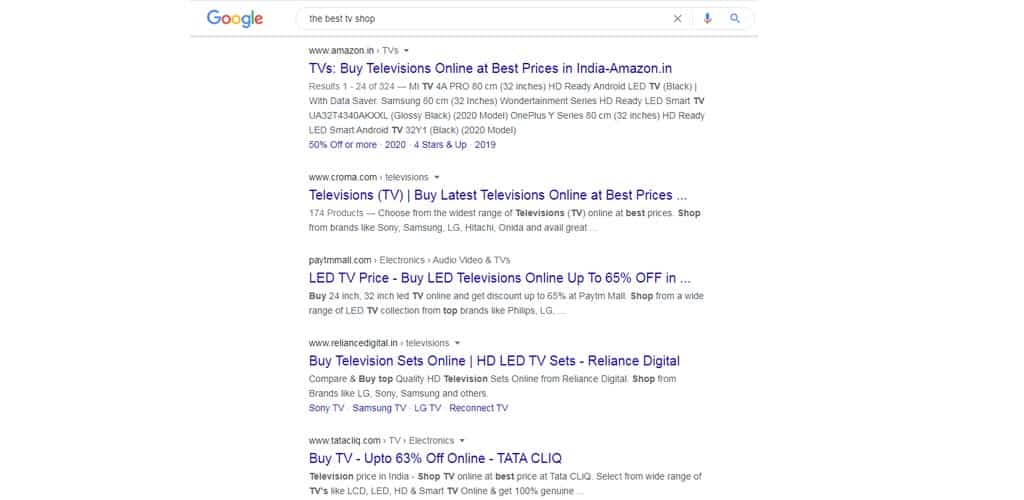 The search terms or keywords your potential customers or TV buyers use can be – the best TV shop, best TV, TV shop etc. Now, when you insert these keywords in your content and use effective SEO strategies, there are chances that your website will appear on the top of the list in SERPs. This is how; you will be able to drive your target audience towards your business site.
Have you seen how important SEO content is for reaching your audience? Well, now that you know the basics about SEO and the importance of SEO writing, it's time for you to move to the next level that is – learning how to write SEO content for your business website. But before that, we would like to talk about SEO content types. Please stay with us till the end to learn almost everything about SEO content writing.
Types of SEO Content
Some of the common types of SEO content include:
Blog Posts: A blog is one of the most convenient ways to reach your target group. Blog posts are more engaging than product pages. Through engaging blogs, you will be able to build high-quality backlinks and thus you can increase the authority of your website.
Product Pages: These are the most essential parts of your retail eCommerce website. Your product page can serve as both a PPC landing page and SEO content.
Articles: An article is more formal than a blog when it comes to tone. It is also a great way to give your message to your potential customers.
Guides: Through guides, you can explain your target audience how to do something. It is a longer piece, compared to blogs. You can post either a complete guide or an excerpt – the choice is yours.
Apart from the mentioned, there are several other types like infographics, lists, and more. Whatever type you choose, your main objective should be reaching your audience and also to meeting their needs by providing them with the right information they look for. So, just create high value and engaging SEO content and captivate their attention.
How to Write SEO Content: A Step-by-Step Guide
So, how do you create SEO content so that it ranks high and also persuades your audience? Look, here is a secret of the best article writing format. Follow this step-by-step guide and you will know how to create high value SEO content by yourself.
Step 1: Understanding SEO Content Writing Elements
Before you proceed further, you need to understand the major elements of SEO blog writing. Well, there are five elements that matter a lot when it comes to SEO. These include:
1. Heading
One of the best ways to improve your click-through rate or to grab the attention of your visitors is to use irresistible headings. When you use catchy and proper headlines for your SEO content, there are chances that more visitors will go through it. So, don't waste your high-value content by using mediocre headlines. Rather, do some research and spend some time while crafting headlines.
Here are some examples of optimized and clickable "relationship" headlines:
5 Best Ways to Get Your Ex Husband Back
How to renew your relationship with your partner?
How to spice up your relationship?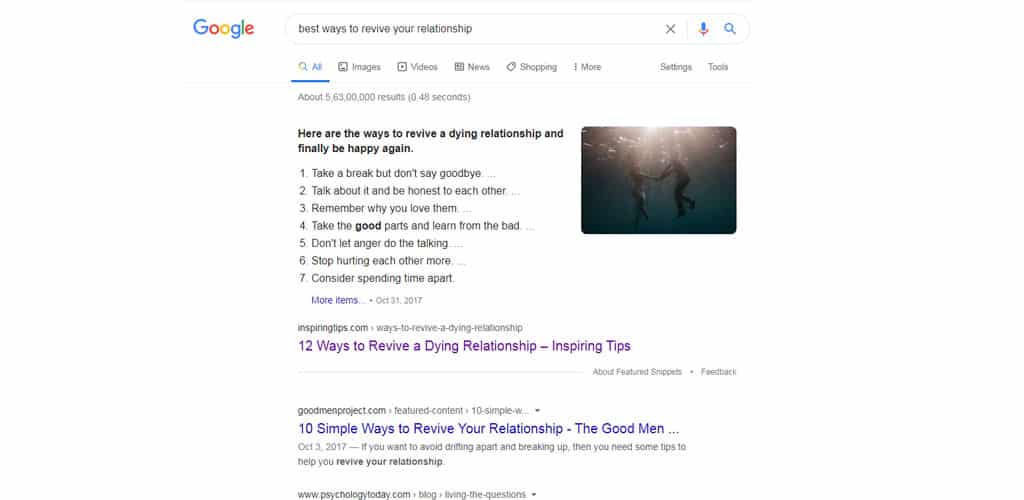 Headings with numbers are one of the best options to choose when it comes to boosting your rank. Well, it is also necessary to use headings that convey your ideas or messages.
2. Content
Your content itself is a major element of SEO copywriting. The reason why people search in Google or other search engines is that they look for informative and useful content. Google also need fresh SEO optimized content regularly. This is why; you need to update your website with fresh SEO blogs, articles, and guides, as per the requirements.
3. Meta Description
Before you create and post your content, you should write meta descriptions to guide search engines. Meta descriptions help Google or other search engines and visitors understand what the topic of your blog post or article is and why your keywords and key phrases appear in your content again and again.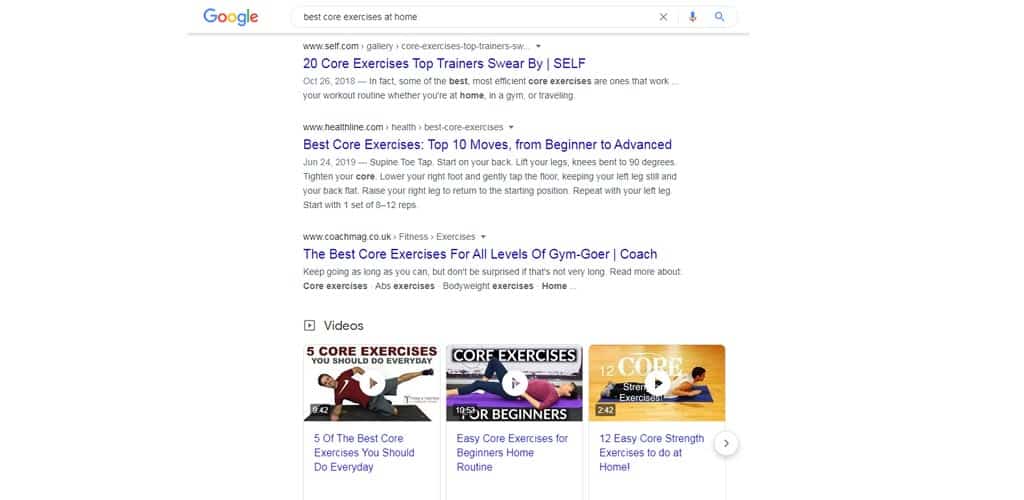 Google uses your meta description on your webpage as a snippet when people use specific keywords, relevant to your SEO copy. This snippet or meta description is what makes searchers decide whether to read your post or not.
To make it more SEO-friendly, insert targeted keywords in your meta description and also make sure that its length is less than 160 characters. Here are some tips on how to write ideal meta descriptions that will catch the attention of searchers.
Using a short description that tells what your page is about
Writing unique meta descriptions for all the webpages of your site
4. Page Links
Using high-quality links in your content is as much important as using the right article writing format. Page links are one of the major elements of SEO copywriting since they can help you create a better user experience and also, they will increase your website's credibility. Page links tell search engines a lot of things like you are sociable and well connected and that you have posted useful content which visitors can access easily.
You can link out your content either to another webpage on your website or to another website, other than yours. If you choose the first option, the process will be called internal linking. On the other hand, when you choose another website to link your webpage, it will be called an external link. Both internal links and external links can make your content sharable. You just need to know how to use them properly. Here are some tips you may follow.
Link your SEO copy to relevant pages
Use appropriate anchor text while linking
Now that you know the important elements of copywriting, it's your time to follow the next step.
Step 2: Understanding Your Audience
So, how to write SEO content so that you can meet the needs of your target audience? One of the best ways to achieve this goal is to select the right topic. Now, how do you understand which topic is right for both your audience and your business? Well, you will get this answer when you understand what your target audience wants.
At first know your audience – what they look for, what search terms they use etc. To discover more about your potential customers, you may do the following things:
Survey your target group with analytics tools like Heatmap
Create customer personas
Monitor reader comments and reviews
When you know your audience and understand their intent, you will easily be able to create blog posts, articles, and guides according to their needs.
Step 3: Selecting the Right Topic and Researching Keywords
Once you understand your target group and know their intent, you will find it easier to pick up the right topic for them. To grab their attention, you should provide them with what they have been looking for. Also, you need to check whether the chosen topic is relevant to your business or not.
Once you select your topic, it's your time to move to the next level that is doing keyword research. Well, we have already talked about what exactly keywords are and how important they are for your rank.
Let's move to the next step and learn how to do keyword research.
How to Do Keyword Research with Specific Tools?
Whether it is about collecting data about the search volume (The number of searches for specific keywords within a month or a year) of your target keywords or finding out related search terms, used by your audience, keyword research tools can help you in the best possible ways.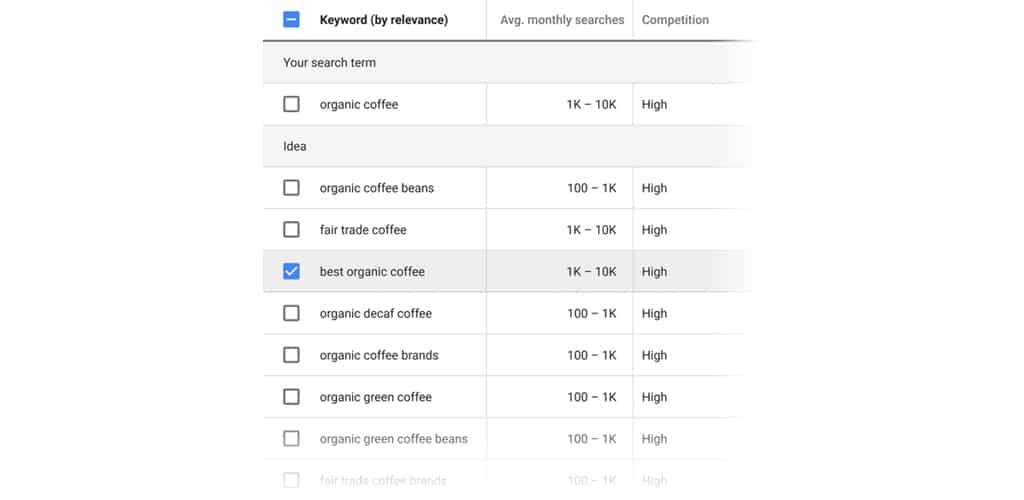 By using keyword research tools, you can get the following information:
Competitor analysis
Search volume
Related and similar search terms
When you collect all the information by using some of the best keyword research tools, you will understand which keywords can drive more traffic with your post.
Best Keyword Research Tools You Can Use
Google Keyword Planner
Soovle
Ahrefs Keyword Explorer
SEMrush
Moz Keyword Explorer
Well, this is not the end. Apart from the mentioned, there are several other tools available. You just need to select the right one, according to your needs.
When choosing your keywords, make sure you consider these two major factors – search volume and competition. The higher the search volume is the more chances are there to boost your rank with your chosen keyword. On the other hand, the lower the competition is the higher scopes are there to rank. 
Types of Keywords
Keywords can be of different types. Some of the common ones include:
Short-Tail – Formed with two to three words, short-tail keywords have high search volume and they are also highly competitive. 
Long-Tail – They consist of more than just three words. They are more specific than short-tail keywords. But they have low search volume and this makes them less competitive.    
LSI Keywords or Thematic Keywords – LSI (Latent Semantic Indexing) keywords are very much related to your main target keywords. Although they have low search volume and low competitive rates, they can still help you improve your rank.
Conducting keyword research is not that easy as it sounds, especially when you do not have professional knowledge and experience. If you are new in it, you may seek help from professional SEO experts in a dedicated SEO company. They have wide experience and they know how to use the right keyword research strategies so that your content ranks higher in SERPs.
Step 4: Writing SEO Content
So, here is the answer to the question – how to write SEO content? Yes, this is where the groundwork begins.
After you find out the right keywords for your topic, now it's time to create great content. Actually, you have no alternative to writing engaging and great content.
How to Do It?
Keep on following these steps and thus, you will be able to create a high value SEO content that can convert your visitors into your customers.
1) Determining the Structure
While writing SEO content, you need to pay attention to its structure. There should be proper heading, subheads, and bullets. By using bullet points and subheads, you can increase the readability of your copy.
Insert target keywords in the heading and subheads to optimize your content for Google and other search engines. Also, you can use heading tags to make it SEO-friendly.
Well, there is another reason why you should use H1, H2, H3, H4…tags – they will help your readers know how important the given headings are.
Using the correct article writing format is a great way to captivate the attention of your readers. So, make sure that you do it correctly to make your copy more SEO-friendly.
2) Choosing the Correct Length
500 words…1000 words…1500 words…2000 words – which is the ideal article length? Actually, no length is ideal, but there are also certain factors that you can't ignore when it comes to length. However, posting a 200- or 300-word article is not a good approach when it comes to SEO ranking. if your average content length is below 300 words, there are chances that Google will treat it more critically. Thin content can actually affect your SEO ranking. So, it is better to choose a standard length for your blog post or article.
Longer articles are usually rich and well researched and most importantly, search engines also prefer longer articles. But that does not mean you can write anything in your article, just to increase its length. Rather, try to make it rich and write exactly what your audience needs.
Whatever length you choose, just make sure you write the copy such a way so that your target audience gets the right message through it.
3) Inserting keywords
Keyword insertion involves some tactics and the magic happens when you use them correctly. One such tactic is to use your target keywords or keyphrases without affecting the flow of writing. Make sure, you use them naturally.
Keyword stuffing or using too many keywords is not a correct approach since this will impact your website's ranking negatively. So, pay attention to keyword density and use them correctly.
4) Using Call-to-Action Phrases
What is your purpose? Why are you creating SEO content? Do you want to persuade your audience through your copy? If you answer positively to the third question, then using Call-to-Action (CTA) phrases in your article or blog is possibly the best option for you.
To make your readers respond immediately to your call, you need to use specific CTA phrases like "call now", "visit an online store today", "find out more" etc. Basically, it is a great way to provoke your readers to take immediate action.
5) Writing Plagiarism-Free Content
Using duplicate content is not a correct approach. if you post duplicate SEO copy, Google will penalize your website. So, be careful about it and make sure that you write fresh and plagiarism free content.
Conclusion
Hopefully, these steps will help you write SEO content for your website in the best way possible. If you still find any problem, you may consult an experienced content writer who has profound knowledge about copywriting and SEO.
Besides creating rich, engaging, and informative content, it is also important to optimize it properly for search engines. To thrive in your online business, you need to do more than just simply "writing content." Your website's rank will be improved when you feed search engines with fresh content and use SEO tactics. So, implement the correct SEO strategies and drive your target audience quickly.