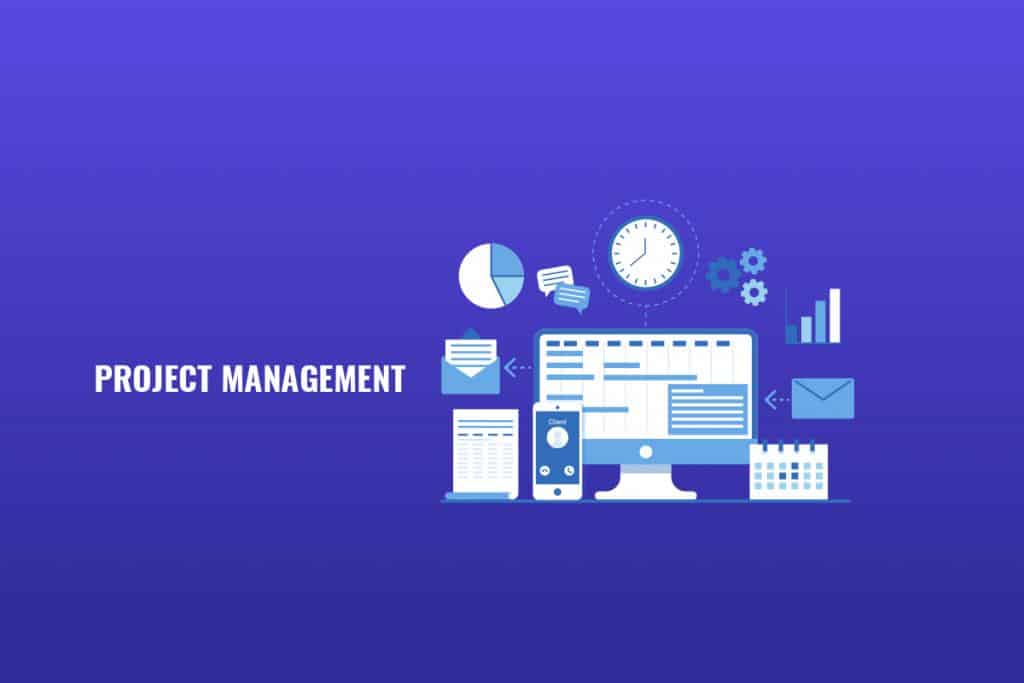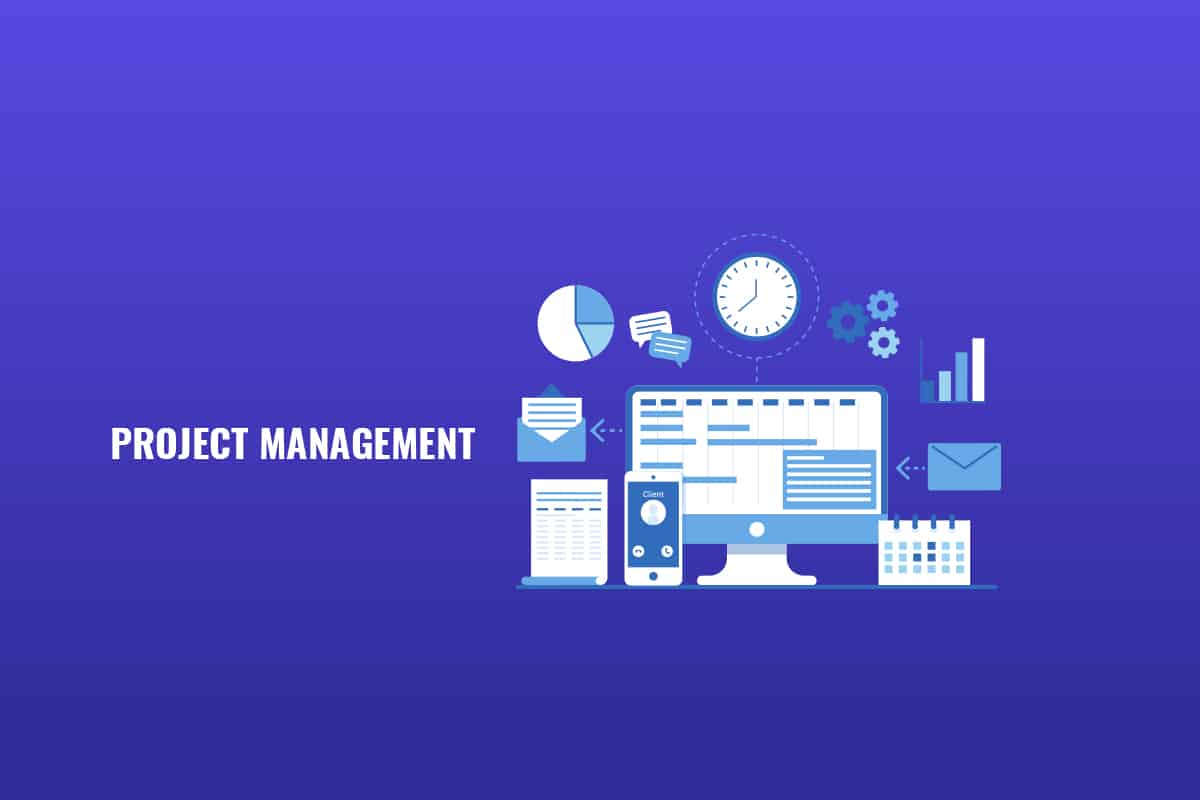 Well, let's first understand the scenario – the world's gone smarter and so should you. Going smart isn't fascination any more, it's become a necessity! When you have a ton to do in your office including your mind-numbing work pressure and lined-up ongoing projects, all you need is a nice and simple way to manage your complex projects and large team! Guess what! We are here with the best project management tools which would surely simplify your work-life, let you stay in sync and finish your projects with complete ease.


Being an IT leader, we develop Custom Project Management Software according to your requirement! If you don't want to go with the tools already available and used by millions, you can create your own unique PMS!
Share your requirement…


Best Project Management Tools and Software to Finish Projects with Ease
This is a complete guide where you'll find 42 outstandingly impactful project management software alongside their full features, pricing, and specialty. Stop lurking around the internet, 'cause you've reached the right place to decide your project management tool. We've gathered the free, paid, and open-source project management apps just for you. Waiting for what? Scroll down and read in detail.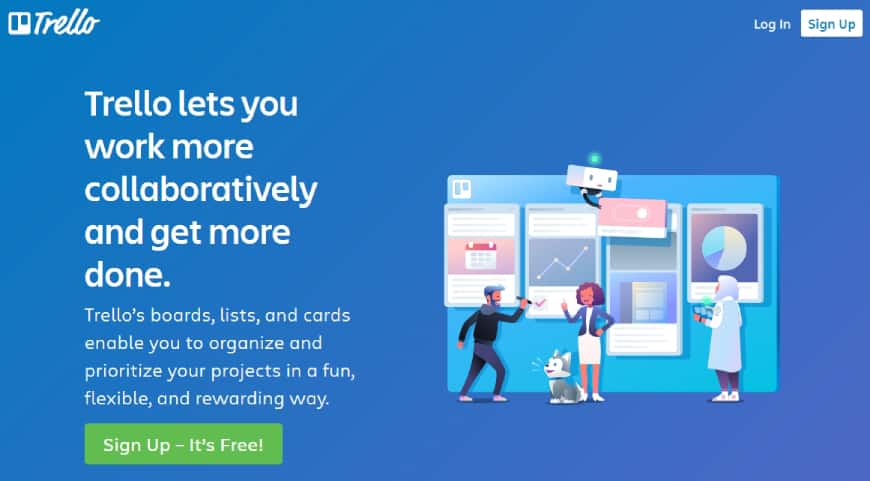 A simple software for the simplicity lovers, Trello is quite a known term in the world of project management. Trello comes with a cardboard-like dashboard for the users which helps in managing the daily assignments in the most efficient manner. Trello is one of such project management tools that come with an attractive interface and make it easy to visualize the project tasks.
Top Features of Trello
Free for basic services
Tags, labels, and categories make the organization easier
Drag and Drop functionality
Deadline Reminders
List arrangement by time and date
Image and file sharing
Unlimited task creation
Progress Meter with Checklists
Voting
Activity log
Email notification
Simple task management with cardboard
Specialty
The most visual collaboration tool for all – from individuals to fortune 500 companies.
Price
Personal Use: Free
Business Use: $9.99 per user per month (annually)
Enterprise Use: $20.83 per user per month (for 20 users)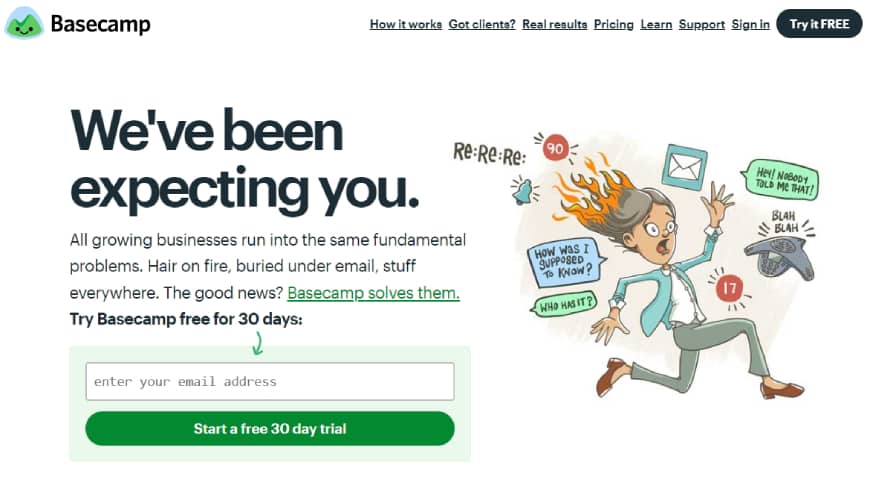 Basecamp is focused on real-time communication and collaboration, compared to the old-school project management tasks like long-term scheduling and resource planning. This is one of the project management tools which will be adored by social media lovers. The social media-like interface of the software makes it interesting and fun along with topnotch functionalities like calendars, To-Do lists, file-sharing and due dates along with Campfire and its own chat room.
Top Features of Basecamp
Social Media-like Interface
Push Notification
Discussion Threads
Calendar Management
File Sharing
Milestone Tracking
Collaboration Tools for Team
Project Completion Tracking (in percentage)
Client Portal
Chat and Messaging
Task Management
Subtask Creation
Document Management
Specialty
The interface is similar to social media which makes Basecamp fun to use.
Price
$99/month for Unlimited Users
Free for Teachers and Students
Discounts for Non-Profit Organizations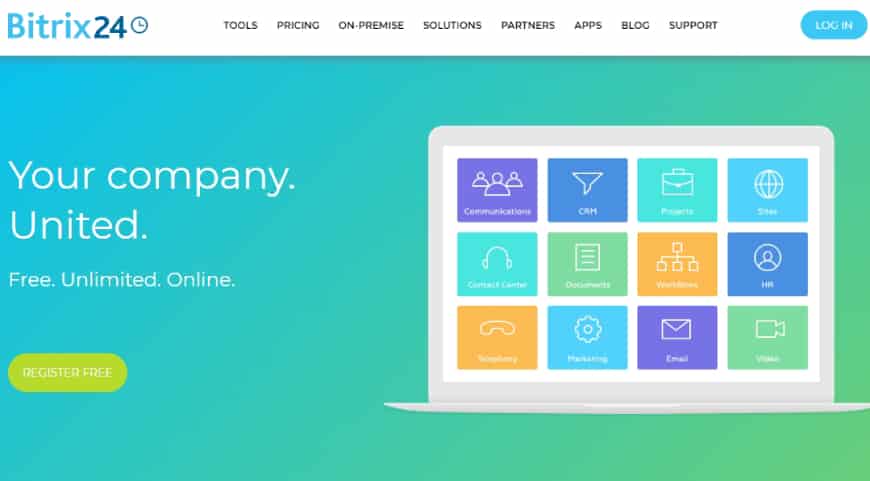 Bitrix24 is a unified platform that contains all the relevant project management tools for intuitive collaboration and communication among team members. Up to 12 users can start a project collaboration on Bitrix24 for free and further additions will require costing. This PMS (Project Management Software) has highly scalable premium plans which make it apt for your next big projects. Powered by a range of topnotch functionalities, Bitrix24 should be used for every little to large project collaboration.
Top Features of Bitrix24
Internal Communication gets easier with social intranet
Virtual telephone calling
CRM (Customer Relationship Management) integration and reports
Project management apps available for iOS and Android
File sharing and versioning
Sales funnel
Task reporting and time management
Bulk email
Messaging
Project workflow
Calendar sharing
WebDAV support
Specialty
One of the most feature-rich project management software with traditional project management to the HR system, telephone integration, and internal email.
Price
Free Plan: 12 users (5 GB storage)
CRM+ Plan: $69/month for 6 users (50 GB storage)
Standard Plan: $99/month for 50 users (100 GB storage)
Professional Plan: $199/month for unlimited users (unlimited storage)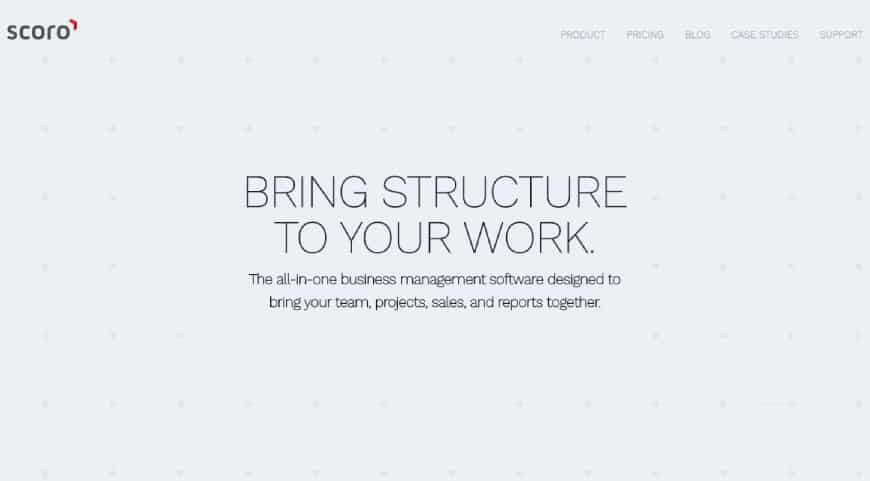 Scoro is a cloud-based all-in-one project management tool, focused on small to medium enterprises. This software includes all the possible features and functionalities, a perfect PMS requires; from the tasks and communication to billing and reporting. Especially, known as a web design project management software, Scoro is also a great collaborative tool for other domains as well. With easy features and functionalities, Scoro interface is a breeze to use even for first-time users.
Top Features of Scoro
Real-time business dashboard
Resource planning
Invoice scheduling
Late invoice alerts
Quote management
Task management
Contact management
File sharing and management
Lead management
Commission calculator
Customer management
Company news feed
Custom fields and tags
Specialty
Scoro is a one-stop project management tool that will streamline all your work processes without requiring different tools for every other job. The pricing is comparatively higher than other tools but that's perhaps because of the extended features.
Price
Essential Plan: $26/user/month
Work Hub: $37/user/month
Sales Hub: $37/user/month
Business Hub: $61/user/month
NOTE:
Minimum 5 users are required for starting off with any plan
Onboarding starts from $899 for any plan

Tired of these premade tools? They don't match your exact requirement?
Worry not! You can build your own CUSTOM PROJECT MANAGEMENT SOFTWARE!
Contact Us Today and Get Your Own PMS Developed!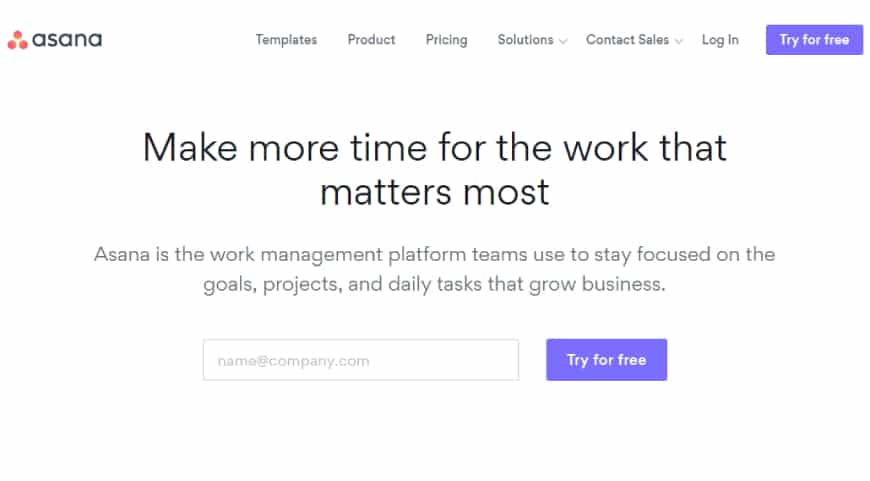 One of the most popular business management tools, Asana comes with robust work management environment that combines all the vital project management elements from collaboration to file storage and communication. Asana enables its users to organize the tasks and works in the most professional manner along with priorities and deadlines. Overall, Asana is the best project management tool that can bring a team together.
Top Features of Asana
Breakdown of work into tasks
Task assignment to team members
Task tracking and follower addition
Team progress tracking and milestone reviewing
Multiple workspaces
Goal and priority creation
Task list and focus mode
Auto-updates to inbox/email
Custom calendar creation
Set project permission
Project Dashboard for a quick overview
Specialty
The simple layout of this PMS makes it an easy-to-use tool, even for a newbie. For small teams and not-so-complex projects, Asana works like magic.
Price
Basic Plan: Free
Premium Plan: $9.99/user/month
Business Plan: $19.99/user/month
Enterprise Plan: Price will depend upon the requirement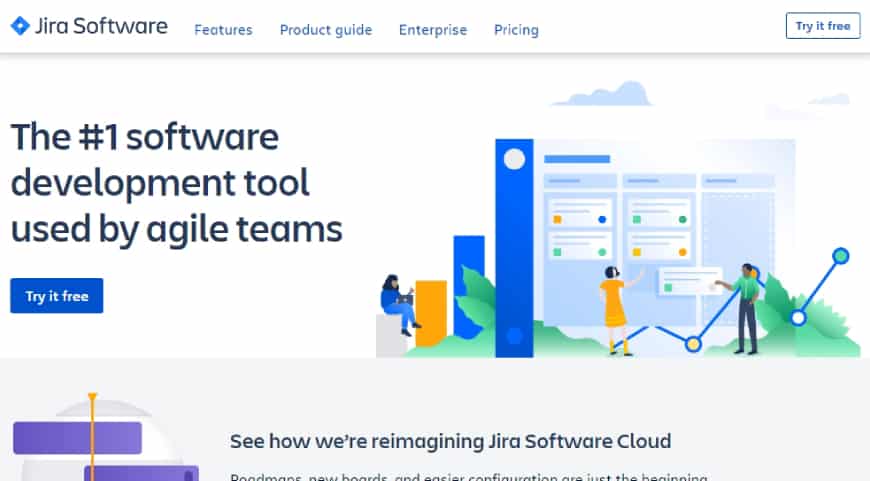 Jira is cross-platform bug tracking software which has also become one of the topmost names among the best project management tools all over the world. With the advanced project management features and capabilities, Jira is there to help almost over 70,000 users work with total control over the projects across the globe.
Top Features of Jira
Jira also has a native project management app for iOS and Android
The flexible REST API integration
Bug and defect management
Robust search and filtering options
Customizable workflows
Customizable wallboards and dashboards
Robust administration and security
Download availability
Seamless mobile interface
Real-time reporting on works
Specialty
Jira is a specialized IT project management tool which brings the perfect collaboration to the web design companies and software development teams.
Price
$10/month for 10 Users
$7/user/month for 11-100 users
$6/user/month for 200 users
The Jira Pricing is a bit confusing but you can calculate the exact pricing on Jira Calculator on their website.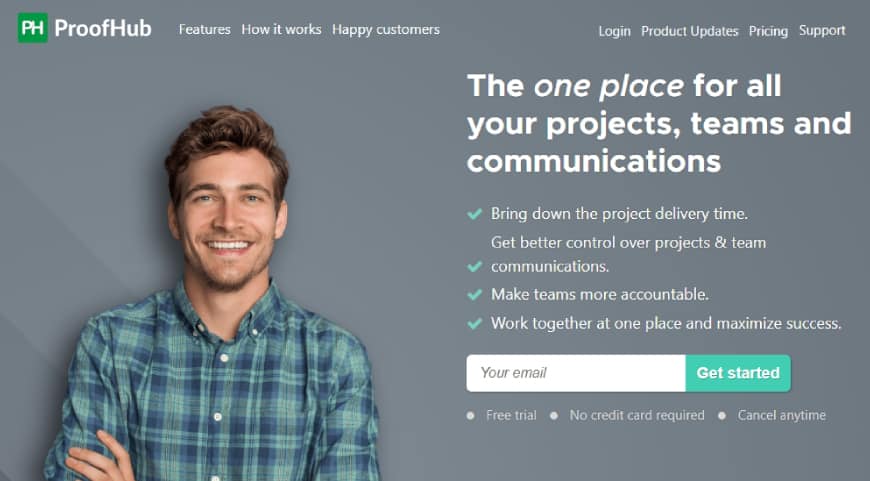 ProofHub's client-list is ornamented with giants like Wipro, Disney, Harvard University, TripAdvisor, and NASA! Well, do you need any other explanation why you should go for ProofHub when NASA makes use of this project management tool? If you want, read it out. ProofHub is a cloud-hosted Project Management Software that brings the features of different tools under one roof.
Top Features of ProofHub
Easy feedback sharing with online proofing software
Time tracking
Project history tracking and Reporting
Milestones and events
User role management
Discussions and chat
Task assignment
Multiple languages
Compatible with tablet and mobile
Gantt charts enable project visualization
Secure file storage
Specialty
Apart from a well-designed user interface, ProofHub comes with an extensive set of features that will eliminate the need for any other project management tools.
Price
Essential Plan: $45/month (40 projects, unlimited users, 15GB storage)
Ultimate Control Plan: $89/month (Unlimited projects, unlimited users, 100GB storage)
Heavy discounts on Non-Profit Organizations.
One of the oldest project management software, Workzone has been around since 2000 and the app was developed by a highly experienced and dedicated team of ad executives who wanted to help creative teams and organizations get better visibility and control in work management. Workzone is an effective, intuitive, and secure hub for task sharing and management which ensures that every professional in the team stays on the same page.
Top Features of Workzone
Workflow approval
Tailored To-Do list
Automated reports
User permission (including clients) for accessing files, projects, and tasks
Project templates and request forms
Secure file sharing
Task and Subtask creation
Gantt chart
Expense and time tracking
Dashboard for projects
Group calendar and custom branding
Specialty
Despite having some of the most powerful tools, Workzone comes with simpler use compared to other project management tools.
Pricing
Workzone has three plans subscription – Team, Professional, and Enterprise. Primarily, their pricing starts from $20.00/month/user but the precise pricing plan can be accessed from their website since they have different pricing for different team sizes. So, you need to pay a quick visit to Workzone Pricing Page, fill up some details and get the pricing on your email or phone.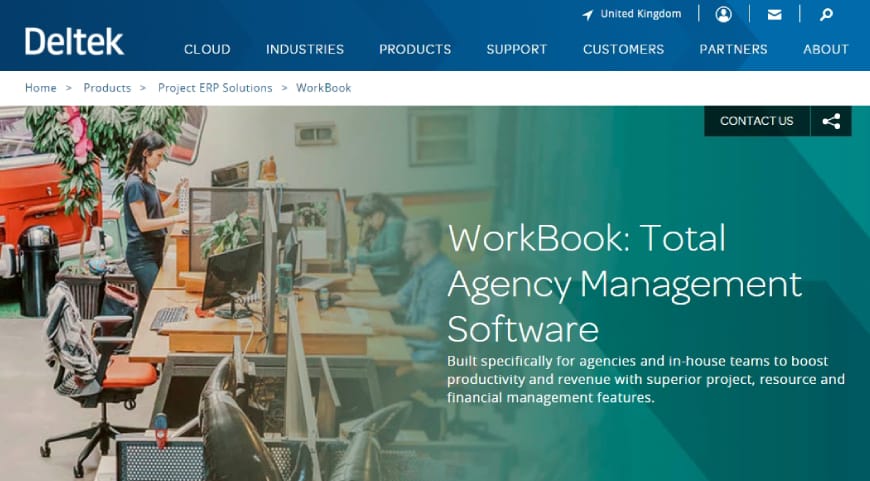 The WorkBook is a SaaS (Software-as-a-Service) solution which has multiple business applications integrated. This project management application is a software suite that combines the features and functionalities of CRM (Customer Relationship Management), Project Management, Financial Management, Resource Management, File Sharing, Accounting, and Forecasting.
Top Features of WorkBook
Activities and follow-up list
Project and chart task list
Sales pipeline with weighted revenue
Team Collaboration
Price Quote and Invoice creation (can also be sent via email)
Customizable and flexible finance report
Client portal
Contact list management
File saving and sharing
Specialty
The WorkBook has several different modules which work according to the different needs of organizations with the payment for only the module you require.
Pricing
Basic Users: £13/user/month
Projects: £17/user/month
+ CRM: £20/user/month
+ Finance: £24/user/month
Full Site: £32/user/month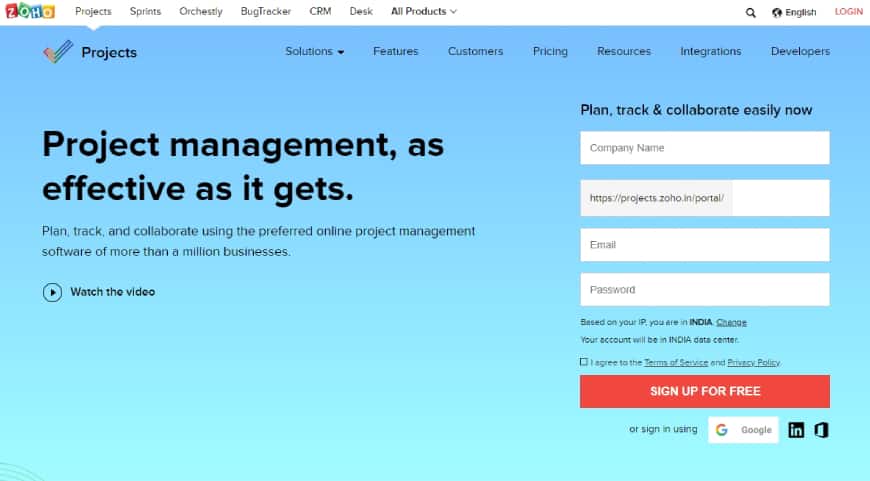 Without any scope of doubt, Zoho Projects stands tall as one of the simplest project management tools to streamline your forthcoming tasks and works in clicks. Using its fully automated and customizable features, Zoho Projects lets you manage your projects from the very initial stage to closing. In a nutshell, Zoho Projects is an unparallel collaboration tool for team members to meet project goals.
Top Features of Zoho Projects
Task Blueprint
Time logging
Project feed and project budgeting
Expense tracking
Time tracking and time sheets
Task lists with multiple tasks and milestones
File and document management
Import from Basecamp and Jira
Kanban Board for issues and tasks
Project dashboards
Discussions and forums
Specialty
You must've heard about Zoho CRM and Zoho Projects is integrated with it and the other Zoho tools which ensures that every aspect of your agency is covered in one system.
Pricing
Free Plan: 5 users, 2 projects, 5 client users
Standard Plan: $153/Annum (1-6 users)
Express Plan: $490/Annum (1-15 users)
Premium Plan: $1040/Annum (1-20 users)
Enterprise Plan: $1529/Annum (1-25 users)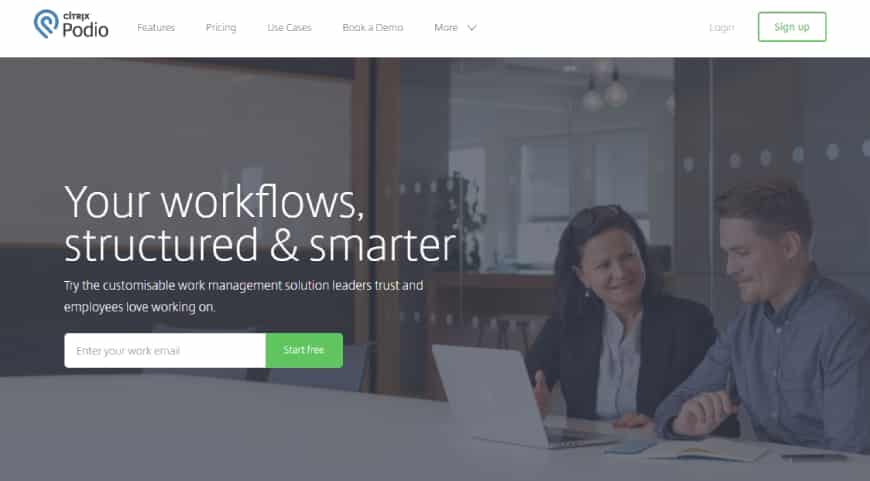 One of the most versatile project management tools, Podio is used by more than 500,000 organizations to manage their internal and external business affairs. With a highly flexible and customizable series of app and tools, this business management tool becomes one of the hottest commodities to manage, organize, and complete tasks with absolute ease and track.
Top Features of Podio
Task Assignment and To-Do List for project breakdown
Encrypted and large file transfer
Workflow automation
Expense and Time tracking
Cost-to-Completion tracking
Milestone tracking
Task and subtask creation
Sales pipeline automation
Visual dashboard
Specialty
You can add 'IF-THIS-THEN-THAT' logic to Podio apps with the help of its workflow features. For example, Podio will create a task or comment if an item is created or the item has an update. This feature works outstandingly well with the fast-paced project management.
Pricing
Free Plan: Free for 5 employees
Basic Plan: $7.20/month
Plus Plan: $11.20/month
Premium Plan: $19.20/month
Custom Plan: For a custom plan, you need to contact Podio authority

Develop a Custom Project Management App from Intlum
Get the Features and Functionalities of your choice in your Own PMS!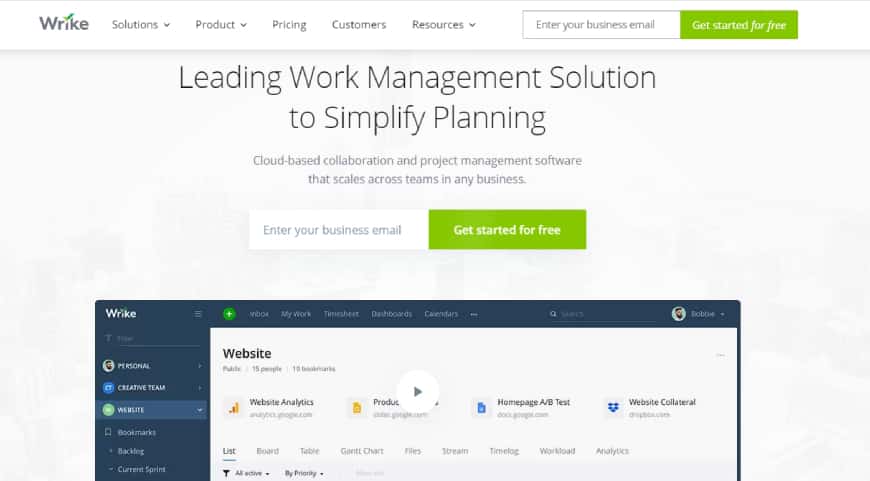 Wrike takes your team collaboration and communication to new heights with unparallel transparency. Wrike is one of the most versatile project management tools that come with a range of collaboration, document management, and communication tools. Also, the project management software will allow you to set priorities and make team alignment for faster and more effective work.
Top Features of Wrike
Task management
Task prioritization
Gantt chart offers an interactive timeline
Document Collaboration
iPhone and Android apps for mobile business management
Workload management
Time tracking
Customized reports
Google Doc and Dropbox integrations
Specialty
The interactivity of Wrike is inspiring! The interactivity offered by Wrike can hardly be seen in any other project management software. Even their website homepage is filled with interactive elements that explain their features and functionalities.
Pricing
Free Plan: Free for 5 users
Professional Plan: $9.80/user/month
Business Plan: $24.80/user/month
Wrike for Marketers: Pricing will be decided as per requirement
Enterprise Plan: Pricing will be decided as per requirement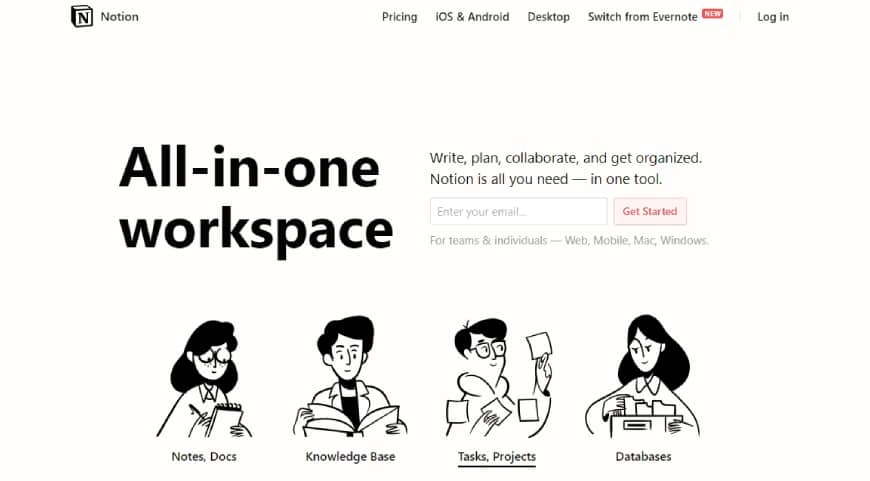 Notion is an out-of-the-box project management tool that assists the teams in project planning and discussion. This PMS will offer you an all-in-one workspace where you can write, plan, and collaborate. With the modern features and interface, Notion makes the communication between clients and team easier than ever alongside keeping track of all the important ideas and documents.
Top Features of Notion
Multi-device synchronization
File sharing
Flexible task board building with drag and drop editor
Online and offline availability and running
Opens and runs with browser
Runs offline with mobile app, Windows, and Mac
Page nesting inside each other
Idea outlining and arrangement as per requirement
Personal weekly checklist
Specialty
Notion will let you assemble the project workflows which would work perfectly for your team. Notion is as simple as a text editor which ensures that everything is done simply! And also, Notion can be counted among the most affordable project management tools in the world.
Pricing
Free Plan: Unlimited members (Limited features)
Personal Plan: $4/month (1 member only)
Team Plan: $8/user/month (Unlimited members)
Enterprise Plan: $20/user/month (Unlimited members)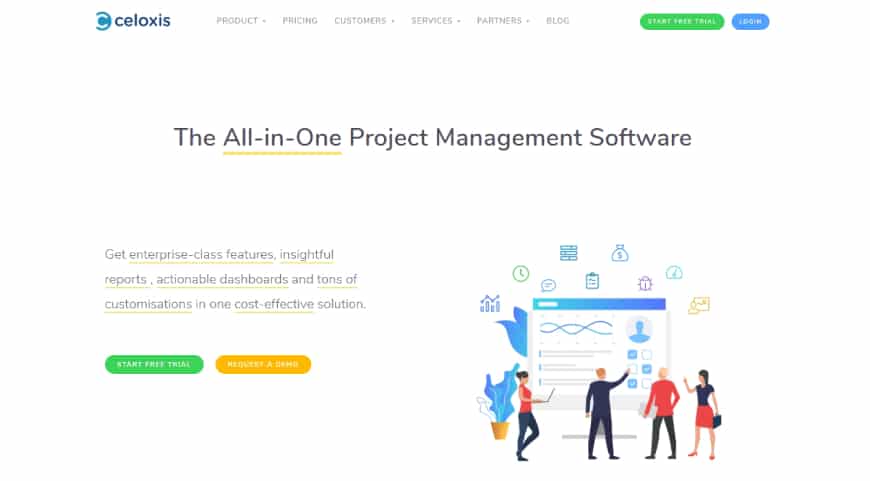 If you make a list of the one-stop and low-cost project management tools, Celoxis would surely make among the top few positions. Celoxis helps in planning and tracking projects, tasks, portfolios, timesheets, resources, risks, and issues. It is a comprehensive business management software for extensive collaboration with a free client portal. The dashboards and reporting capabilities of Celoxis are unparallel, compared to the other tools in the market.
Top Features of Celoxis
Expense and time system with online approval
Advanced scheduling
Customizable and clickable Gantt charts
Multiple dashboards
Report analytics
Project tracking
Project templates
Project portfolio management
Client collaboration (free)
Microsoft Project synchronization
Unlimited task constraints, hierarchy, and dependencies
Specialty
You will get both SaaS and On-Premise (can be hosted on a separate server) options with Celoxis, based on the requirement of your team.
Pricing
Cloud: $22.5/user/month (billed annually)
On-Premise: $450/user (billed once)
Note: Both the Celoxis plans require a minimum of 5 users.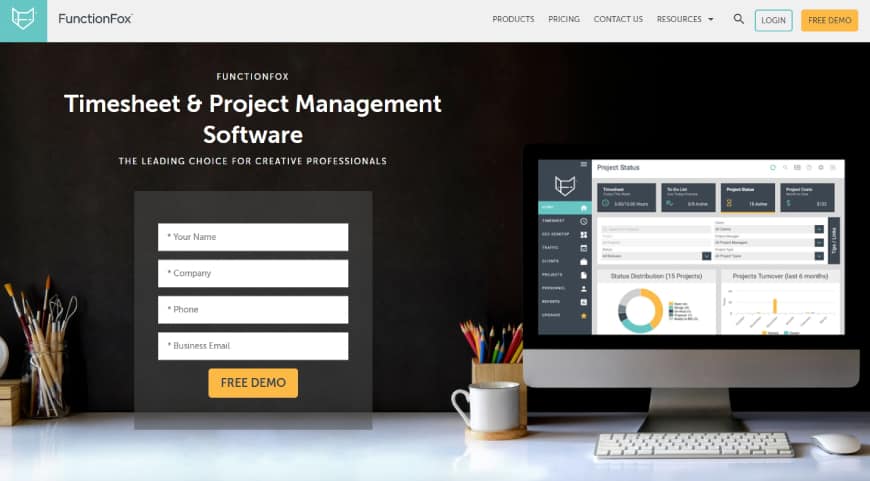 With a ton of intuitive project management features, FunctionFox is a timesheet tool availed by a great number of creative professionals across the globe. The tool is not only easy-to-use but also comes with a load of result-driven project management features like milestone tracking and budget comparison. Also, project tracking is possible from conceptualization to completion with this tool. With a nice user interface, FunctionFox is a pleasant software to use.
Top Features of FunctionFox
Budget comparison
Easy project creation and management
Subtasks and milestones
Time tracking and to-do list
Interactive real-time reporting
Timesheet with a Stopwatch Timer
Account preference and customization
Project blog and email alerts on comments
Project cost and expense tracking
Invoicing
Access rights and contractor/client access
Specialty
FunctionFox offers visually manageable dashboards which are customizable as per personal preferences. It will let you have a quick overview of your upcoming works along with team results.
Pricing
Classic Plan: $5/user/month ($35/month for 1st user)
Premier Plan: $10/user/month ($50/month for 1st user)
In-House Plan: $20/user/month ($150/month for 1st user)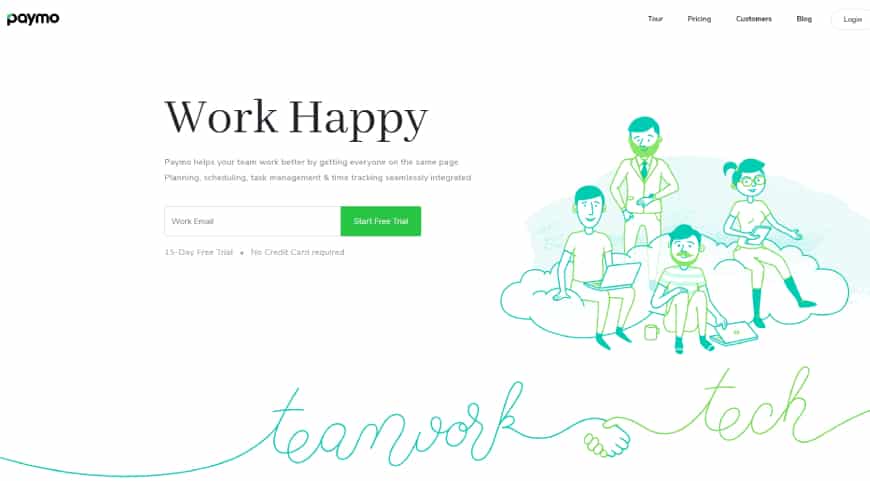 Paymo is one of such task management tools that come with an extensive range of features for the teams like proper planning, scheduling, task management, and time tracking. It is an outstanding project management tool for having all the team members under one roof for a more fruitful collaboration. Whether you are a marketing, creative, business consulting, or web designing company, Paymo is there to sort all your needs and let you manage your works faster and better.
Top Features of Paymo
Kanban Boards and Gantt charts for precise scheduling and planning
Detailed work reports
Team performance monitoring through the dashboard
Billing system after task completion
Customizable work and time reports
Discussion and comments for seamless collaboration
Personalization
Mobile project management apps
Specialty
Time tracking automation has gone real with Paymo. Downloading the Paymo desktop app and allowing it to track down your PC usage will get you all the time entries categorically.
Pricing
Free Plan: 1 user limit
Small Office Plan: $9.56/user/month
Business Plan: $15.16/user/month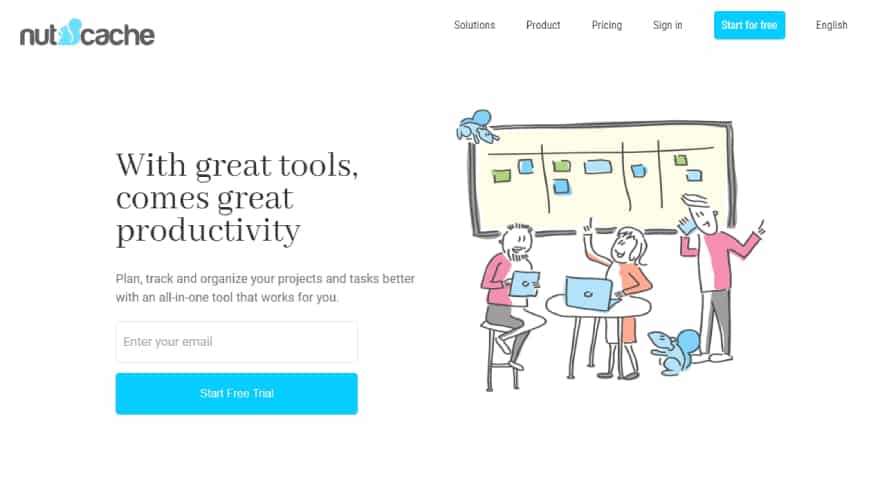 An all-in-one project management tool, Nutcache gets the best of the agile workflow to ensure better planning, tracking, and organization of tasks and projects. Nutcache is built for the small teams with tools that come in aid to finish the project delivery lifecycle. Using Nutcache's agile planner gives you the opportunity to watch the works others are doing!
Top Features of Nutcache
Project creation for specific clients
Project and task management
Expense management
Timer configuration for a specific duration or start/end mode
Time tracking and billing
Timesheet and expense approval by the team leader and project manager
Team management
Board creation for specific projects
Milestone and alerts
Customizable workflow and organized tasks
Priority-wise card assignment
Specialty
Apart from an attractive user interface, Nutcache is exceptional for team collaboration and simple project management.
Pricing
Freelancer Plan: $8.95/month (maximum 1 user, 50 clients)
Pro Plan: $6/user/month (unlimited users, unlimited clients)
Enterprise Plan: $12/user/month (All Pro Plan features and many more)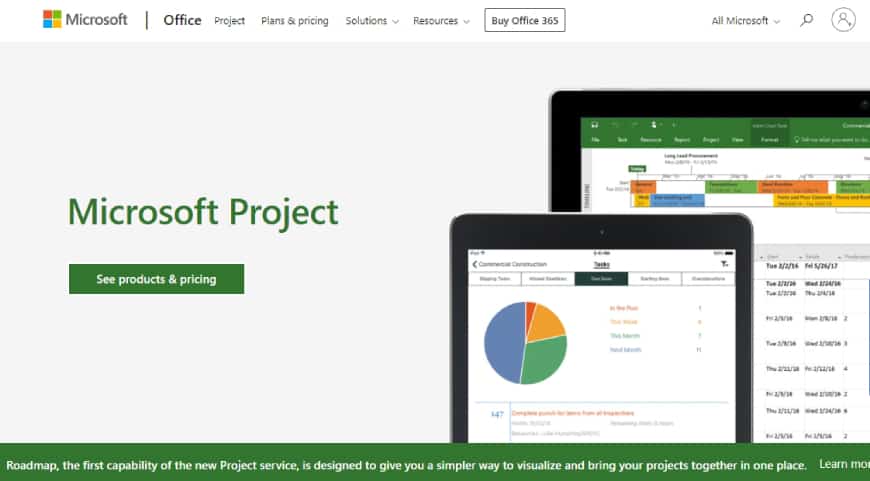 Microsoft Project is a flexible portfolio management tool (PPM) with on-premise and cloud-based options. This software is designed to streamline resource, portfolio and project management by organizing and keeping a tab of your projects, incorporating everyday tasks and inclusive direction. Through Office 365, this platform can be delivered online. Currently, this business management tool is used and accessed by more than 20+ million users!
Top Features of Microsoft Project
Project portfolio management
Project scheduling and costing
Resource management
Built-in project templates
Real-time communication
Project timelines
Improved daily collaboration
Intuitive presentation
Information discovery and sharing
Business intelligence and reporting
Specialty
Microsoft Projects comes with the robust Microsoft platform which eliminates any threat of downtime and bugs. Also, you'll get a simplified project management solution with visualization, integration, usability, adaptiveness, and great interface.
Pricing
Cloud-Based Solutions

Project Online Essentials: $6.80/user/month

Project Online Professional: $28.90/user/month

Project Online Premium: $52.90/user/month

On-Premise Solutions

Project Standard: $576.30

Project Professional: $1129

Project Server: Price will be decided as per requirement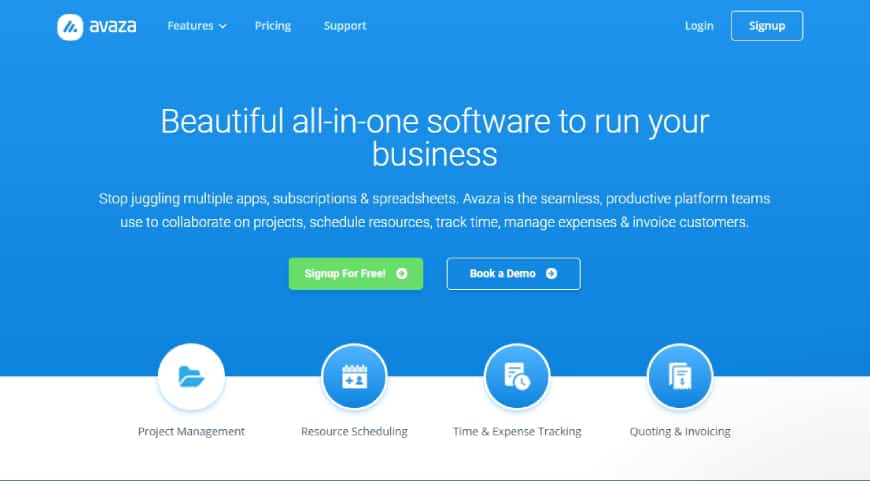 One of the simplest project management tools, Avaza is an intuitive and result-driven solution for project collaboration with your customers and team. You can schedule resources, manage expenses, track time, and share files quickly with this outstanding task management tool. You can get an overview of everyone's activity and manage work assignments which help in smarter and improved scheduling decision.
Top Features of Avaza
Cardboard-like interface for task management
Task visualization, filtration, and grouping across projects
Automated task reminders
Flexible project budgeting and billing
Flexible and easy time tracking and timesheet approval
Single-click time tracking from any screen
Easy resource management for each project
Quick Invoice and Quotation sending
Project progress dashboards
Specialty
Each project of this amazingly intuitive collaboration software has a user-friendly email address which lets you convert emails into tasks by simply forwarding emails from the email registered in Avaza!
Pricing
Free Plan: Completely free of cost (with limited access and resources)
Startup Plan: $9.95/month
Basic Plan: $19.95/month
Business Plan: $39.95/month
Note: All the plans have different access and resources. Adding to the access and resources will have an increase in the pricing. Visit Avaza Pricing Plans to know about their packages in detail.

Intlum develops Custom Project Management Software for businesses with different natures.
Contact Us and Get Your PMS Developed!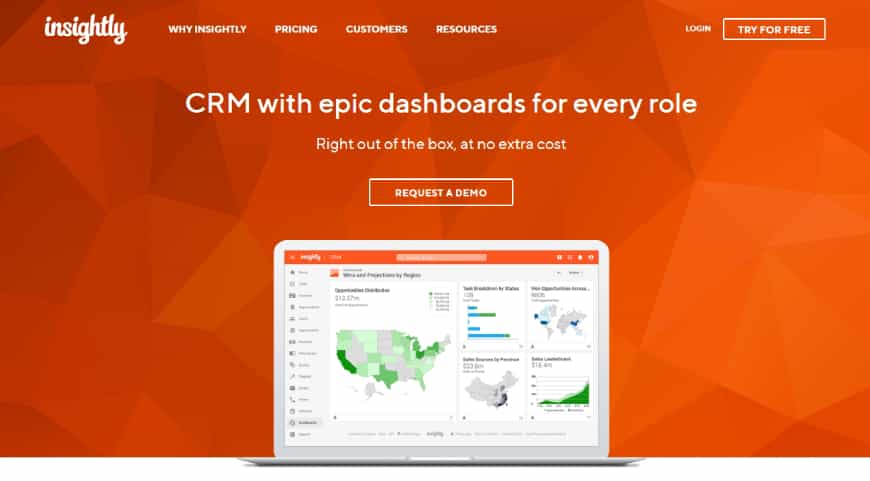 Touted as one of the finest online small business CRM, Insightly has acquired more than 500,000 users across the globe with enterprise-level modules for big companies. Along with being a CRM (Customer Relationship Management) tool, Insightly also comes with a set of efficient business and project management features which led us to add this platform among the list of best project management tools.
Top Features of Insightly
Flexible calendaring and events
All management support like contacts, leads, partners, organizations, suppliers, and vendors
Improved customer relationship
Custom fields and filters
File sharing
Bulk email contacts by integrating MailChimp
Milestone, pipeline and task creation for projects
iOS and Android apps
automated email reminders
Dashboard for quick lookup
Specialty
Insightly is one of such CRMs that has been built for all kinds of users – from the sales experts to first-time CRM users. This project management app is built for comprehensive collaboration.
Pricing
Plus Plan: $29/user/month
Professional Plan: $49/user/month
Enterprise Plan: $99/user/month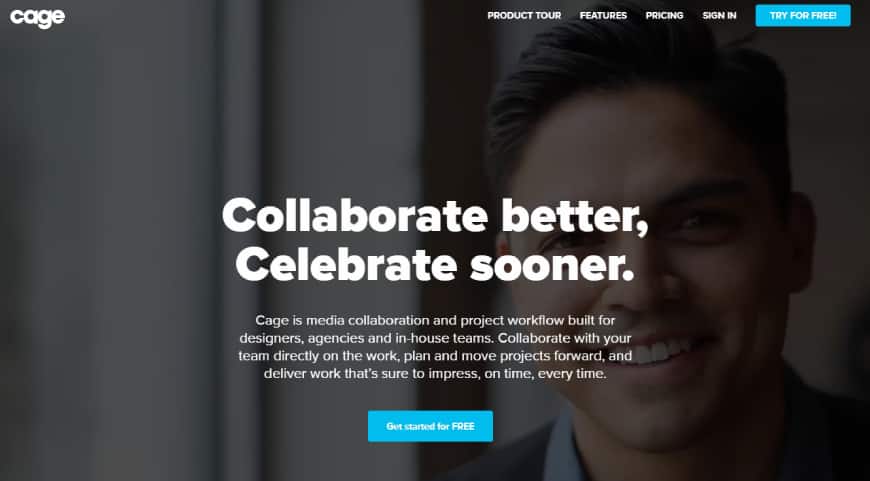 If you want to improve how your creative team collaborates and works, Cage is the finest collaboration software to do so. This is one of the project management tools which are best-fit for the creative agencies, designers, and in-house teams. You can join forces with your team directly during the work on Cage and use its advanced toolkits to discuss and get feedback faster.
Top Features of Cage
Calendar, content, contact, document, and task management
Video conferencing
Discussion boards
Filesharing
Due date tracking
Project creation and management
Client approval
Revision tracking
Password protection for projects
Design decision sharing
Image, video, audio, and PDF annotation
Specialty
Cage is the finest combination of collaboration and project management. Project planning and video conferencing features of this team collaboration tool are fascinating.
Pricing
Free Plan: Free for 1 user with limited features
Standard Plan: $8/user/month
Professional Plan: $14/user/month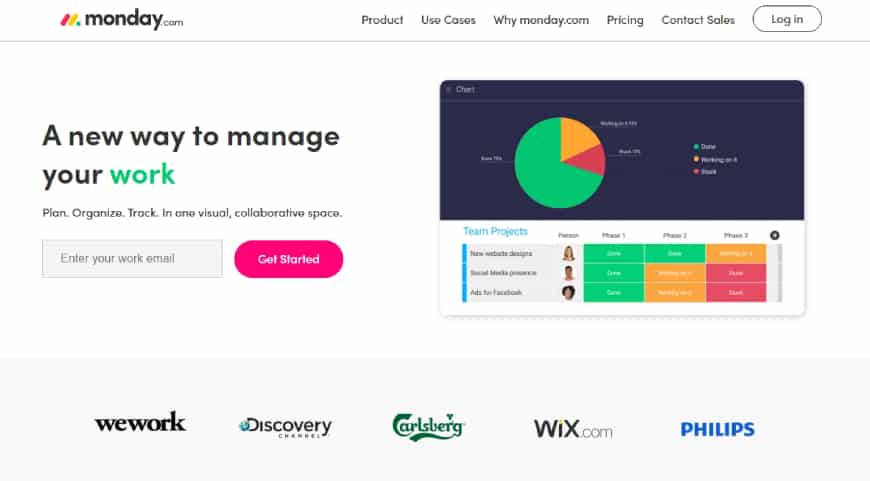 Monday.com (the new name of previously-known daPulse) is one of the most intuitive business collaboration and project management tools that ensure efficient work management, deadline management, and transparency. This project management tool works best for discussion streamlining and monitoring performances and activities of the team members.
Top Features of Monday.com
Dropbox, Google Drive, and Pipedrive integration
Email notification
Auto-generated, searchable documentation
Unified document and communication management
Public and personal boards
Live comments
Detailed reporting and analytics
Visual progress display
Visual project management and project tracking
Execution board
Specialty
Monday.com is such a collaboration software that is highly intuitive and easy-to-use. Moreover, the communication app syncs each and every information in a single, accessible hub.
Pricing
Basic Plan: $25/month
Standard Plan: $39/month
Pro Plan: $59/month
Enterprise Plan: Requires consultation for pricing
Note: All the plans are for 5 users. Each of Monday.com pricing plans will be increased with more users.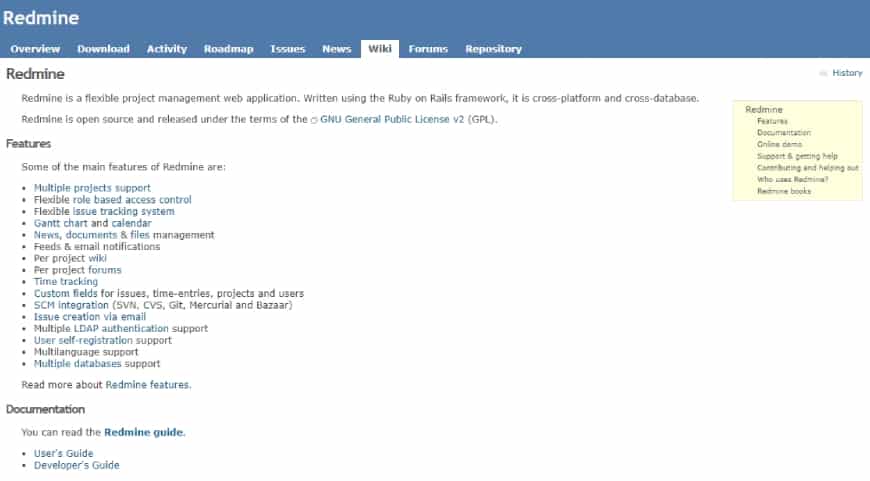 What about an open-source project management tool that works on multiple platforms with multi-lingual support? That's what you are going to get with Redmine. If you're a registered user of Redmine, you'll be able to build and manage your projects and get access to the features that the tool offers. With this highly flexible tool, you can get all your collaboration and business management jobs done with ease. A downloadable software, Redmine is surely worth a try.
Top Features of Redmine
Flexible control on role-based access
File and documentation management along with news feed
Custom fields for time-entries, projects, users, and issues
Forum and wiki for every project
Email notifications and feeds
Better planning with calendar and Gantt chart
SCM integrations
Support for multiple languages
Support for multiple databases
Support for multiple projects
Specialty
Redmine is a downloadable open-source task management tool which becomes handy with the multi-lingual support.
Pricing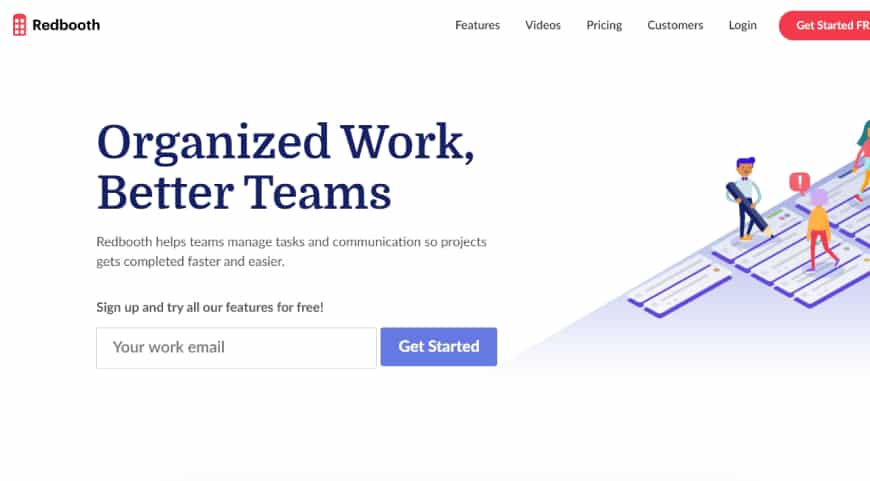 Redbooth is one of the easiest project management software available in the market now. This team collaboration tool helps manage projects for busy teams. With time tracking, Kanban boards and other efficient project management tools integrated into this software, you'll be able to organize your team and do your job how you want. You can start projects in a click from the project templates.
Top Features of Redbooth
Shared virtual team workspaces
Efficient task and project planning and management
iOS and Android apps available
Video conferencing in HD for better collaboration
Direct message and voice calling
Easy task assignment and delegation
Team leaders and managers will get productivity reports
Transparent task layout
Visual dashboard
Specialty
Redbooth offers a full business package that offers everything that could be required in a project management software. From the direct calling to business chat and video conferencing, Redbooth is the finest treasure among the leading PMS.
Pricing
Pro Plan: $9/user/month
Business Plan: $15/user/month
Enterprise Plan: Need to contact Redbooth authority to decide the price.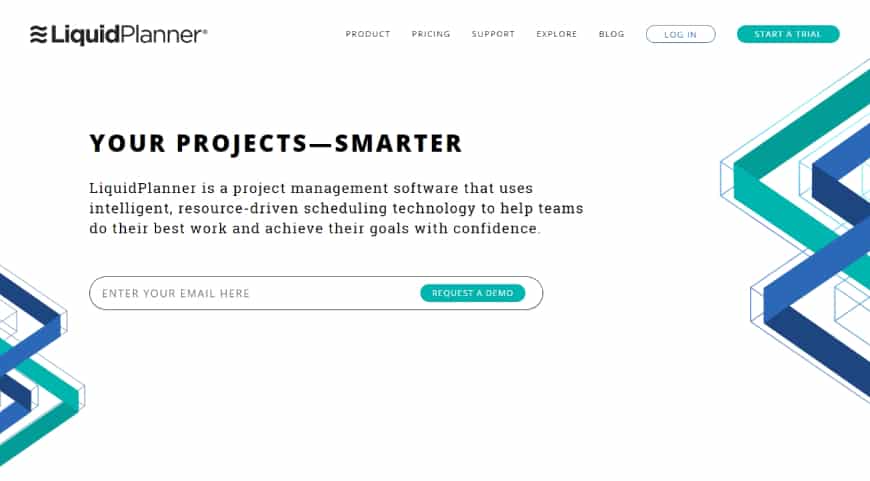 Time-tracking and project management get combined into a collaboration tool that's called LiquidPlanner. The interesting project management methodologies of LiquidPlanner lets the project management tool set realistic deadlines based on diverse situations.
Top Features of LiquidPlanner
Estimation of the realistic time range for task completion
Task commenting and scheduling
Collaboration boards based on tasks
Budget and time tracking integration
Note addition to projects
Cross-project visibility
Project analytics and reporting
Storing documents
Android and iOS applications
Specialty
LiquidPlanner is one of the most interesting business management tools available on the market with its realistic deadline creation based on best and worst-case situations.
Pricing
Free Plan: 14-day free trial without any cost
Professional Plan: $45/user/month (minimum 5 users)
Enterprise Plan: $69/user/month (minimum 5 users)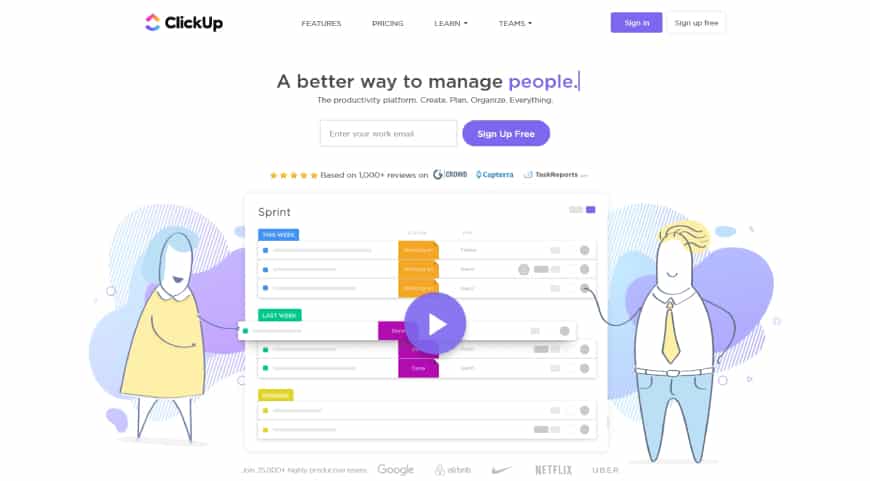 One of the highest-rated project management platforms around the world, ClickUp is focused on enhancing productivity by better task management, notes, project, and time management. This project collaboration tool is designed for all industries and team sizes with tasks, resource, and projects in one place. ClickUp has accumulated some must-have features for agile teams who want to keep everything in one place.
Top Features of ClickUp
There will be box views, board view, and list view
Comment assignment
Smart estimates and smart search bring out the productivity in the team
Customizable workflow alongside stages keep people under one roof
Time estimation for automated scheduling
Goal making and success tracking
Space creation for work organization with workflow, tags, etc.
Notification customization
Comment assigning and editing
Gantt chart
Intuitive hierarchy to keep projects simple with growth
Specialty
ClickUp has beautified the world of project management tools with the unparallel user experience and aesthetic design.
Pricing
Free Plan: Free with 100 MB storage
Unlimited Plan: $4.99/user/month
Business Plan: $8.99/user/month
Enterprise Plan: Price needs to be decided as per requirement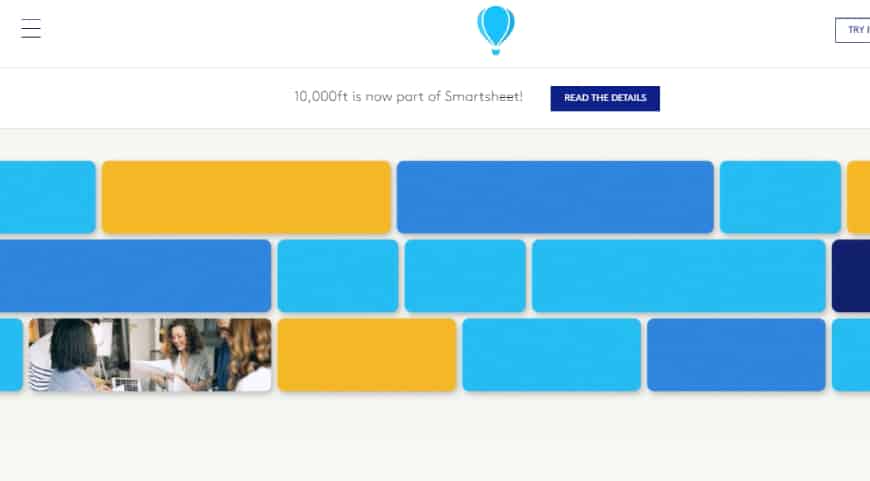 A visual project management application, 10,000FT Plans is a simple but robust PMS that helps in efficient resource planning and estimation. You can make a crucial business decision regarding your projects and teams with this collaboration software which augments the productivity of the businesses. Apart from all that, time-tracking and resource management capabilities make it one of the most beneficial project management tools for organizations and teams.
Top Features of 10,000FT Plans
Task and project management
Visual resource management
Detailed tracking and reporting of projects
Time tracking
Flexible planning interface
Task delegation
Real-time web-based project status
Group and filter analytics data
Specialty
10,000FT Plans offers an easy solution to plan, schedule and evaluate the result alongside a comprehensive outline of each project. Creative organizations of all sizes can make use of this tool.
Pricing
14-day free trial
Paid plans can be revealed by contacting them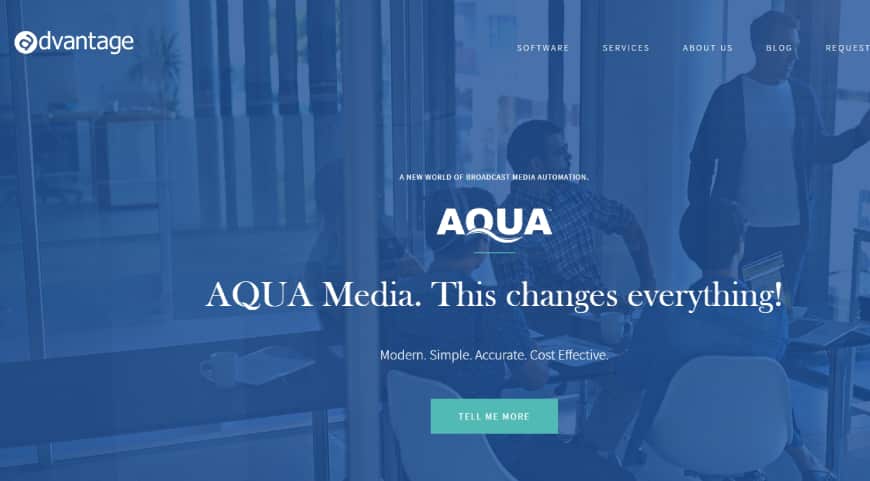 Advantage is a project management software which has been designed for marketing firms and business organizations with great user experience. Advantage integrates all the agency roles into a single solution with robust features, powerful modules, and detailed reporting. The proofing, client relationship management, and billing procedures are automated with Advantage. Moreover, it has a clean and simple interface and functionality for businesses of large and medium size.
Top Features of Advantage
Project automation makes the management more efficient
Time, expense and task management with a streamlined process
File sharing and collaboration
Complete reporting and estimation
Media management
Client activity and prospect management
Work automation and acceleration
Specialty
All kinds of agencies and organizations can avail Advantage as their project management software
Pricing
Pricing depends upon the requirement.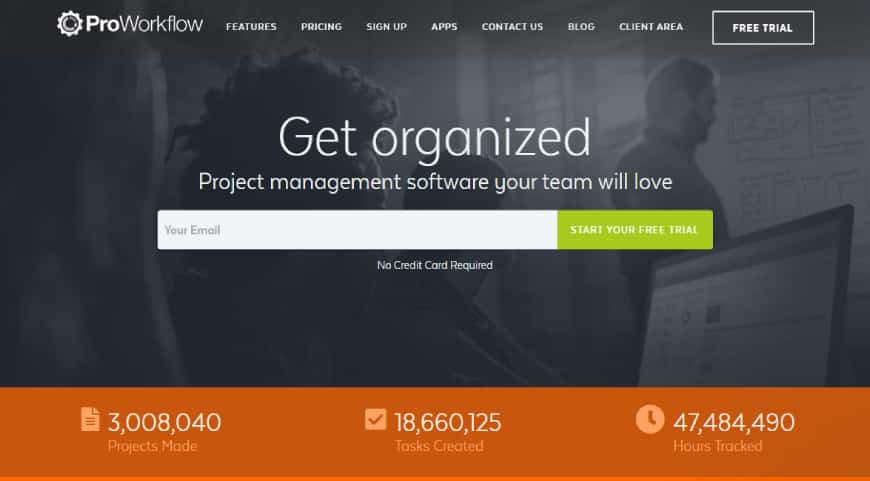 Every team would love to get associated with ProWorkflow considering its amazingly intuitive interface and easy-to-use functionalities. Moreover, this project management tool is beautiful and versatile at the same time. ProWorkflow's ability of integration with all the required tools streamline the task management process and time-consumption. This business management app makes it an absolute ease to track time, assign staff and schedule/reschedule projects.
Top Features of ProWorkflow
Workload overview on the dashboard
Task allocation
Easy invoicing and quoting
Consultation and support
File sharing
Remote project and task management by cloud solution
Access on permission
Notification and alert
Gantt-style timeline
Specialty
The mobile apps of this remote project management software allow users to communicate, track time, manage tasks, and complete projects on the move.
Pricing
Solo Plan: $9/user/month (10 active projects and 5 GB file storage)
Professional Plan: $18/user/month (Unlimited projects and 25 GB file storage)
Advanced Plan: $27/user/month (Unlimited projects and 50 GB file storage)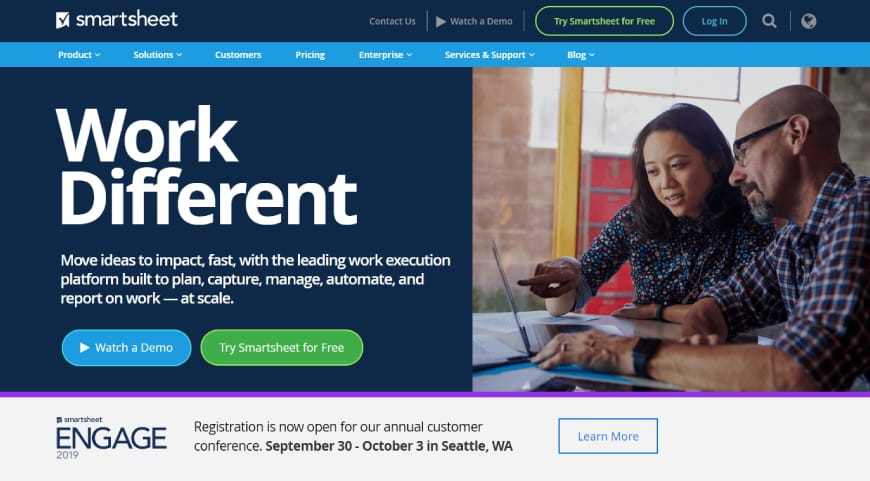 Smartsheet is one of the most efficient project management tools which is outstanding for collaborative work management and their automation. This portable collaboration software lets the teams get together for a nice project collaboration with reporting, task planning, resource management, and time-tracking. With a range of out-of-the-box features, Smartsheet becomes one of the household names when it comes to the best PMS for any industries.
Top Features of Smartsheet
Project planning and scheduling
Great team collaboration
File attachment facility from Dropbox, Onedrive, Google Drive, etc.
Team activity and busyness tracking
Automatic update requests
Tactical planning
Program rollups
Gantt, calendar, and card view
Dashboard
Secure control for permission
Specialty
Almost 50% of the fortune 500 companies have shown their trust in Smartsheet as a project management software.
Pricing
Individual Plan: $14/month (1 user)
Business Plan: $25/user/month
Enterprise Plan: Pricing on request
Premier Plan: Pricing on request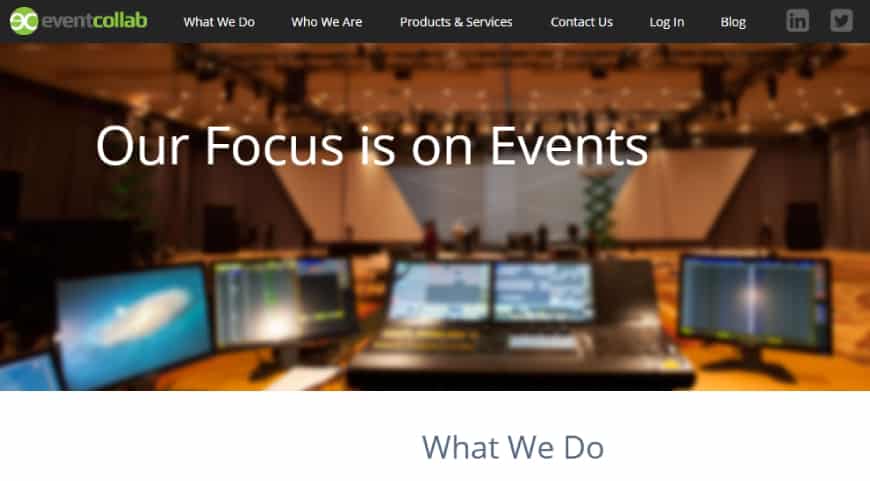 EventCollab is a project management web application which puts its focus on logistic tracking and event project management., From contacts to tasks, data, calendars, and schedules, every information is manageable in EventCollab. You can manage complex project easily on EventCollab, utilizing the easy-to-navigate interface. A range of state-of-the-art technologies is used by this project management tool to generate effective solutions in terms of collaboration, project schedule and document sharing, task assignment, time tracking, chatting, and more.
Top Features of EventCollab
Real-time access to projects
Real-time team collaboration
Dashboard offers a high-level view of every active event
Restricted permission, data encryption, and role settings
Cloud-availability from any location
Specialty
EventCollab is built for planning and managing trade shows, events, meetings, and conferences from the beginning to the end.
Pricing
Project management tools are indeed the finest way to deal with complex projects and team collaboration. Each of these 31 project management software is capable of managing all your projects and let your team stay in sync. With different offerings, features, and functionalities, these tools have one thing in common – all come with an assurance of managing the operations of organizations in the best way possible. With the changing needs of businesses and organizations, we hope this list will come in handy for you while dealing with multiple projects, tasks, and team members.
Intlum's 6+ years of experience in the IT world has built sheer proficiency in our company to develop the most complex requirements of our clients from different corners of the world. Among other developmental works, we also develop Custom Project Management Tools for different business needs. It's time to go smart and it's time to go for an efficient business management software. Just ring our number!