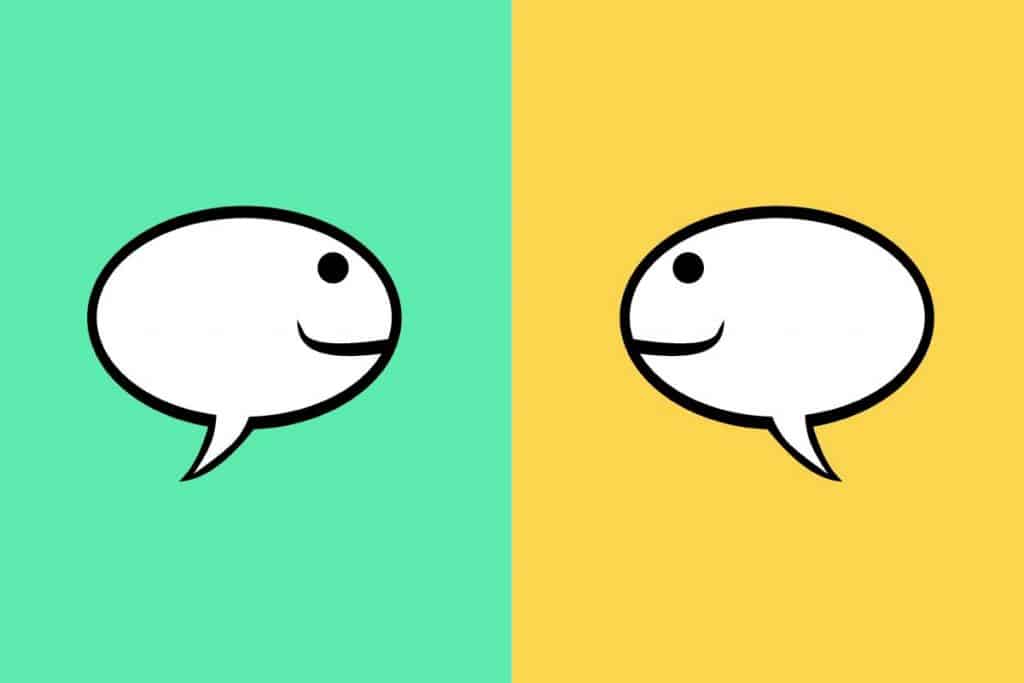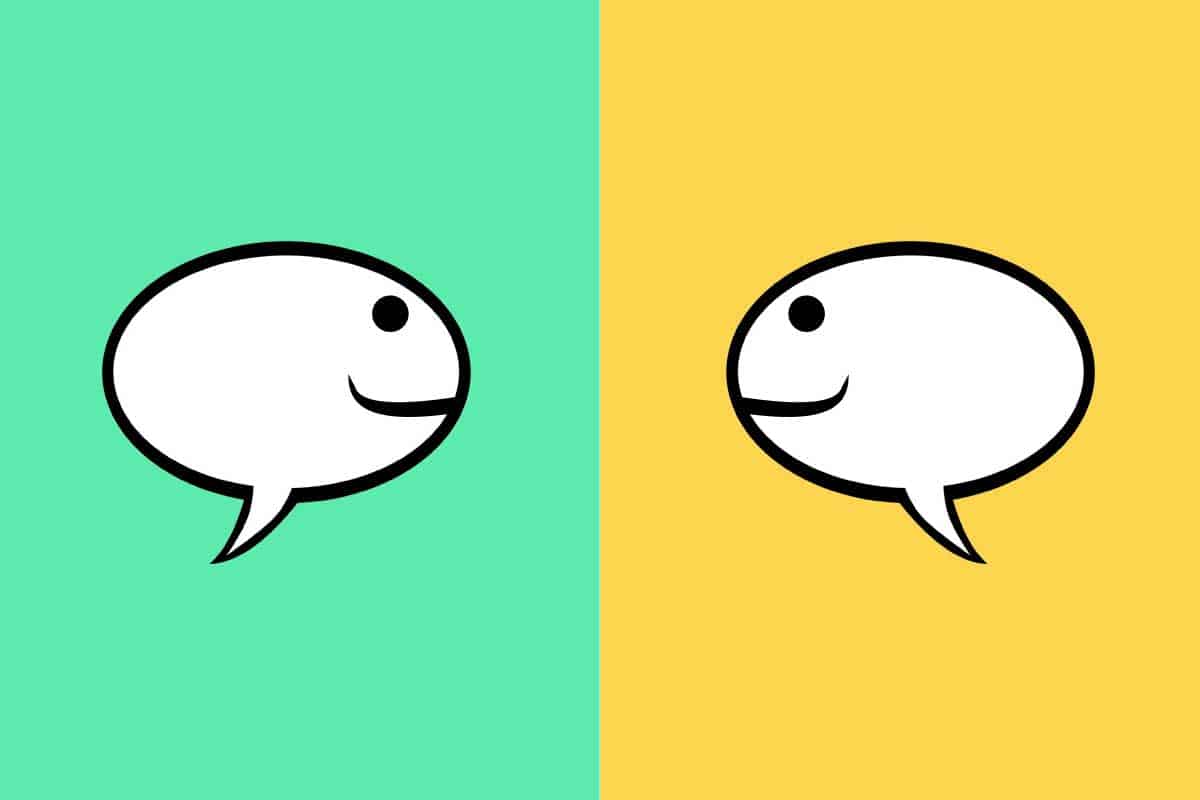 We do online shopping and we land on various websites for a range of purposes. But one thing that stays the same is our requirement for gathering and extracting information from the site. We always want the best deal to avail and a little assistance for the deal seems always nice. So, exactly when you're up for your next big investment and rummaging for the perfect deal, a chat box appears and somebody or something asks to help you. You take help and get a great deal! That's what the free website chatting apps can do. Thus, here we are going to mention the online chat rooms which offer free web chat online.
Being a small business owner, you always try to find the most affordable ones. When you're getting the most reliable free chat lines without spending a penny, it should be the bull's eye you need to target. The online chat rooms are completely free yet extremely efficient for converting a client and satisfying their concerns and queries in real-time on your website.
Famously known as Live Chat in the world of software, the chat box you see popping up on the screen are tremendously helpful for getting in touch with the users of your website through the site, text messages, and other messaging apps as well. The typical free live chat tools contain the following features:
Real-time chatting with monitoring visitors
Information about visitors including their language, OS, browser, and location
Automated and preset responses
Customizable chat widgets
Client interaction tracking through CRM integration
So, if you're also aiming at implementing online chat rooms in your website but not coming up with a proper solution, go through our article where we've mentioned the top free live chat tools online that can offer you a great deal of conversion. All of them are totally free of cost and offer a great client communication which leads to conversion. If you find yourself in a place where you need more functionality or features, you can always upgrade the web chat online. So, without beating around the bush, let's get straight into the main topic where we are going to depict the information about the free live online chat rooms for your website.
Live Free Website Chatting Apps – Best Way to Have Website Visitors Stay on Your Site
The chatting apps we have selected are totally free to have a live chat online. These are handpicked after testing and considering a number of features.
On the other hand, if you are looking for having your own unique online chat application for your business, you can contact us for getting your own chat app developed with the features you want, great customization options, and only one-time payment which will definitely be useful if you want to get the premium features but don't want to pay the skyrocketing charges asked by the third-party providers. So, take your time and come to a conclusion. In the meantime, go through the following free online chatting tools for your website.
Tawk.To
Tawk.to is one of the most celebrated and employed free website chatting apps which focuses on the successful communication between businesses and their clients. So, if you are a business owner and want to communicate with the random site visitors to convert them into your clients, Tawk.to can be a viable option being both creative and intuitive. This free live chat tool has been crafted to bridge the gap between business owners and website visitors and it has successfully lived up to the cause. One more thing which adds a feather in its crown is its free of cost usage. We have been making use of the free version of this tool and it has been a great experience for us with Tawk.To. However, you can also try the other free alternatives according to your taste and preference.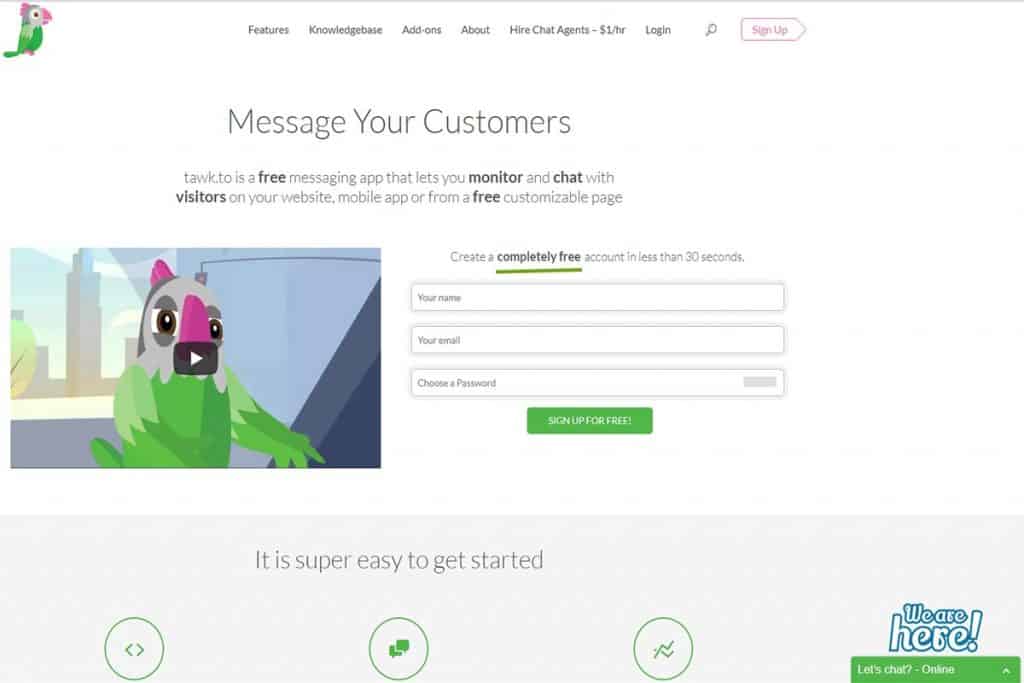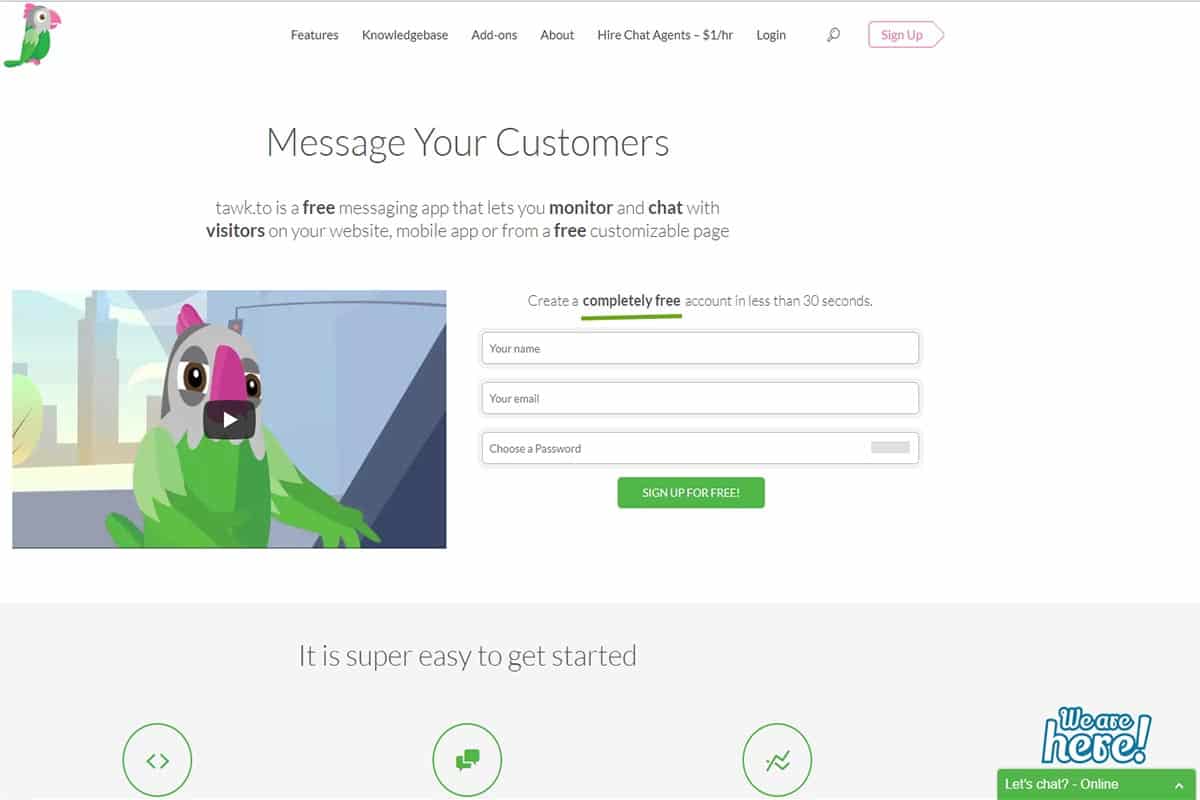 How It Works
You can chat with your website visitors and monitor them thoroughly without any sorts of hassle. Through this web chat, you can reach to your website visitors directly from your mobile app, or website or a customized page. After a few minutes of setup, you are ready to go to add individuals, create shortcuts and check the analytics. And guess what, everything comes free and you don't have to spend a single penny for getting a hold on the thousands of visitors coming to your website.
Fortunately, the upgrade section won't be much filled when it's about Tawk.To. Basically, you get every little feature and functionality free of cost with this online chatroom provider. The only time you need to pay them is when you opt for removing their branding form the chat window.
The brand removal comes with $15/month or $108/annum. But then, if you're a startup, small business, or mid-level business, it's completely fine to have their branding instead of yours on the small chat window. So, you get everything free with Tawk.to.
Userlike
If you are looking for the genuine free live chat lines, Userlike can offer you a sigh of relief with its unmatched features and functionalities and multi-platform presence on mobile, messaging, and web. Userlike comes with both free and paid versions. While the paid version will definitely come with humongous numbers of features, the free version will not disappoint you either. The free version of Userlike will allow you to get set up with one chat widget, one agent, and unlimited chats. This is enough for a business just getting started.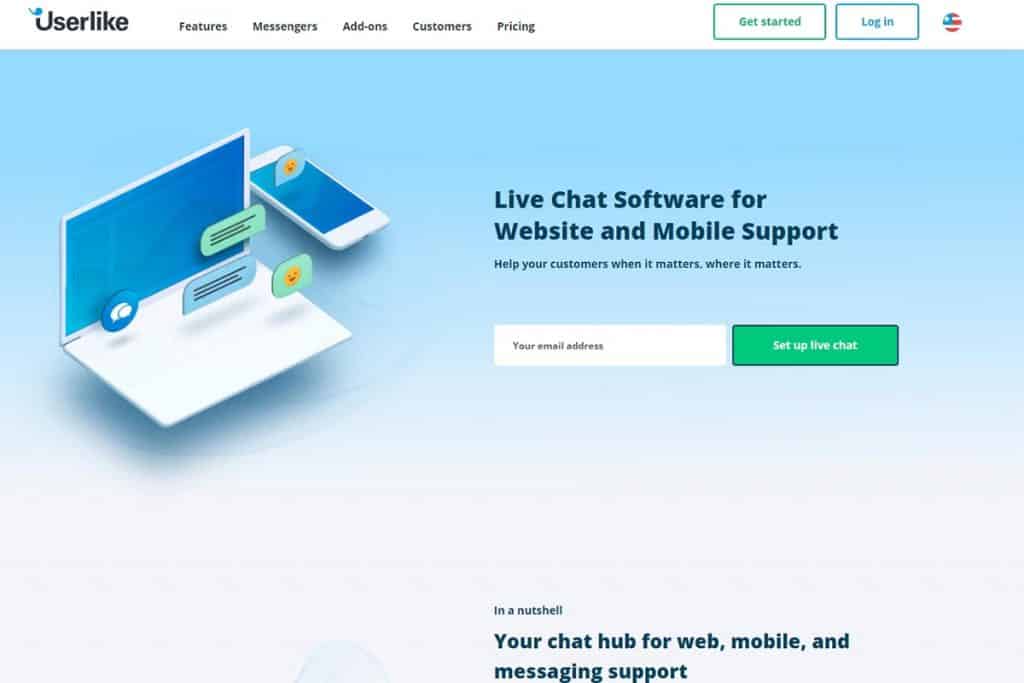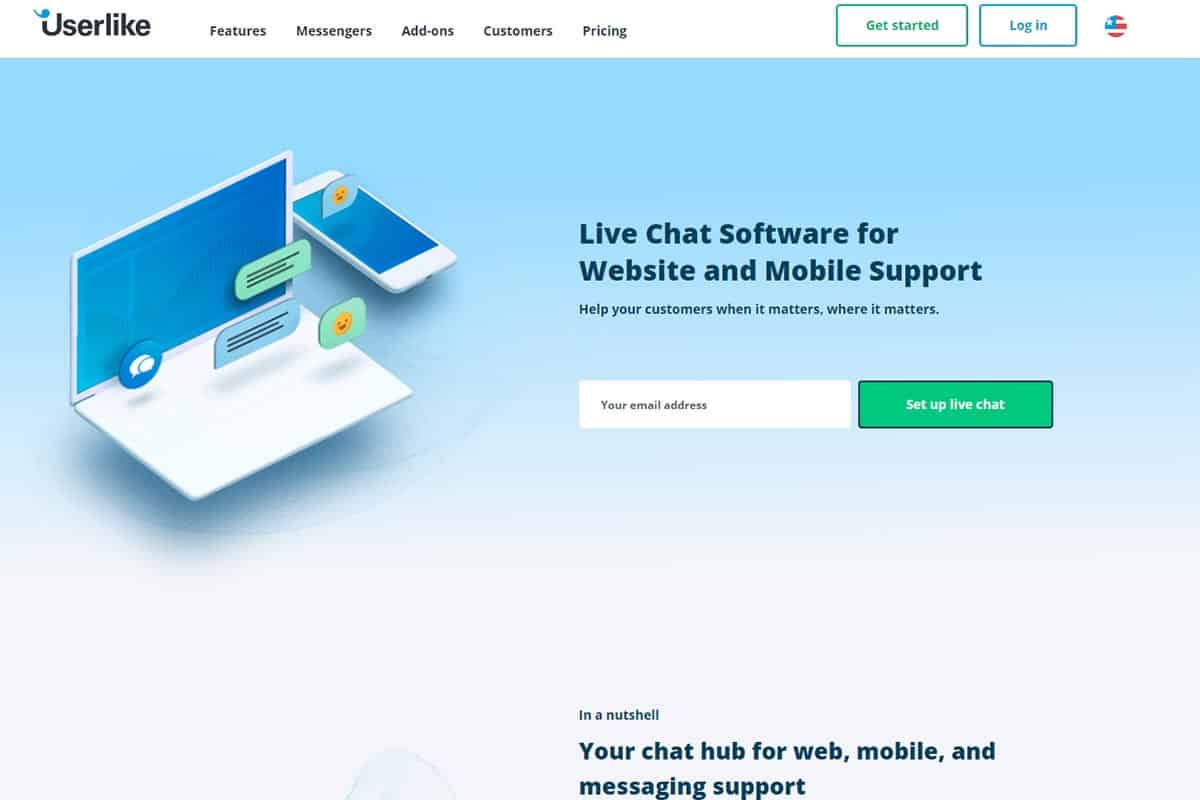 How It Works
In Userlike, a chatbot appears at the first on the live chat online for the conversation with a user which eventually continues with a real person. When somebody lands on your website, the chatbot will welcome them, and ask for their information. After collecting their information, Userlike will send the details to your team via Slack or email and the app will let you know what sort of assistance is needed by the user which can help you promptly jump into the main scenario and assist them by answering their query.
Userlike can be upgraded to 4 different plans: Team, Corporate, Business, and Flex. We have not included the free plan into the upgraded plans. So, overall there are 5 different plans Userlike can offer you for being the leading online website chatting app.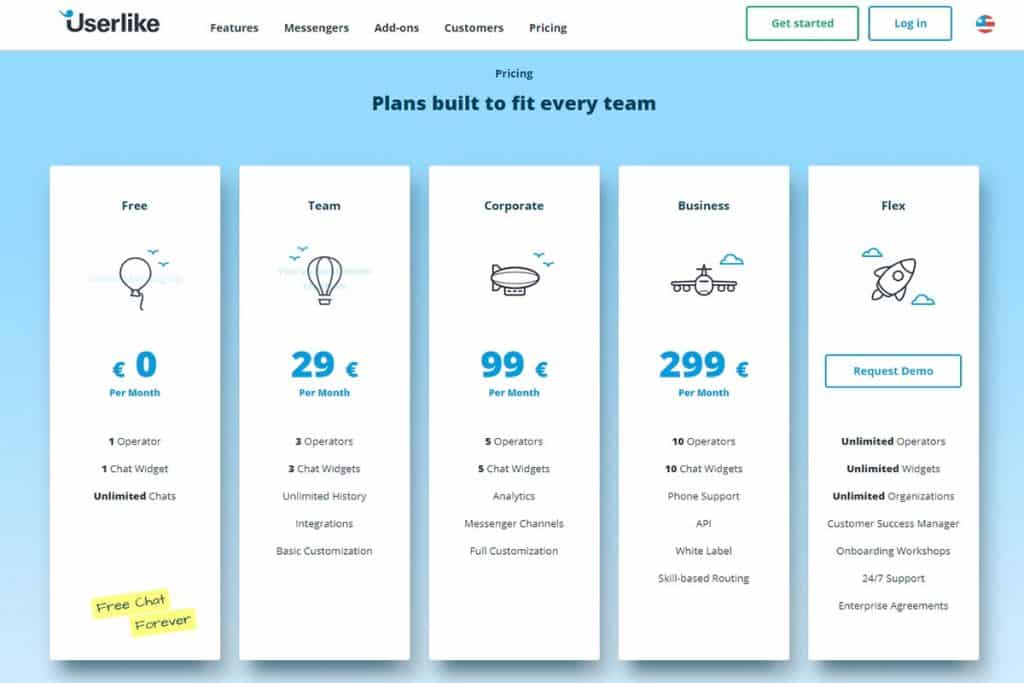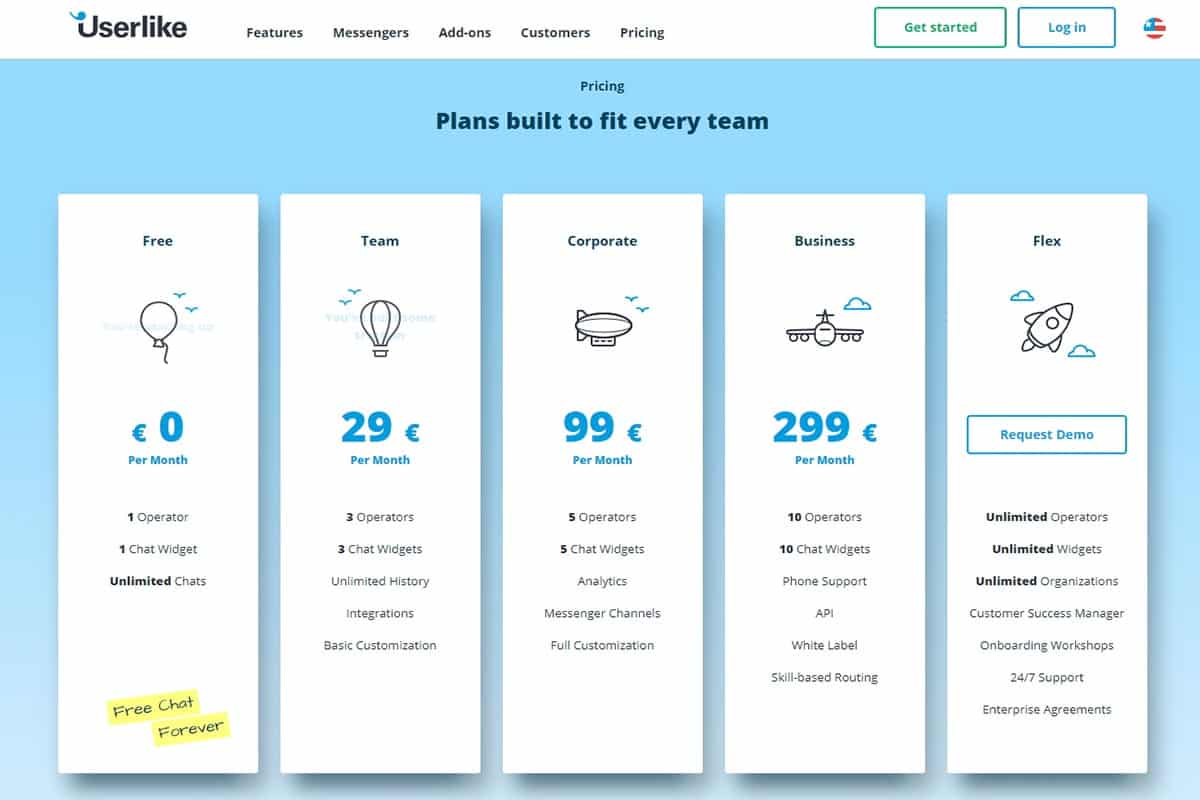 The very basic upgrade to Team Plan comes with €29. Yes, the organization only deals in Euro as per their website. With the upgrades, more number of features start to get added such as increased number of operators, chat widgets, message channels, API, analytics, etc.
Smartsupp
If you're looking for forever free online chat rooms with unlimited agents and chats, Smartsupp can be a reliable option for you with its extraordinary offering. Smartsupp is a free live chat tool which offers you an assured growth without spending a single penny! Yes, the forever free plan and unlimited agents and chat option come with no cost when you're talking about Smartsupp. With the mentioned aspects, Smartsupp effortlessly becomes one of the most hyped and adored free website chatting apps available online.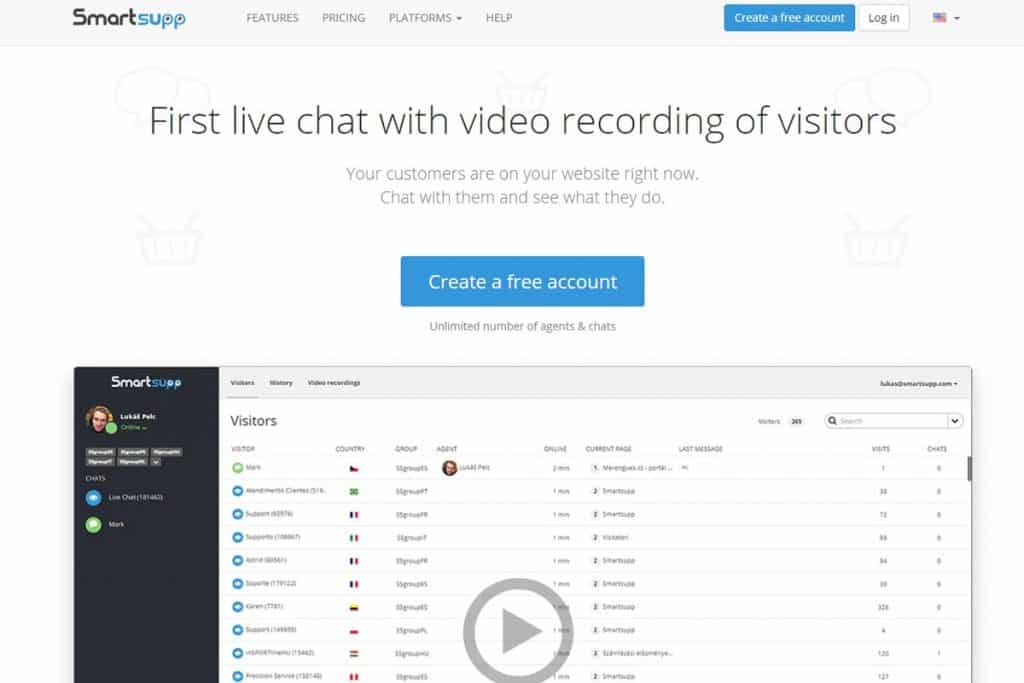 How it Works
The agents will receive a prompt notification every time a user interacts with the online chat rooms. This instant notification helps respond to the site visitor very quickly and that leads you to get hold of the potential client. You can customize your chats also in the free version and it offers you a 14-day chat history which is quite remarkable among the free chat lines.
Most of the online web chatting apps you will find will display the location of the users and other information. But what they lack is a video recording which makes it immensely easy to monitor the movement and behavior of the users right after they land on your website. The free version of Smartsupp come with unlimited agents and chats but there are more features which you may need along with your company's development. If you aim at the bigger picture, you should certainly go for the paid version. They have two plans to upgrade from the free version: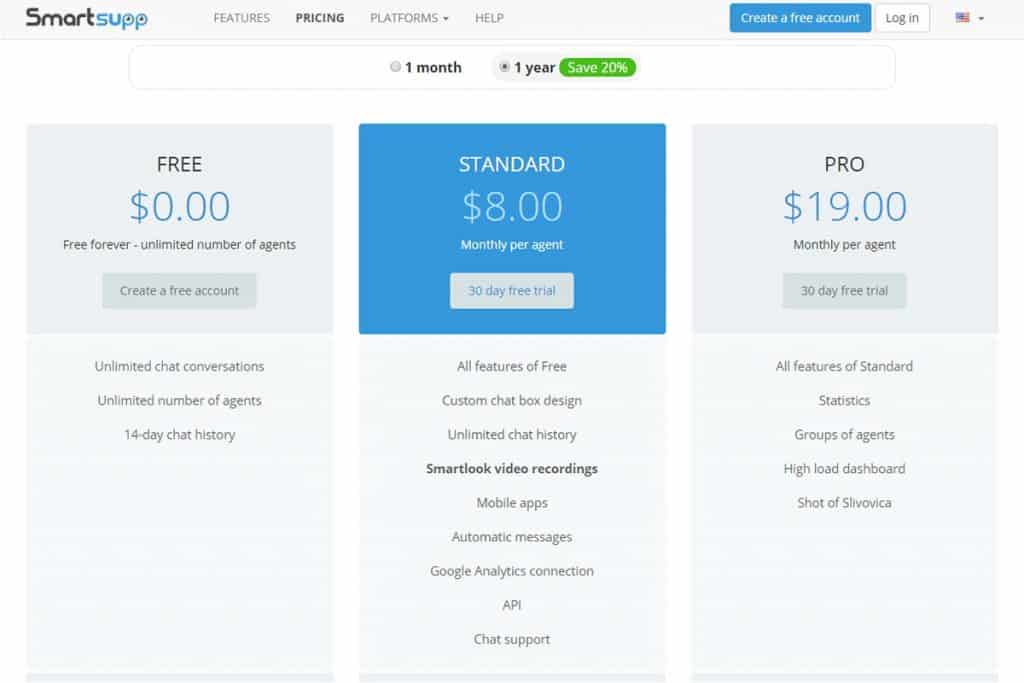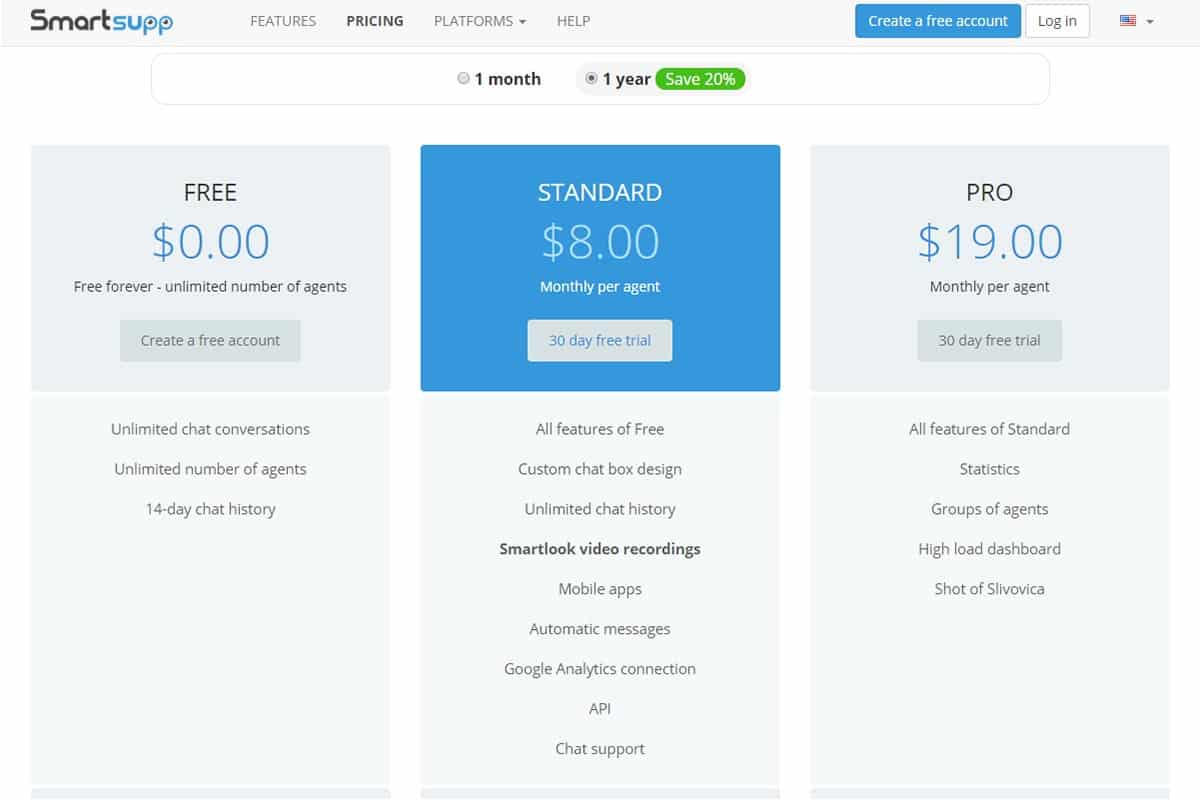 Standard Plan:
$8/agent for a month when you go for the annual purchase.
$10/agent for a month when you go for the monthly purchase
Pro Plan:
$19/agent for a month when you go for the annual purchase
$10/agent for a month when you go for the monthly purchase
The upgraded plans contain cutting-edge features like unlimited chat history, automatic message, Google Analytics integration, API, dashboard, etc.
Zendesk Chat
Zendesk Chat was previously called Zopim Live Chat. Zendesk acquired the live chat provider back in 2014 and rebranded it with the name of Zendesk Chat in the year of 2016. Zendesk offers interactions across chat, email, social media, phone and many other platforms that you can ever imagine. Overall, Zendesk Chat is something you would love to prefer among the best free website chatting apps available online.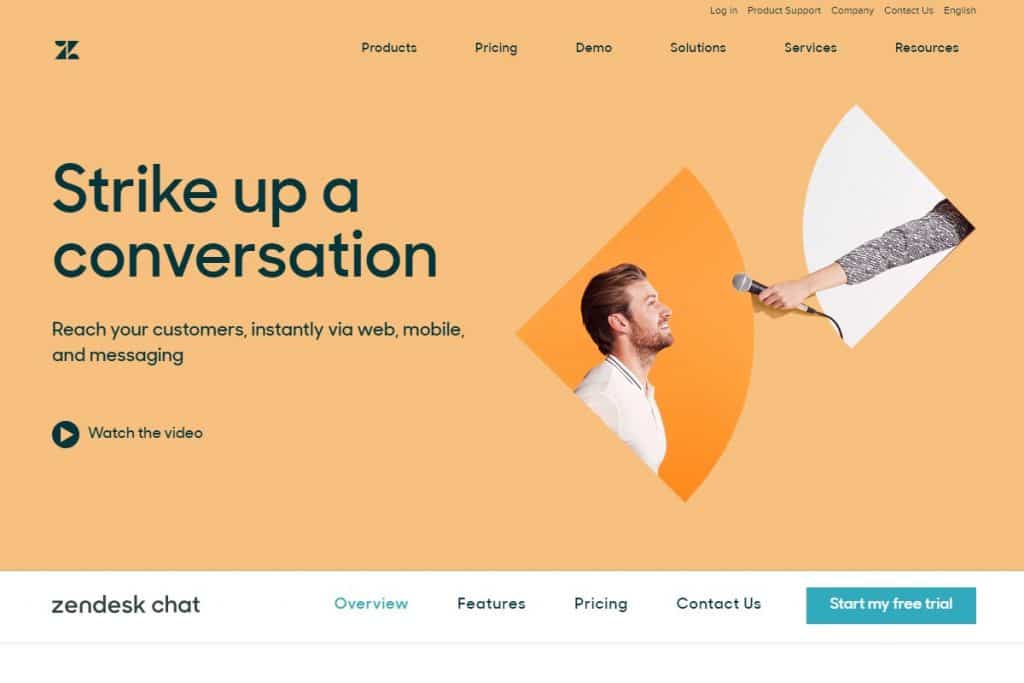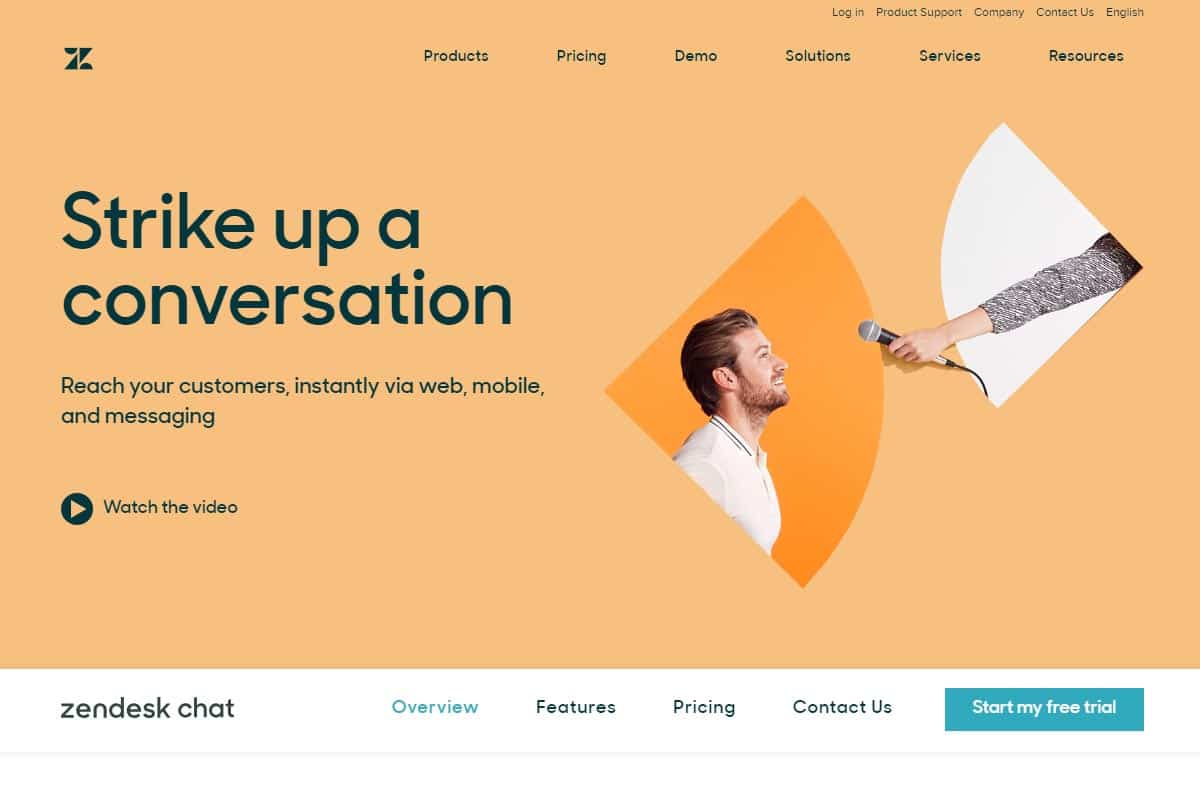 How It Works
At Zendesk Chat's free version you are going to get one concurrent chat, chat rating which will make it easier to mark the quality of a chat and 14-day chat history to recall important information from a chat. Whenever a user lands on your website, the Zendesk chatbots will take the initiative and ask the user for a solution before he/she even makes a query. This nice gesture may lead to conversion.
The higher plans have better features to offer such as unlimited chats, conversion tracking, real-time monitoring and much more. The true features of Zendesk get unlocked with the upgrade. The first upgrade comes with $14/agent/month which is Team Package and afterward, you can upgrade your plan to Professional and Enterprise with $29/agent/month and $59/agent/month respectively which will unlock a whole new window of impressive features and conversion.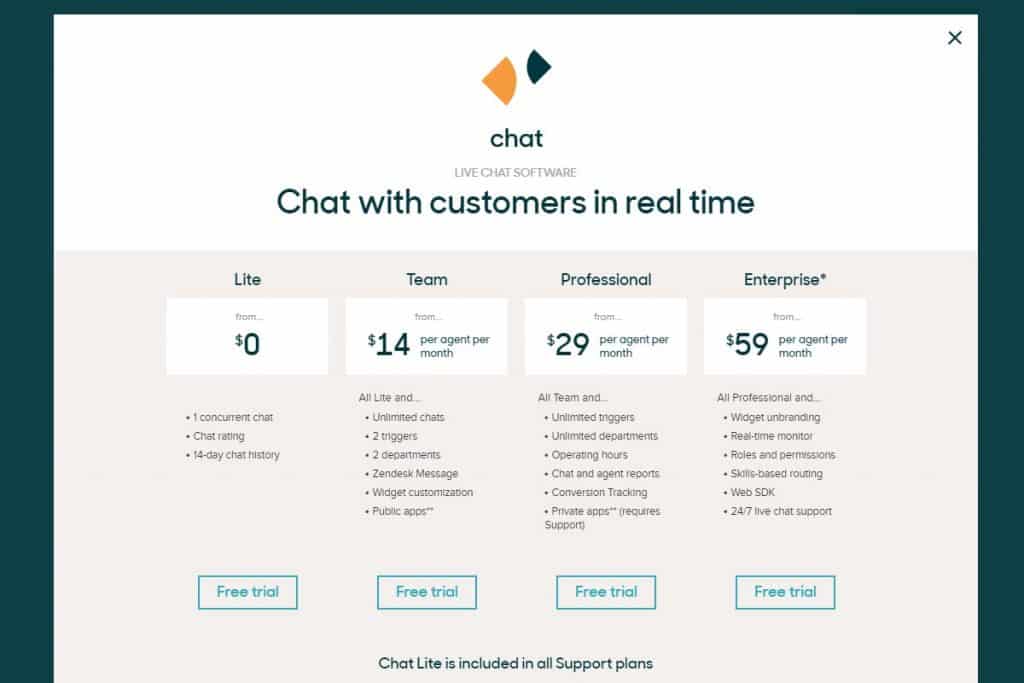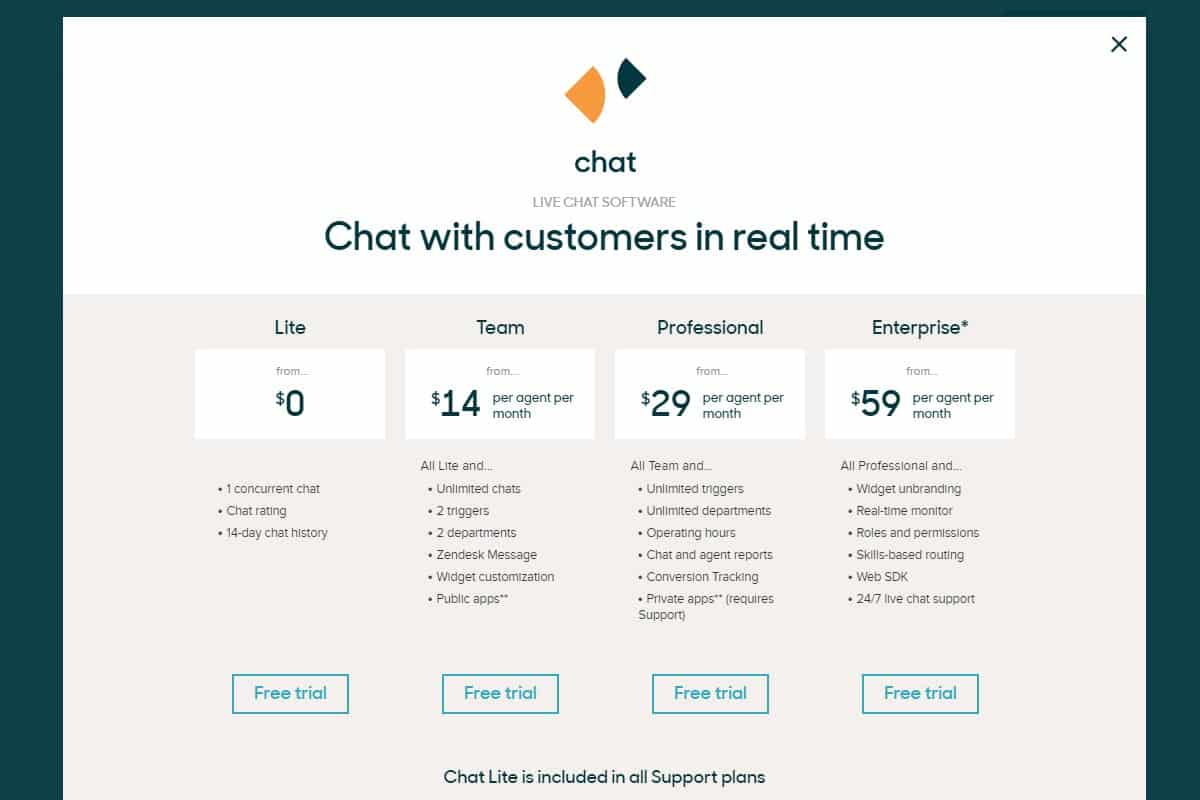 However, you can also explore the further upgraded plans of Zendesk which cover various other services such as Zendesk Support, Zendesk Guide, Zendesk Talk, Zendesk Connect, or you can avail all the mentioned services including the chat service in The Zendesk Suite.
Tidio Chat
In the world of free website chatting apps, Tidio Chat is one of the options which will never let you go with disappointment. In fact, this is one of the most cherished free live chat provider that comes with some of the best offers you'd find in the market. With unlimited live chats, channels, and emails, Tidio Chat can be your website's best buddy when it comes to converting a user into a client.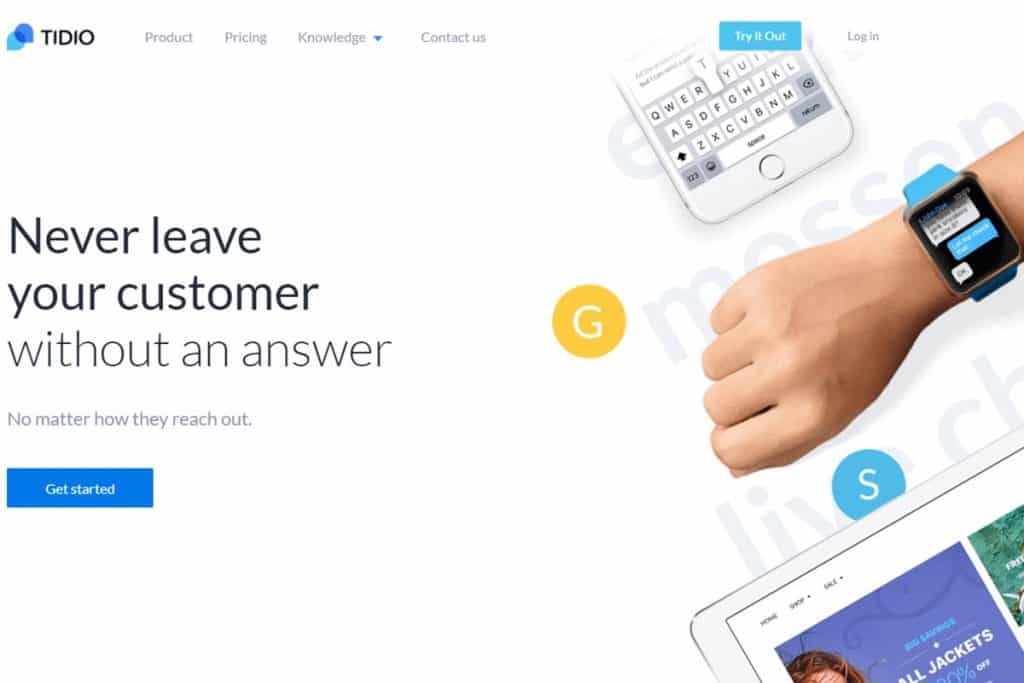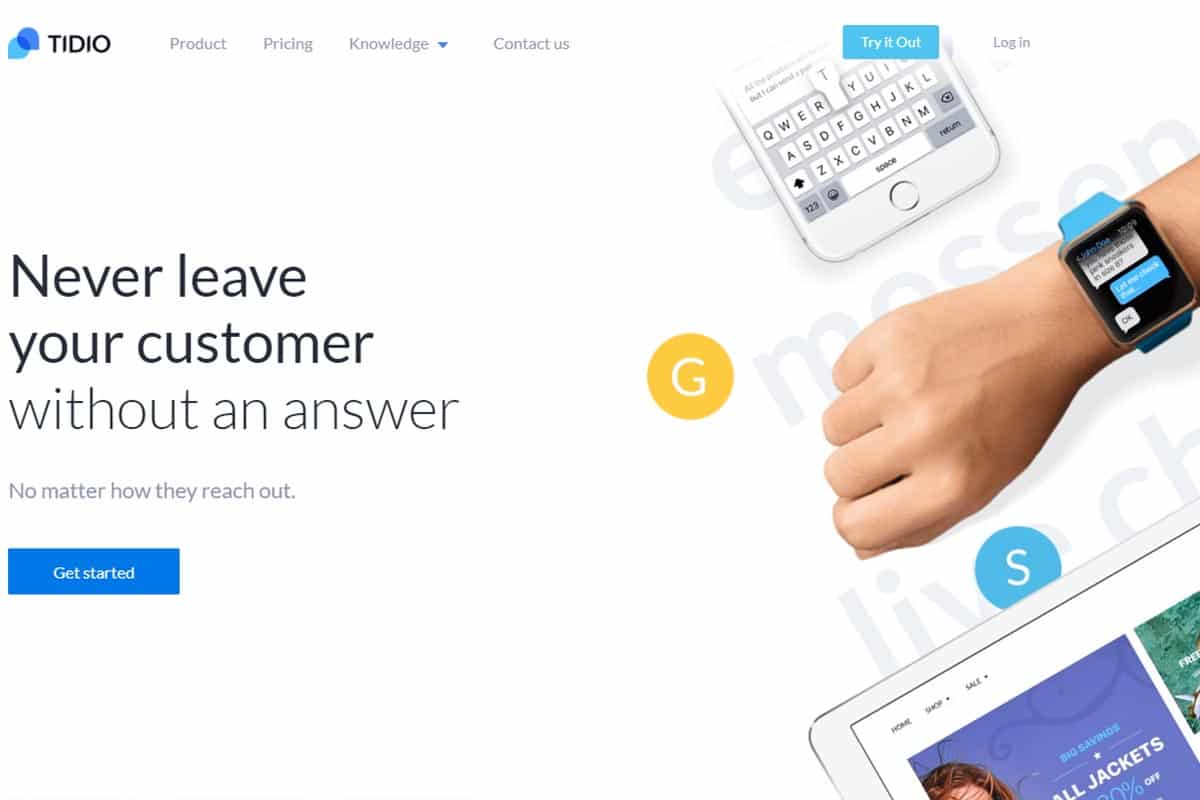 How It Works
Tidio Chat offers a mobile app for Android and iOS up to three operators and also provides third-party integrations. The messenger option that Tidio includes makes their online chat rooms more intuitive than ever. The inclusion of email, chat widgets, and Facebook Messenger app will help you as a site owner to reach much broader audience base who may want to make use of the popular messaging platforms for having a quick inquiry about your services or products.
Tidio Chat would offer you two plans both of which comes with $15 on a monthly basis. The first one is called Communicator where you will be provided with 3 operators for the price and further operators will be charged $10 for one. You can see the live visitor list and live typing in this plan.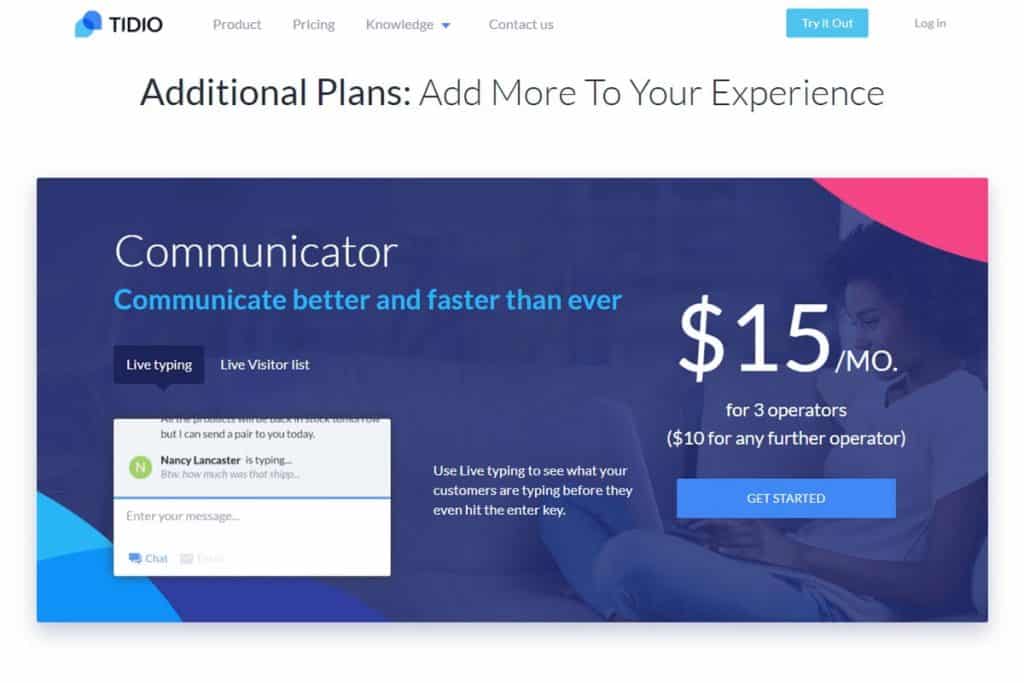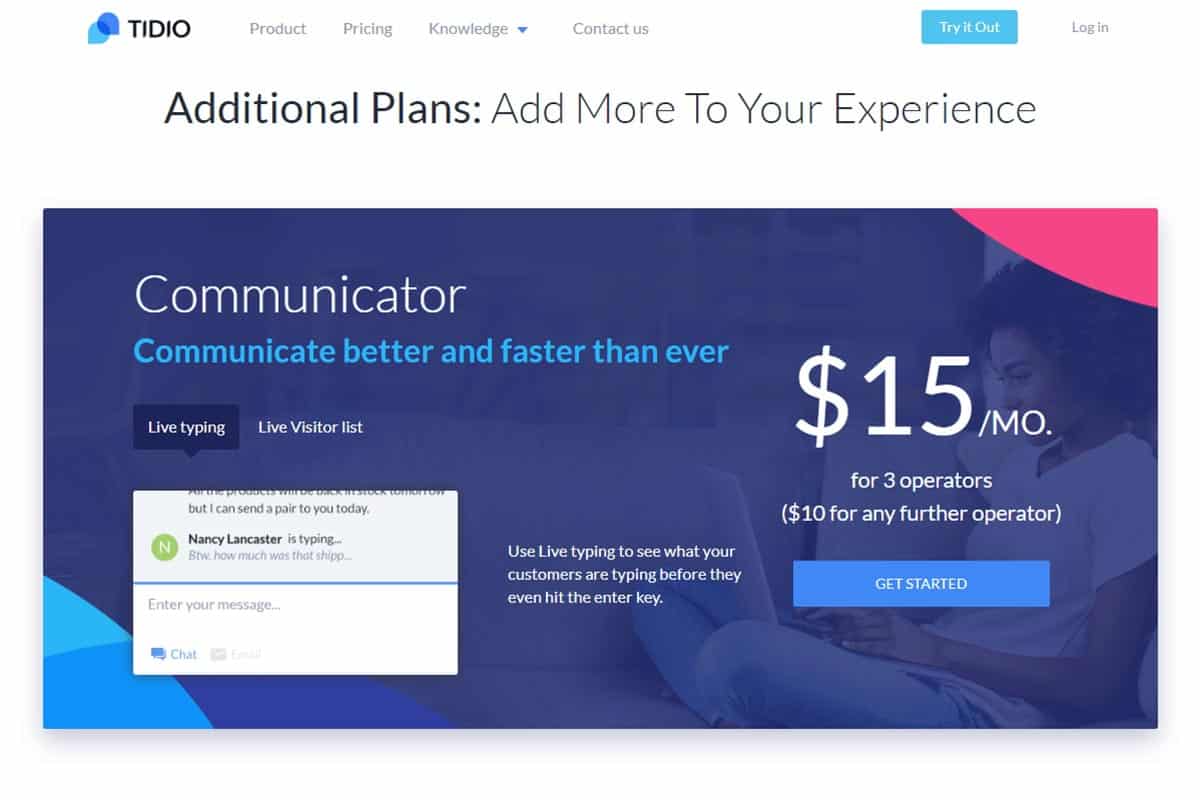 On the other hand, Automation plan (which also comes at $15) help you alert visitors to recover their abandoned cart to fill it again. You can set up automatic messages with special offers which can increase your sales, automatic messages can be set up when you're not around, new visitors will get welcome messages automatically with the Automation plan. However, it applies for 5000 unique users on your site/month which is enough for a small or mid-level business.
Zoho SalesIQ
Zoho is unheard by none and it has more solutions than you can ever think of. Among the humongous number of solutions, Zoho SalesIQ is one of the most remarkable ones which offers free live chat online and visitor tracking solution and leaned profoundly towards the sales teams of the companies who avail their service. Actually, the Zoho SalesIQ free plan itself provides such features which are unbeatable and you won't be needing any upgrade for a long time.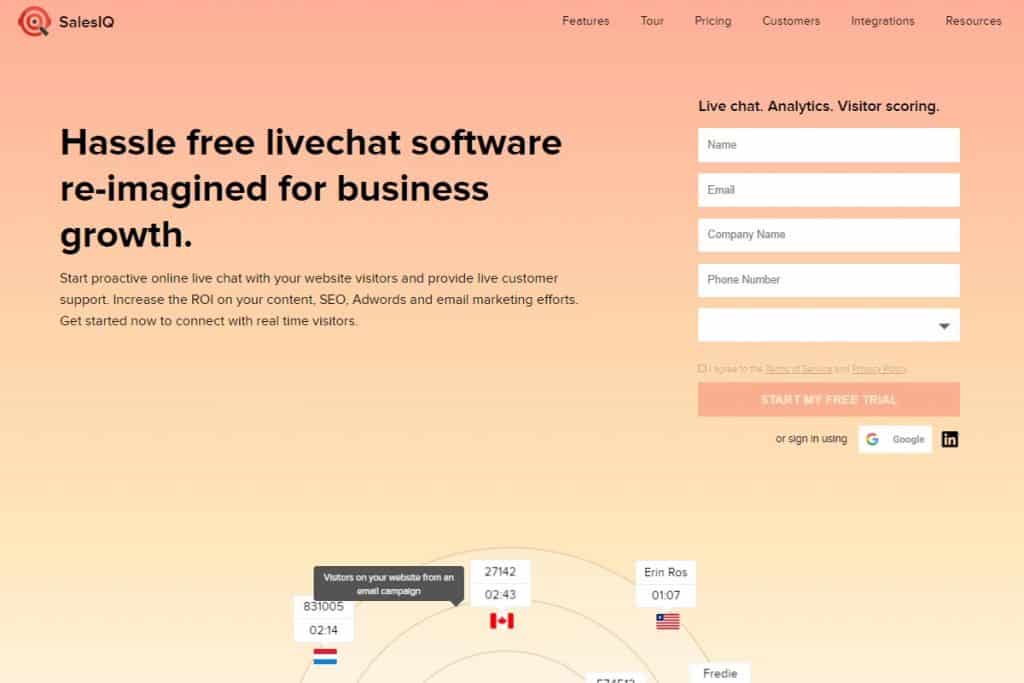 How It Works
Zoho SalesIQ will allow you to use the geolocation to track down visitors and get them engaged. You can also track the leads, the visitor history, share email chat transcripts, files and get your Zoho SalesIQ chat a branding. In the free plan, there will be two operators, 5000 visitor tracking and engagement, monthly 100 chat sessions, and storage for 30 days. You will also be handed over the popular Zoho CRM integration to the website along with the above features which make Zoho SalesIQ one of the most treasured free website chatting apps in 2018.
Quite naturally, upgrading your Zoho SalesIQ plan will come with even better features which can be remarkably helpful in having nice conversations with your website visitors and turn them into your future clients: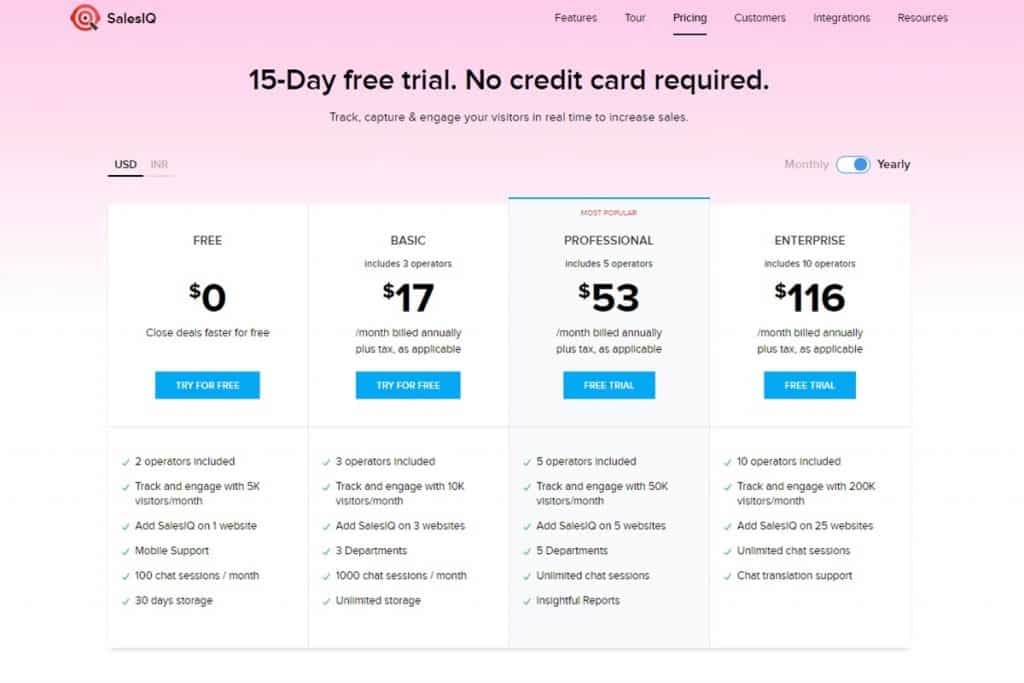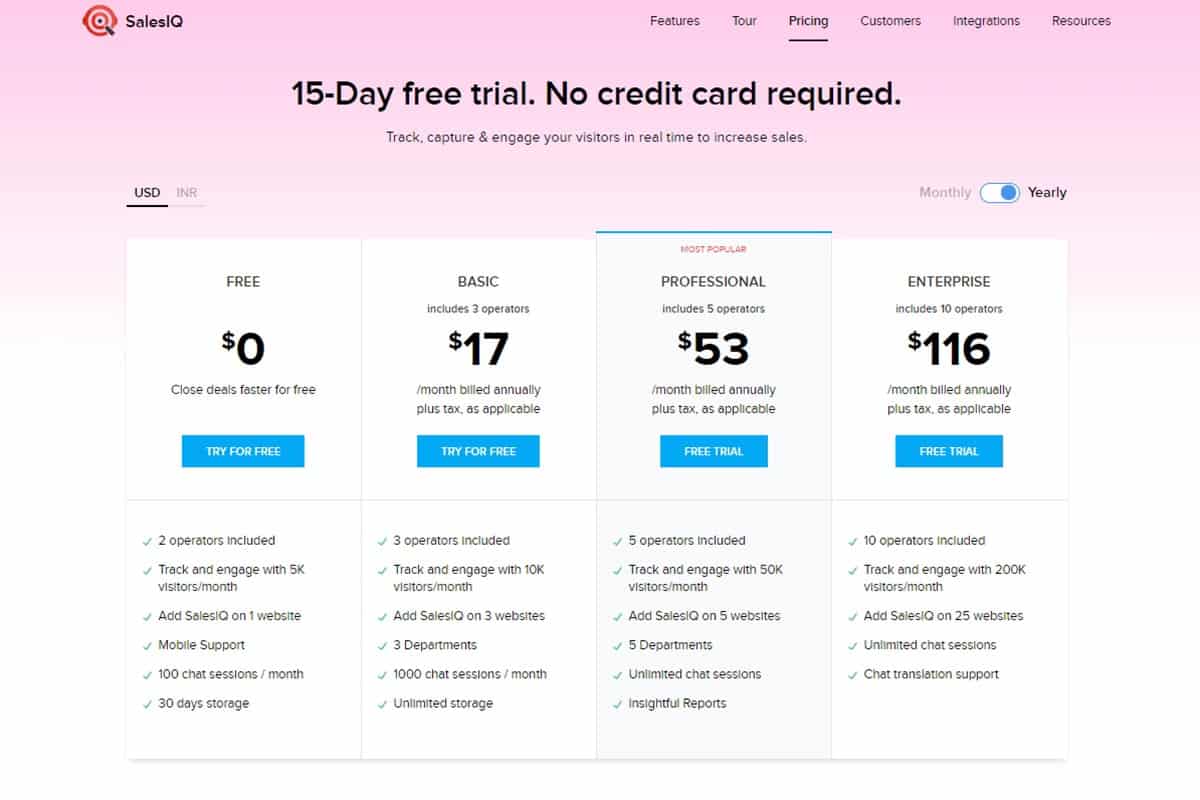 The Basic plan comes at $17/month with three operators, 1000 chat sessions/month and unlimited storage.
The Professional plan comes at $53/month with 5 operators, monthly 50,000 visitor tracking and engaging.
The Enterprise plan comes with 10 operators, 200K monthly visitor tracking and engaging, chat translation, and unlimited chat sessions at $116/month.
Acquire
With a huge amount of user satisfaction rate, Acquire is one of the most sorted out online chatting applications for your website which has upgraded its capability from being just a live chat to a multi-channel client communication platform that focuses on client support, sales and onboarding. It will also offer you 250 customer profiles, chat messenger and Facebook and Slack integration which makes it even easier to get connected to your website visitors and amaze them with your warm reception and solution to their problems.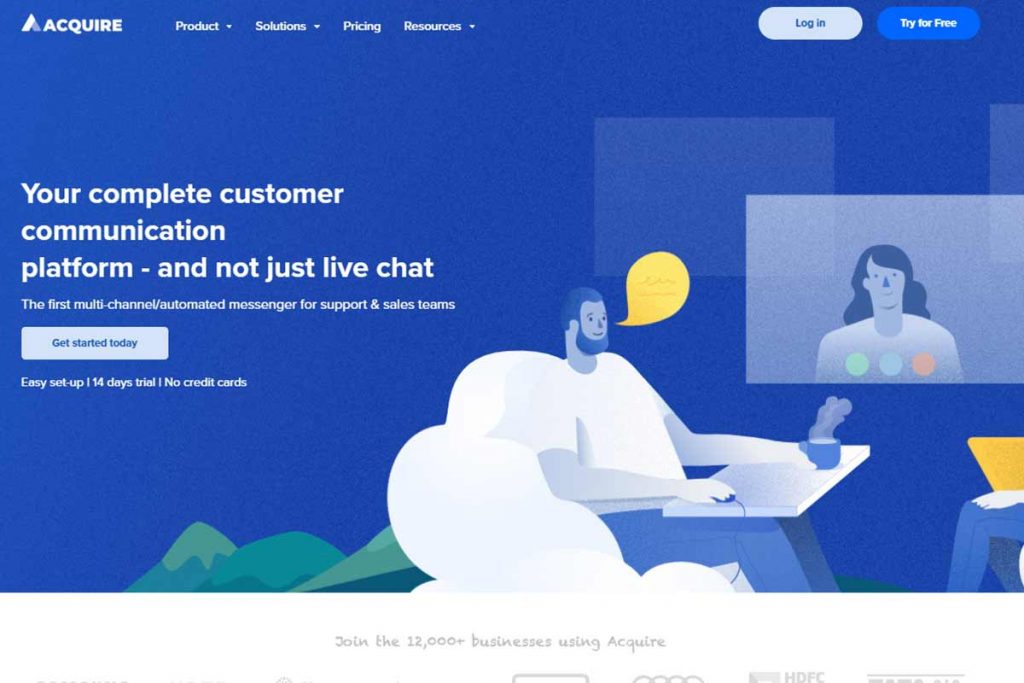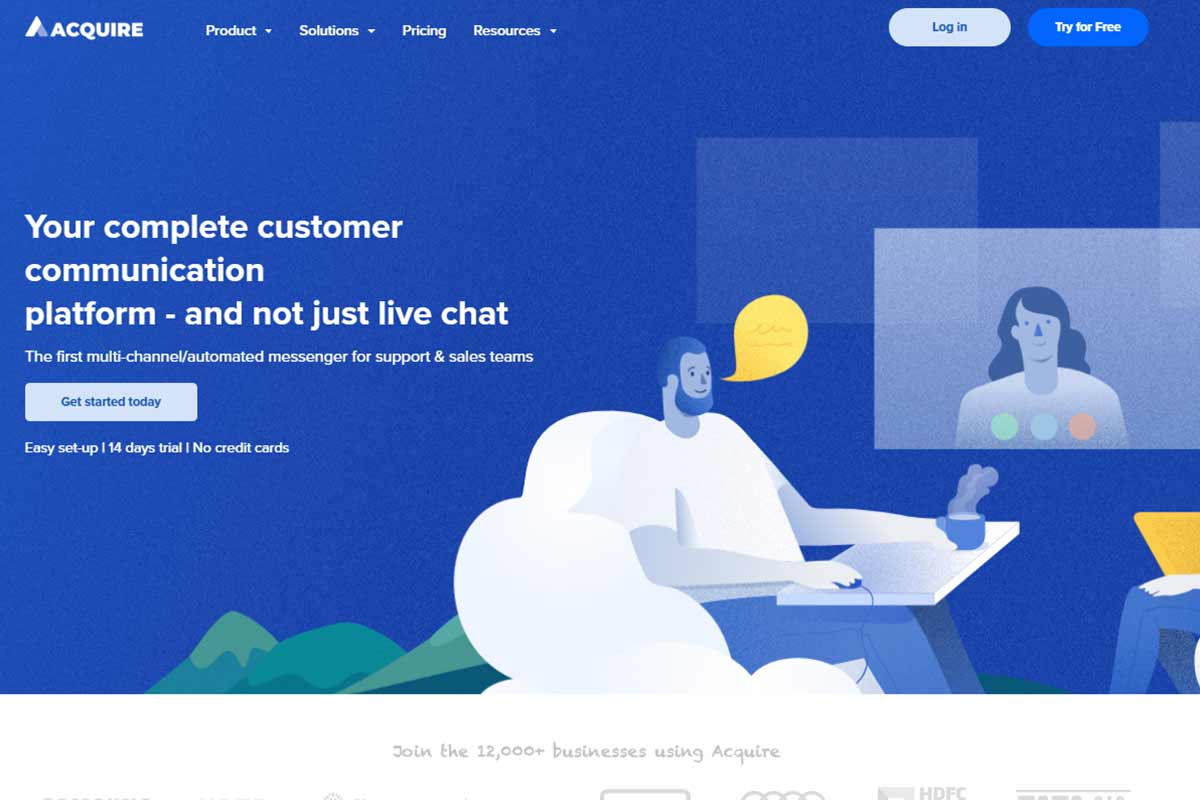 How It Works
Acquire provides you the offline forms to get client details captured in your database from where you can get in touch with them and include them in your client list. You will be provided with one agent in the free plan and you can also send emails using Acquire which is amazing in the field of free website chatting apps. Moreover, you will be equipped with a chat messenger which will come handy in conversing with your website visitors.
Other than the basic free plan, Acquire has two more plans to offer you which can add more to your enjoyable experience on Acquire. The first one is labeled as Premium and the latter is termed as Team which is the most popular plan according to Acquire.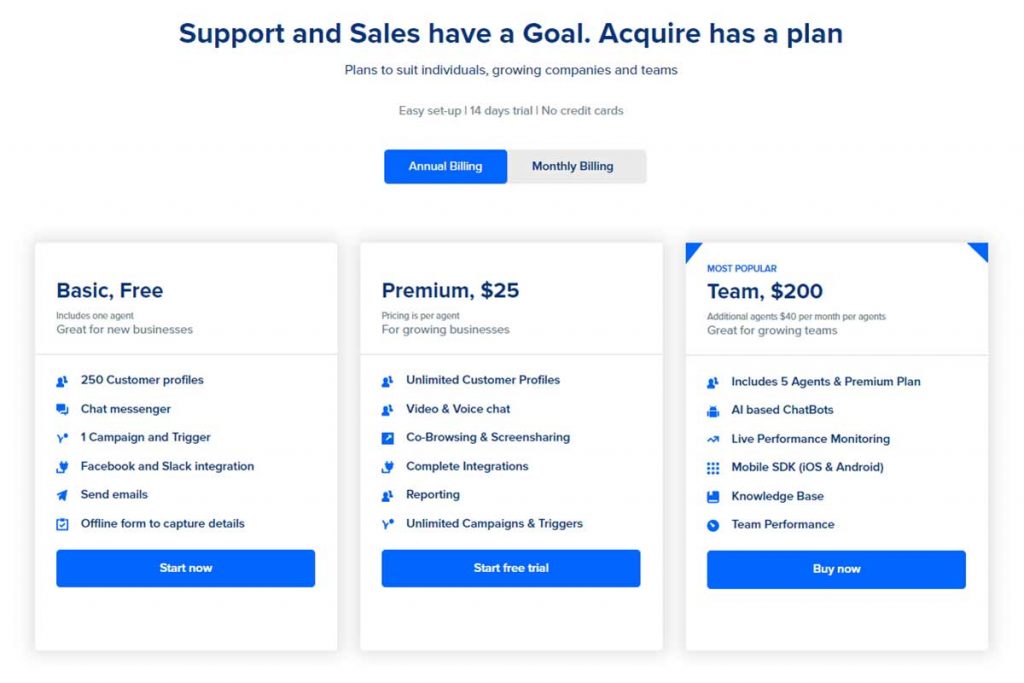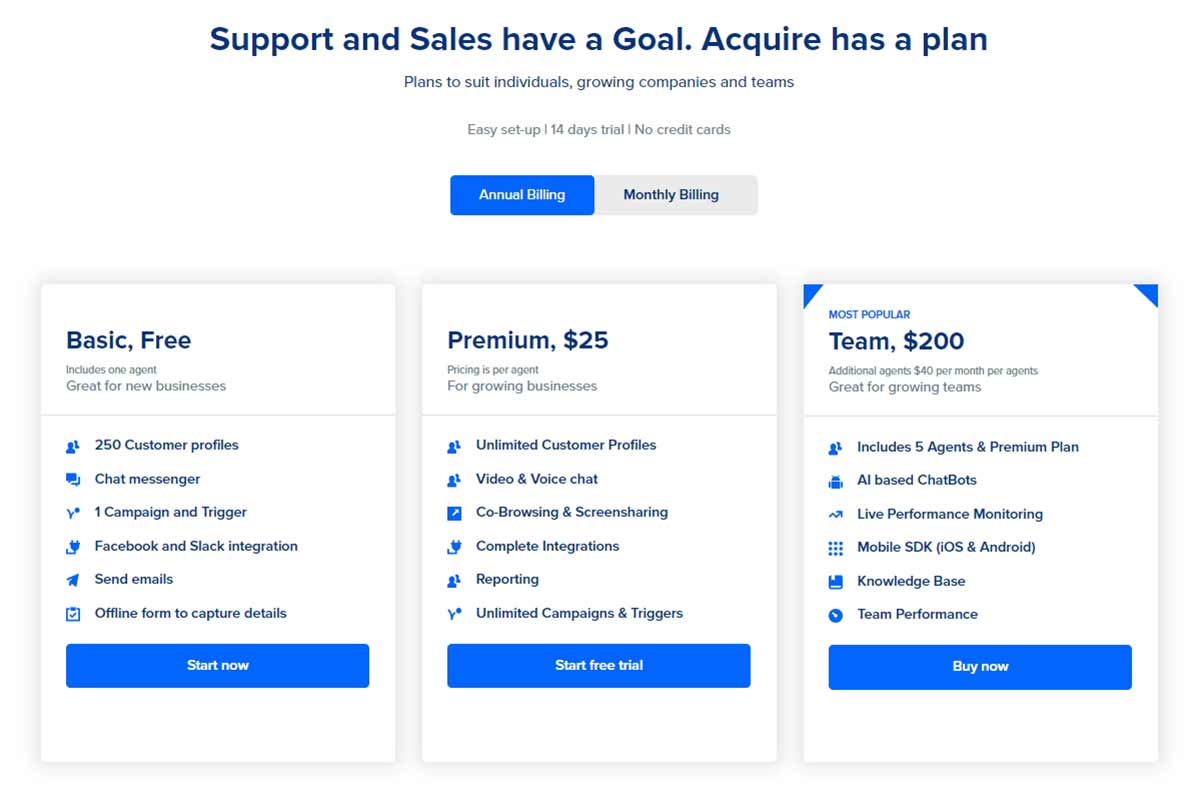 While the Premium plan comes with video, voice chat, co-browsing, screen-sharing, reporting, and unlimited customer profiles at $25, the Team plan offers you 5 agents, chatbots (powered by AI), live performance monitoring, mobile SDK (Android and iOS) along with all the previous ones at $200. The pricing is one-time payment so you don't have to go through any hassle of the monthly payment.
Wrapping Up
So, these are the free website chatting apps you're looking for. They come with no cost in their free plan. While some of them have premium plans which may cover most of their upgraded features, tools like Tawk.To, which has been our personal preference, provides almost everything free of cost (besides the branding removal). But the choice totally depends on you as you'll be taking the last call when it comes to your website. Being a startup or mid-size company, you can always rely on the free versions of the live chat tools mentioned above.
However, if you don't want any third-party involvement and want your own copyright on the chat application, you should probably contact a website design and development company or software development company to develop a custom chat app dedicatedly for your organization. Wait! Are you thinking of such a company?
Well, we can help you with that. Like many other clients before, you can also get one chat application developed by us with all premium features mentioned above but without paying on a recurring basis. So, if you think you want to convert your clients, we are here along with the above third-party website chatting applications.